2011 Bloodfest Fantastique: Official Lineup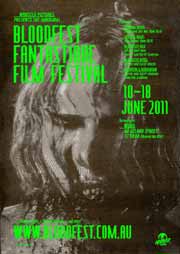 The sick and twisted minds behind the Melbourne Underground Film Festival have launched a brand new horror and sci-fi themed fest: Bloodfest Fantastique! Australia gets a lot more blood-soaked on June 10-18, nine nights of some of the most gruesome, terrifying and far-out films, past and present, from around the world.
While MUFF has never been shy about screening genre films, Richard Wolstencroft — founder and director of both fests — is planning for his newest endeavor to simply be a celebration of his two favorite genres of filmmaking, without all the politicking hooha-ery that surrounds MUFF.
So, there's still a very underground-esque flavor to Bloodfest. The newer flicks in the festival have a scrappy, inventive, degenerate quality, from slice and dice em's like Chris Sun's Come and Get Me, Chad Ferrin's Someone's Knocking at the Door and Geoff Klein Bikini Girls on Ice; to monster flicks like Josh Reed's Primal; to bizarre experimental delights like Caris Lisa McCabe's The Potato House.
In addition, there's documentaries like Nightmares in Red, White and Blue and Video Nasties; the sci-fi comedy Hellacious Acres; and the low-budget, zombie-POV flick Colin. And there's plenty of homegrown Down Under nastiness like Andrew Traucki's The Reef, Ursula Dabrowsky's Family Demons, Carlo Ledesma's The Tunnel and more. Plus, there's lots of short films, too.
As far as the classics go, there's great cult hits like Battle Beyond the Stars, Starship Invasions and The Incredible Melting Man.
It's a good, heady, monstrous mix. Let's hope the fest continues for many years to come, just like MUFF.
Please visit the official Bloodfest Fantastique website for more info. The full film lineup is below. (Classic films are marked with their year. All others are new films.)
June 10
8:00 p.m.: Come and Get Me, dir. Chris Sun. Mayhem and murder ensue when a trio of killers target a gaggle of girls having a fun night out.
Screening with:
Meth to Madness, dir. Chris Mitchell
June 11
7:00 p.m.: Someone's Knocking at the Door, dir. Chad Ferrin. A pair of serial murderers hunt a pack of sexually deviant, drug-addled medical students.
9:00 p.m.: Primal, dir. Josh Reed. While on a wilderness expedition, an explorer is transformed into a raging monster that hunts and kills her partners.
11:00 p.m.: Starship Invasions, dir. Ed Hunt. (1977) Aliens invade Earth to claim it for their new home.
June 12
7:00 p.m.: Colin, dir. Marc Price. A teenager wanders his nice suburban neighborhood looking for fresh flesh to eat after being turned into one of the undead during the zombie apocalypse.
9:00 p.m.: Battle Beyond the Stars, dir. Jimmy T. Murakami (1980) The Magnificent Seven in space!
June 13
7:00 p.m.: The Potato House, dir. Caris Lisa McCabe. A young couple move to a small rural town whose residents are having their organs harvested at the nearby pickling factory.
8:00 p.m.: "Bloodfest Bites Session 1"
Back to Back Grindhouse, dir. Sam Chambers
Baka, dir. Jeff Parenteau & Matt Clark
Sweet Farewell, dir. Iurgi Urrutia & Steve Walshe
Shepherd's Hill, dir. Cadyn Binns & Tim Maslen
Minor Head Injury, dir. Adam Harvey
Double Helix Disease, dir. Dion Williams
Sons of Chaos, dir. Mathieu Turi
9:00 p.m.: The Incredible Melting Man, dir. William Sachs. After being bombarded by cosmic rays in space, an astronaut returns to Earth as a melting, cannibalistic monster.
June 14
7:00 p.m.: The Committee, dir. Peter Sykes. (1968) A hitchhiker kills the man who picks him up, only to sew the driver's head back on and bring him back to life.
8:00 p.m.: "Bloodfest Bites Session 2"
The Mummy and the Balloon, dir. Jim & Nick Zounis a balloon.
Home, dir. Cameron McCulloch
Maleficium, dir. Matt Moss
9:30 p.m.: Hellacious Acres: The Case of John Glass, dir. Pat Tremblay. A man awakens from a cryogenic sleep to find the Earth almost totally destroyed. It's up to him to find the last livable place on the planet for humanity to survive.
June 15
7:00 p.m.: Family Demons, dir. Ursula Dabrowsky. A woman kills her alcoholic mother in order to end years of abuse, but dear ol' mom comes back from the dead to continue tormenting her daughter.
9:00 p.m.: Dead Hooker in a Trunk, dir. Jen Soska & Sylvia Soska. A quartet of women — including a pair of twins, a Jesus freak and a junkie — have their world rocked when the stumble upon, that's right, a dead hooker in a trunk.
June 16
7:00 p.m.: Bikini Girls on Ice, dir. Geoff Klein. A bus-load of bikini-clad women get stranded at a remote gas station run by a homicidal maniac.
9:00 p.m.: The Reef, dir. Andrew Traucki. Four friends try to swim for shore after their boat capsizes in the Great Barrier Reef, but between them and dry land looms a great white shark who's awfully hungry.
June 17
7:00 p.m.: Nightmares in Red, White and Blue: The Evolution of the American Horror Film, dir. Andrew Monument. This documentary explores the history of American cinematic horror, featuring interviews with John Carpenter, Joe Dante and George A. Romero.
9:00 p.m.: Penance, dir. Jake Kennedy. A struggling mother who turns to stripping to help pay the bills gets involved with a real sicko for a client.
11:00 p.m.: Video Nasties: Moral Panic, Censorship and Videotape, dir. Jake West. An examination into the horror boom of the early '80s and the cries for censorship that swiftly followed.
June 18
6:00 p.m.: "Bloodfest Bites Session 3"
Lions and Tigers and Bears, dir. Lee Marquardt
Vile Beast, dir. W. Justin Crooks
Blood on the Lens, dir. Jonathan Scutt
8:00 p.m.: The Tunnel, dir. Carlo Ledesma. A TV crew investigates an abandoned underground train station in Sydney, Australia that's been a dumping ground for dead vagrants.
Screening with:
Gorelesque Sequence II, dir. Vesper White
Flow, dir. Scott Dale