2011 Big Sky Documentary Film Festival: Official Slections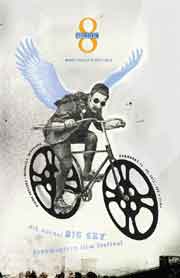 The 8th annual Big Sky Documentary Film Festival is all set to run for ten days this Feb. 11-20 in Missoula, Montana. This year, the fest will have a whopping 140 film programs, a growth that necessitates an expansion from its regular home at the Historic Wilma Theatre — where it will occupy two screens — to also feature screenings at the former Pipestone Mountaineering store.
Special events at the fest include a free opening night screening of How to Die in Oregon sponsored by HBO Documentary Films. The film, directed by Peter D. Richardson, examines the impact the legalization of physician-assisted suicide has had on the state. (In 1994, Oregon was the first state to legalize the practice.)
Also, indie rock band Yo La Tengo will perform their acclaimed live score of the films of pioneering French underwater documentary film director Jean Painlevé, something they have done for other film festivals all over the world. And there will be a retrospective of the films of Chuck Workman, who has made films such as Superstar: The Life and Times of Andy Warhol and last year's festival hit Visionaries: Jonas Mekas and the (Mostly) American Avant-Garde.
Some other films of interest that the Underground Film Journal wants to point out are: Steven Soderbergh's tribute to the late performance artist Spaulding Gray, And Everything Is Going Fine and Ron Mann's documentary about Margaret Atwood's groundbreaking book tour, In the Wake of the Flood. Lastly, there's Frederick Wiseman's latest film, Boxing Gym.
As of this writing, the Underground Film Journal doesn't have the actual schedule or times of the films screening at Big Sky, but the full list of films they will be screening is below. Please check the official website of the Big Sky Documentary Film Festival, where they'll eventually have a schedule up, as well as ticket info and more.
OPENING NIGHT FILM
How to Die in Oregon, dir. Peter D. Richardson
FEATURE FILM COMPETITION
Corner Store, dir. Katherine Bruens
Feathered Cocaine, dir. rn Marino Arnarson & Thorkell S. Hardarson
Granito, dir. Pamela Yates
Holy Wars, dir. Stephen Marshall
Kati With An I, dir. Robert Greene
The Pruitt-Igoe Myth, dir. Chad Friedricks
Steam of Life, dir. Joonas Berghall, Mika Hotakainen
Summer Pasture, dir. Nelson Walker, Lynn True
This Way of Life, dir. Thomas Burstyn
Troubadours, dir. Morgan Neville
The Two Escobars, dir. Jeff Zimbalist, Michael Zimbalist
We Still Live Here, dir. Anne Makepeace
SHORT FILM COMPETITION
Albert's Winter, dir. Andreas Koefoed
Broken Doors, dir. Goro Toshims
Indelible Mark, dir. David Alvarado
Sin Pais (Without Country), dir. Theo Rigby
This Chair Is Not Me, dir. Andy Taylor Smith
Yizkor (Remembrance), dir. Ruth Fertig
MINI-DOC COMPETITION
Bye, dir. Anthony Morrison
Dreams Awake, dir. Kevin Gordon, Rebekah Meredith
Bathing Micky, dir. Frida Kempff
Mrs. Birks' Sunday Roast, dir. Kyoko Miyake
Tarkio Balloon, dir. Torben Bernhard
Top Spin, dir. Sara Newens, Mina T. Son
BIG SKY AWARD COMPETITION
Columbus Day Legacy, dir. Bennie Klain
Darwin, dir. Nick Brandestini
Hood to Coast, dir. Christoph Baaden, Marcie Hume
Play Again, dir. Tonje Hessen Schei
Roll Out Cowboy, dir. Elizabeth Lawrence
Tuned In, dir. Kevin Gordon
YO LA TENGO Presents The Sounds Of Science
Hoboken's legendary Indie rock trio performs LIVE musical
accompaniment to the extraordinary underwater films of Jean Painleve
CHUCK WORKMAN RETROSPECTIVE
Words (1988)
Pieces of Silver (1989)
Precious Images (1989)
Superstar: The Life and Times of Andy Warhol (1990)
The Source (1999)
Visionaries (2010)
WRITERS BLOCKS – Films About Language & Literacy
And Everything Is Going Fine, dir. Steven Soderbergh
The Art of Jihad, dir. Alaa Eldin el Dajani
Chekov for Children, dir. Sasha Waters Freyer
Doc, dir. Immy Humes
Henry Miller: Asleep & Awake, dir. Tom Schiller
Hey Boo: Harper Lee & To Kill A Mockingbird, dir. Mary Murphy
In the Wake of the Flood, dir. Ron Mann
King in Milwaukee, dir. Nicole Brown
Radiografia dun Autor de Tebeos, dir. Marcos Nine
Richard Hugo: Kicking The Loose Gravel Home, dir. Annick Smith, Beth Chadwick Ferris
Sayed Kashua: Forever Scared, dir. Dorit Zimbalist
Scent of Strawberries, dir. Guy Natanel
Unearthing the Pen, dir. Carol Salter
William S Burroughs: A Man Within, dir. Yony Leyser
INTERNATIONAL DOCUMENTARY CHALLENGE The finalists from the 2010 film contest.
Death Goes Green, dir. Gabe Franz
Grounded By Reality, dir. Phoebe Brown & Elizabeth Strickler
Hanging Out, dir. Ben Campbell & Veena Rao
I SAW U, dir. Maile Martinez & Lane Stroud
Legend: A Film About Greg Garing , dir. Emily Branham
Life is but a dream…, dir. Kelly Saxberg
Lynching, America's Nightmare, dir. Christian Appleby
Old Radicals, dir. Matthew Leahy
Oneironauts, dir. Dafni Kalafati & Kiriakos Stilianopoulos
Tami Tushie's Toys, dir. Melody Gilbert
The Four Dreams, dir. Chris Sinclair
Walk Across America, dir. Jon Ward
NATURAL FACTS – Films About Nature, Wildlife & the Environment
Bag It, dir. Suzan Beraza
Broad Channel, dir. Sarah J. Christman
The Comfort of Cold, dir. Sara Newens
Corner Plot, dir. Ian Cook, Andre Dahlman
Fireline, dir. Sara Newens
Learning to Love the Gun, dir. Joseph Matthews
Nenette, dir. Nicolas Philibert
On Coal River, dir. Francine Cavanaugh
One Lucky Elephant, dir. Lisa Leeman
Queen of the Sun, dir. Taggart Siegel, Jon Betz
Rushland Ridge, dir. Kyle Repka
The Sea Is a Harsh Mistress, dir. Jason Sussberg
Second Nature, dir. Guy Leiberman
Snake Fever, dir. Wendy Greene
Dust To Digital Program with Lance Ledbetter
Desperate Man Blues, dir. Edward Gillan
Dust to Digital Picture Show (Various Artists)
Ten Thousand Points Of Light, dir. George King
SIGHTS & SOUNDS – Films About Art & Music
The Anatomy of Vince Guaraldi, dir. Andrew Thomas
Black Dog Running, dir. Scott Ray Becker
Black February, dir. Vipal Monga
David Bailey, Four Beats to the Bar and No Cheating, dir. Jrme de Missolz
Do It Again, dir. Robert Patton-Spruill
Everyday Sunshine: The Story of Fishbone, dir. Lev Anderson and Chris Metzler (Read the review)
Ghost Noise, dir. Marcia Connolly
Keep Dancing, dir. Greg Vander Veer
Marwencol, dir. Jeff Malmberg
Portrait to America, dir. Peter Kovacik
Sacred Transformations, dir. Justine Nagan
Sand Mountain, dir. Kathryn McCool
Sound It Out, dir. Jeanie Finlay
The Secret to a Happy Ending: A Documentary About the DriveBy Truckers, dir. Barr Weissman
The Tao of Blake, dir. Kathy Corley
Waste Land, dir. Lucy Walker
A Weaverly Path, dir. Kenny Dalsheimer
BIG SKY/BIG WORLD New Films from Around the Globe
Armadillo, dir. Janus Metz
Bastards Of Utopia, dir. Maple Razsa
Bye Bye Now, dir. Aideen O'Sullivan
Cultures of Resistance, dir. Iara Lee
Disappearance of McKinley Nolan, dir. Henry Corra
Farewell, dir. Ditteke Mensink
Into Eternity, dir. Michael Madsen
If These Walls Could Talk, dir. Anna Rogers
Keepers of the Art, dir. Gabriela Weeks, Karen Sztajnberg
Kings of Pastry, dir. Chris Hegedus, D.A. Pennebaker
Kinshasa Symphony, dir. Claus Wischmann
Irma, dir. Charles Fairbanks
My Playground, dir. Kaspar Astrup Schrder
The Sound of Insects: Record of A Mummy, dir. Peter Liechti
To Catch a Dollar: Muhammad Yunus Banks on America, dir. Gayle Ferraro
AMERICAN SPECTRUM 1
Boxing Gym, dir. Frederick Wiseman
Breaking & Entering, dir. Benjamin Fingerhut
Brutal Beauty, dir. Chip Mabry
Don't Bury Me in Trona, dir. Vicky Wetherill, Jason Skriniar
Eat the Sun, dir. Peter Sorcher
The Final Chapter, dir. Mina T. Son
Food Stamped, dir. Shira, Yoav Potash
Git Along, Little Dogies, dir. Kate Lain
Like a Lion, dir. Shane Nelson, Eric Iberg
Lines, dir. Joselito Seldera
Lost Angels, dir. Thomas Napper
Love, Etc., dir. Jill Andresevic
Michael & His Dragon, dir. Briar March
Missoulaquatsi, dir. Andy Smetanka
Night Awake, dir. Jenni Nelson
Plasticity, dir. Ryan Malloy
Quadrangle, dir. Amy Grappell
Skydancer, dir. Katja Esson
Summer Snapshot, dir. Ian McCluskey
Two Worlds Inside Out, dir. Moeko Crider, Dana Johnson
The Voyagers, dir. Penny Lane
Wana Dubie's War, dir. Jerod Welker, Andrew Sheeley