2011 Arizona Underground Film Festival: Official Lineup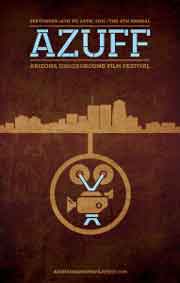 The Arizona Underground Film Festival keeps picking and screening the best in world extreme cinema and their fourth annual edition, which will run Sep. 16-24 in Tucson is no exception, compiling outrageous cult epics from countries such as Japan, Switzerland and Cuba; as well as some local nastiness produced in the fest's own backyard.
The fest opens with Jack Perez's Some Guy Who Kills People, a comedy thriller executive produced by John Landis and starring Kevin Corrigan as a loser who gets sadistic revenge on those he feels have wronged him.
While the opening night film is a big name affair, AUFF is also celebrating local freaky film fare with films such as the film noir Sweet Love and Deadly, directed by Paul Clinco; and the horror comedy Dick Night, directed by Andy Viner.
From elsewhere around the U.S., there's the fest's annual celebration of extreme cinema, including the bloody biker gang flick Dear God No!, directed James Bickert, and Adam Rehmeier's vicious and controversial The Bunny Game.
But, also, if you're looking for something a little more educational, there's also several feature-length documentaries screening, such as Greg Stuetze & Alex Stickroth's expose on online gaming /AFK; Susan Marks's unique detective doc Of Dolls and Murder; and Angelique Bosio's profile of filmmaker Bruce LaBruce, The Advocate for Fagdom.
On the international front, there's two action epics from Japan: The 70's sci-fi TV throwback Karate Robo Zaborgar, directed by Noboru Iguchi, and the violent gang flick Yakuza Weapon, directed by Tak Sakaguchi & Yûdai Yamaguchi. Plus, there's horror from Switzerland (Sennentuntschi: Curse of the Alps, dir. Michael Steiner); Cuba (Ferozz: The Wild Red Riding Hood, dir. Jorge Molina) and Sweden (Marianne, dir. Filip Tegstedt).
Plus, there's short films by Brian Lonano, Greg Hanson and more; and just a ton more films and fun.
For more info on the fest, including tickets and theater locations, please visit the official Arizona Underground Film Festival website. The full film lineup is below:
Sep. 16
7:00 p.m.: Some Guy Who Kills People, dir. Jack Perez. A put-upon loser whose been released from a mental asylum kills those he feels are responsible for his miserable life. (Watch the movie trailer!)
9:00 p.m.: Dragonslayer, dir. Tristan Patterson. This documentary chronicles the life of Josh Sandoval, a skateboarder who lives outside of society, aimlessly drifting from suburb to suburb.
Screening with:
A Fable About Beauty, dir. John Barnard
Sep. 17
5:00 p.m.: /AFK, dir. Greg Stuetze & Alex Stickroth. This documentary explores the addiction that is online gaming, particularly those who are obsessed with World of Warcraft.
Screening with:
Advanced Cybernetics, dir. Steven Day
7:00 p.m.: White Knight, dir. Jesse Baget. A grand dragon of the Ku Klux Klan is sent to prison where he has romantic feelings for the warden's Mexican maid and the only one who can help bridge the communication gap is his Hispanic cellmate. Starring Tom Sizemore, Stacy Keach, Héctor Jiménez and Olga Segura.
Screening with:
It's What's For Dinner, dir. Chris Anderson
9:00 p.m.: Charlie Casanova, dir. Terry McMahon. A sociopath wrecks havoc at a hotel while his wife and friends are helpless to stop him.
Screening with:
Pinball, dir. Ruy Veridiano
11:00 p.m.: Ferozz: The Wild Red Riding Hood, dir. Jorge Molina. In a twisted family dynamic, a sexy teenage girl is lusted after by a Satanist practicing male relative.
Screening with:
Electric Garden, dir. Micheline Durocher
Sep. 18
6:00 p.m.: "Beyond the Celluloid Shorts Block"
We Are All Cylons, dir. Ilana Rein
The Secret Friend, dir. Flavio Alves
Facing Rupert, dir. Gregory Erdstein
All Systems Go, Neil Armstrong, dir. Robert Dohrmann
Good Morning, Beautiful, dir. Todd Cobery
Toy Soldier, dir. Jason Sikorsky and Shon Gale
Nanny Goat, dir. Kai Winikka & Erin Darley
8:00 p.m.: Marianne, dir. Filip Tegstedt. A widowed man is left to raise his two daughters alone while he is haunted by an evil spirit that gives him nightmares.
Screening with:
Calamity, dir. Nicholas Watts
Sep. 19
7:00 p.m.: Karate Robo Zaborgar, dir. Noboru Iguchi. A police offer gets a new partner — a karate-fighting robot that can transform into a motorcycle. A loving and hilarious tribute to '70s Japanese TV sci-fi shows. (Watch the movie trailer!)
Screening with:
Martian Precursor, dir. Brian Lonano, Kevin Lonano (Watch online)
9:00 p.m.: Yakuza Weapon, dir. Tak Sakaguchi & Yûdai Yamaguchi. The exiled son of a Yakuza boss is transformed into a cybernetic killing machine to take down the gang that killed his father.
Screening with:
Attackazoids!, dir. Brian Lonano (Watch online)
Sep. 20
6:00 p.m.: The Beast Pageant, dir. Albert Birney & Jon Moses. A hermit who has his every need taken care of ventures off into a grand adventure with a tiny singing cowboy who bursts from his stomach.
Screening with:
Modern Appetite, dir. Nathan Honnold
8:00 p.m.: The Selling, dir. Emily Lou. A real estate agent is determined to sell a house haunted by the ghosts of a serial killer and his victims.
Screening with:
Bad Time to Sell, dir. Jaz Garewal
Sep. 21
6:00 p.m.: Savage, dir. Martin Jern & Emil Larsson. An ex-con tries to walk the straight and narrow path, but his criminal father tries to lure him back ot his wicked ways.
Screening with:
Summer Knows, dir. Jan Seemann
8:00 p.m.: Of Dolls and Murder, dir. Susan Marks. This documentary shows the use of the Nutshell Studies of Unexplained Death, dollhouse dioramas that help detectives hone their investigative skills.
Screening with:
Murderabilia, dir. David Matthews
Sep. 22
6:00 p.m.: We Are the Mods, dir. E.E. Cassidy. Two female outcasts bond while trying to fit in somewhere at college.
Screening with:
Niche, dir. Eva Alcazar
8:00 p.m.: Advocate for Fagdom, dir. Angelique Bosio. This documentary profiles controversial adult gay movie director Bruce LaBruce.
Screening with:
Acto Primero Escena Cuarta, dir. Elias Brossoise
10:00 p.m.: Dear God No!, dir. James Bickert. A vicious biker gang who love to rape, kill and maim may have just met their match when they meet a young girl taking care of a hideous monster in her basement.
Screening with:
Balls, dir. Jeremy Smith
Sep. 23
7:00 p.m.: The Sandman, dir. Peter Luisi. A young man has romantic dreams about a female coffee shop owner with whom he has a running feud.
Screening with:
To Honor Asphodels, dir. Yana Alliata di Montereale
9:00 p.m.: Snow on Tha Bluff, dir. Damon Russell. An Atlanta crack dealer steals a video camera during a drug deal and begins documenting his own tragic, crime-filled life.
Screening with:
Wanted, dir. Burak Çilsal
11:00 p.m.: The Bunny Game, dir. Adam Rehmeier. A prostitute accepts a ride with a trucker, a decision that might just cost her her life. (Read the review)
Screening with:
Hansel and Gretel, dir. Emma Varker
Sep. 24
3:00 p.m.: "Standing on the Edge Shorts Block"
Feeding Randy, dir. Travis Anderson, Paul Danhauser
The Life Smugglers, dir. David W. Wells
Night River, dir. Irving Gamboa
The Hole, dir. Richard Anderson, Rayme Maldonado Jr.
Fidelity, dir. Ted Willis & Cylan Shaffer
Freaky Fast, dir. Jake Albrecht
The Magic Man, dir. D.C. Kasundra
5:00 p.m.: Sweet Love and Deadly, dir. Paul Clinco. A stripper wants to get rid of her ex-con boyfriend when he's released from prison, so she seduces a drug dealer into committing the crime.
Screening with:
Cut Out, dir. Nick Kozakis
7:00 p.m.: Dick Night, dir. Andy Viner. A jilted woman tries to get over being left at the altar by her fiance, but the vampires surrounding her home don't give her time to relax with a new male companion.
Screening with:
Good Taste, dir. Greg Hanson
9:00 p.m.: Sennentuntschi: Curse of the Alps, dir. Michael Steiner. Three lonely Swiss herdsmen build a female companion out of straw and rags that comes to life when the Devil takes pity on them.
Screening with:
Stasis, dir. Grant Nelson