2011 Arizona Underground Film Festival: Award Winners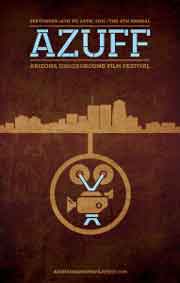 The Arizona Underground Film Festival has announced their list of award winners for their 4th annual edition that rocked the Tucson area last week on Sept. 16-24.
Jack Perez's Some Guy Who Kills People took home the top award as Best of the Fest. The dark, comedic thriller stars Kevin Corrigan and Karen Black; and was executive produced by John Landis.
Other winners include the neo-grindhouse biker bloodbath Dear God No!, directed by James Bickert, which took home Best Exploitation. You can watch the trailer for Dear God No! here. Also, Adam Rehmeier's controversial The Bunny Game took home Best Horror Feature, Susan Marks' Of Dolls and Murder took home Best Documentary Feature and Albert Birney & Jon Moses' The Beast Pageant won for Best Experimental Feature.
AUFF also gave out lots of awards to short films, including Gregory Erdstein's Facing Rupert (Best Narrative Short), Todd Cobry's Good Morning, Beautiful (Best Horror Short) and Emma Varker's Hansel and Gretel (Best Experimental Short).
The full list of winners is below:
Best of the Fest
Some Guy Who Kills People, dir. Jack Perez
(Watch the movie trailer!)
Best Narrative
The Sandman, dir. Peter Luisi
Best Narrative Short
Facing Rupert, dir. Gregory Erdstein
Best Exploitation
Dear God No!, dir. James Bickert
Best Horror Feature
The Bunny Game, dir. Adam Rehmeier (Read the review)
Best Horror Short
Good Morning, Beautiful, dir. Todd Cobery
Best Documentary Feature
Of Dolls and Murder, dir. Susan Marks
(Watch the movie trailer!)
Best Documentary Short
We Are All Cylons, dir. Ilana Rein
Best Experimental Feature
The Beast Pageant, dir. Albert Birney & Jon Moses
Best Experimental Short
Hansel and Gretel, dir. Emma Varker
Best Animation
Niche, dir. Eva Alcazar
Audience Award
/AFK, dir. Greg Stuetze & Alex Stickroth
Director's Award
The Selling, dir. Emily Lou