2011 Antimatter Film Festival: Official Lineup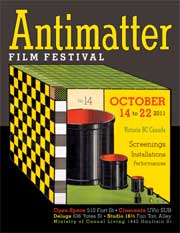 The 14th annual Antimatter Film Festival in Vancouver, BC, Canada is an epic 9-day event of expanded cinema performances, feature-length documentaries an a ton of experimental short films and festivals.
There are seven feature documentaries screening including Marie Losier's hit The Ballad of Genesis & Lady Jaye, a profile of the pandrogenous entity, Breyer P-Orridge; and Chris Metzler & Lev Anderson's popular Everyday Sunshine: The Story of Fishbone, about the legendary ska punk band. Plus, there's Adele Horne's And Again and more.
On the expanded cinema front, Antimatter welcomes retrospectives of Kerry Laitala, who will be presenting a selection of her 3D light and motion experiments; and Roger Beebe will screen a series of multi-projector performances.
As for the short films, the real highlight of the fest is a screening of Jaimz Asmundson's trippy and powerful The Magus, a fictional/documentary hybrid of his father's Satanic painting process. The film was reviewed by the Underground Film Journal a few months ago.
Plus, there's Zachary Epcar's lyrical architectural study A Time Shared Unlimited; Leslie Supnet's experimental animation sun moon stars rain; Neil Ira Needleman's appropriately-named My Film Festival Entry; and work by Clint Enns, Jodie Mack, Deborah Stratman, Heidi Phillips, G.J. Echternkamp and more.
For more information, including detailed film descriptions, please visit the official Antimatter Film Festival website. The full film lineup is below:
Oct. 14
7:00 p.m.: "Opening Receptions for Media Installations"
Installations: Wrestling With my Father, Dawn & Dusk, Circles of Confusion and Wander
9:00 p.m.: "Intercontinental Fuzz & Funk"
With DJs Anada & Supreme Echo and "period cinematic surrealism guaranteed to exotify and enrich your evening."
Oct. 15
7:00 p.m.: "Battle for Stardom"
Darling, dir. Kate McCabe
Jenny Mi Amor, dir. Abigail Severance
Home Video II (Battle for Stardom), dir. Kate Rowles & Linda Rowles
How Mata Hari Lost Her Head4. & Found Her Body, dir. Amy Ruhl
Mouse Palace, dir. Harald Hund & Paul Horn
Turn me on, turn me off, dir. Daniel Pereira
Format, dir. Christine Lucy Latimer
Praxis–8, 12 Scenes, dir. Dietmar Brehm
9:00 p.m.: "Equanimous Passage"
Equanimous Passage, dir. Orland Nutt
Lark's Tongue In Aspics, dir. David Shushan
Cartography (chroma key vs. winnipeg), dir. Scott Fitzpatrick
Superliminal, dir. Sebastian Melo
Men at Work, dir. Panu Johansson
Tokyo – Ebisu, dir. Tomonari Nishikawa
Washes, dir. Norbert Shieh
Crosscuts, dir. Tijman Hauer & Regina Kelaita
The Sound We See: A Los Angeles City Symphony, dir. Echo Park Film Center
Oct. 16
3:00 p.m.: "Posthaste Perennial Pattern"
Paris Recyclers, dir. Nikki Schuster
Hang in There, dir. Leslie Supnet
A Time Shared Unlimited, dir. Zachary Epcar (Read the review)
Posthaste Perennial Pattern, dir. Jodie Mack
101–102, dir. Yves Martin Allard
The Life, Death & Suffer Story, dir. Anna FitzSimons
Captain Fork, dir. G.J. Echternkamp (Watch online)
The Ballad of Roy & Silo, dir. John Greyson
Que Sera, Sera, dir. Yoshie Sakai
Irma, dir. Charles Fairbanks
7:00 p.m.: "Bottom of the Sky"
Skydive, dir. Heidi Phillips
Tree of Forgetting, dir. Dan Boord & Luis Valdovino
Prism, dir. David Oonk
The Garden, dir. Ann Steuernagel
Warchild, dir. Caroline Monnet
Untitled [Espaces Sociaux #1], dir. Philip Widman
imum coeli (bottom of the sky), dir. Mirka Morales
The Art of Catching, dir. Jessica Bardsley
9:00 p.m.: "Devil's Gate"
sun moon stars rain, dir. Leslie Supnet
These Hammers Don't Hurt Us, dir. Michael Robinson
Self Improvement, dir. Clint Enns
Holy Ghost transformed to The Black Monolith, or vice versa, dir. Debora Elgeholm
Love Rose, dir. Bobby Abate
Phase Transition, dir. Ed Janzen
…These Blazeing Starrs!, dir. Deborah Stratman
Homage to the Great Emitter, dir. Joe Merrell
Devil's Gate, dir. Laura Kraning
Oct. 17
7:00 p.m.: Empty Quarter, dir. Alain LeTourneau & Pam Minty. This documentary explores the sparsely populated region of Southeast Oregon through stark portraits of the vast terrain and its residents.
Screening with:
A Life's Work, dir. Adam R. Levine
9:00 p.m.: "Northern Haze"
Half the Battle, dir. Jem Cohen
Daybreak, dir. Jason Britski
Little Fissures, dir. Sheri Wills
Imperceptihole, dir. Lori Felker & Robert Todd
Dance to Miss Chief, dir. Kent Monkman
Northern Haze: Living the Dream, dir. Derek Aqqiaruq
Oct. 18
7:00 p.m.: "Changed Landscape"
Prelude, dir. Roger Deutsch
Broad Channel, dir. Sarah J. Christman
Place for Landing, dir. Shambhavi Kaul
Changed Landscape, dir. Tijana Petrovic
Urban Green, dir. Kathleen Rugh
Undergrowth, dir. Robert Todd
Resonance, dir. Karen Johannesen
Puhelinkoppi (1882–2007), dir. Hope Tucker
Phantoms, dir. Chris Kennedy
7:00 p.m.: Songs From the Nickel, dir. Alina Skrzeszewska. This documentary reveals a little-known neighborhood of Los Angeles called "The Nickel" where people with hardly a nickel to their name congregate.
Screening with:
the fall, dir. CJ Brabant
9:00 p.m.: "Point No Point"
Sutrapeze, dir. Pim Zwier
Point No Point, dir. Jennifer Campbell
L'Écurie 360, dir. Frédéric Moffet
The Swimmer, dir. Salise Hughes
So Certain I Was, I Was a Horse, dir. Emilie Serri
Sound Between Lines: Triangle Soundpainting Orchestra, dir. Jason Middleton
São Paulo – Pink Girl, dir. Sarah Shamash
Transit, dir. Bernard Roddy
9:00 p.m.: And Again, dir. Adele Horne. This documentary examines the lives of former residents of the small town of Playas, New Mexico who now pretend to be terrorists and victims for Homeland Security simulation training.
Screening with:
Untitled, dir. Keren Cytter
Oct. 19
7:00 p.m.: "Weapons Expert Demonstration"
28.IV.81 (Descending Figures), dir. Christopher Harris
Dressage, dir. Julika Rudelius
The Silent Majority (1972), dir. Penny Lane & Brian L. Frye
Antichrist: Neoist Hokey Pokey, dir. Istvan Kantor
Time-Based Correction, dir. Peter Freund
Self-destruction for eternity, dir. Wei-Ming Ho
Weapons Expert Demonstration, dir. Robert Todd
Magic for Beginners, dir. Jesse McLean (Watch online)
7:00 p.m.: The Ballad of Genesis and Lady Jaye, dir. Marie Losier. A portrait of industrial music pioneer Genesis P-Orridge and his late wife, Lady Jaye, who subjected themselves to an art project in which they attempted to become a singular pandrogenous entity, Breyer P-Orridge.
Screening with:
Whoever Whatever, dir. Daniel McKernan
9:00 p.m.: "How to Explain It to My Parents"
Deus Ex Boltanski, dir. Robert Gardner
Four Cubic Feet of Space, dir. Tony Gault
How to Explain It to My Parents: Arno Coenen, dir. Lernert & Sander
My Film Festival Entry, dir. Neil Ira Needleman
The Magus, dir. Jaimz Asmundson (Watch online)
Albumleaf, dir. Paul Turano
Tony Conrad: DreaMinimalist, dir. Marie Losier
9:00 p.m.: Blinding, dir. Steve Sanguedolce. This experimental documentary profiles a lesbian ex-cop, a nearly-blind writer and a former Canadian Air Force pilot.
Screening with:
Tranquility, dir. Siegfried Fruhauf
Oct. 20
7:00 p.m.: "Lebenswelt"
Spirit of the Bluebird, dir. Xstine Cook & Jesse Gouchey
The Trial of Socrates, dir. Kadet Kuhne
Susan's Horses, dir. Elizabeth Henry
Texas, My Brother & Me, dir. Nika Khanjani
Fruit Flies, dir. Christine Lucy Latimer
Love Is a Hunter, dir. Jessica MacCormack
File Under Miscellaneous, dir. Jeff Barnaby
Lebenswelt, dir. Elias Brossoise
7:00 p.m.: Everyday Sunshine: The Story of Fishbone, dir. Lev Anderson & Chris Metzler. This documentary chronicles the friendship and tenacity of Fishbone lead singer Angelo Moore and bassist Norwood Fisher, who struggle to keep their beloved band popular and relevant. Narrated by Laurence Fishburne. (Read the review)
9:00 p.m.: "Shambhala Alley"
I Swim Now, dir. Sarah Biagini
4 by 4, dir. Nathaniel Cummings-Lambert
Second Law: South Leh St, dir. Mike Gibisser
Hull, dir. Tara Nelson
Goodbye Pig, Goodbye Phil, Goodbye Sweet Things That Once Were, dir. Anna Geyer
winter's end, dir. Wrik Mead
Winged, dir. Jennifer Hardacker
Shambhala Alley, dir. Peter Sandmark
Rachki, dir. Kandis Friesen
Saskatchewan, dir. Richard Wiebe
9:00 p.m.: Mexicali, dir. Juan Palacio & Max Herrlander. Blending narrative and documentary, the filmmakers cast themselves as their own fictional counterparts trying to understand life around the Mexican / U.S. border.
Screening with:
G, dir. The Automatic Message (Trevor Jacobson & Tanya Goehring)
Oct. 21
7:00 p.m.: "Some 3D Colour/Light/Motion Experiments by Kerry Laitala"
Chromatic Cocktail Extra Fizzy
Terra Incognito
Afterimage: A Flicker of Life (version 2)
Chromatic Revelries
Pin-up in 3D
Chromatic Cocktail 180 Proof
Chromatastic
Sparkle Plenty
Mercurial Madness
Chromatic Frenzy
Film Loops vs. Video Projection, a competition
9:00 p.m.: "LOGBOOK: Expanded Cinema Performance by Alex MacKenzie"
Filmed using the first-ever hand-cranked 16mm camera — Kodak's 1923 Cine-Kodak Model A — MacKenzie will manipulate his projections live.
Screening with:
"Transmissions & Acquisitions: Projector Performance by Amanda Dawn Christie & E. Hearte"
Described as "an improvisational performance for analogue and digital technologies in two parts."
Oct. 22
12:00 p.m.: "Expanded Cinema Workshop: Apparatus & Methodology with Alex MacKenzie"
Free
2:30 p.m.: "Film Improvisation Workshop with Amanda Dawn Christie & E. Hearte"
Free
7:00 p.m.: "Films for America in Ruins: Multi-Projector Experiments by Roger Beebe"
TB TX DANCE
The Strip Mall Trilogy
A Woman, A Mirror
Beginnings
One Nation under Tommy
AAAAA Motion Picture
S A V E
Famous Irish Americans
Money Changes Everything
9:00 p.m.: "Livor Mortis: Expanded Cinema Performance by Trinchera Ensamble and Eric Ostrowski"
Described as "electronic emanations from Mexico's narco wars: the unrelenting vortex of violent media imagery generated by this ongoing conflict has resulted in a no man's land of residual haptic memory."