2011 $100 Film Festival: Award Winners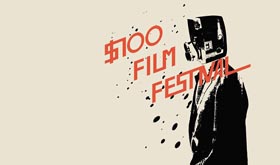 Calgary's 19th annual $100 Film Festival, a three-day event that screens short films that are shot only on celluloid, was held on March 3-5. Today, they've announced the five films that won awards.
The fest screens movies shot on either 16mm or Super 8 film. A "Best" award is given to one film each shot in both those formats. The Best 16mm Film Award went to Ben Rivers and Paul Harnden's May Tomorrow Shine the Brightest of All Your Many Days As It Will Be Your Last. For the Best Super 8 Film, the Underground Film Journal is especially thrilled that the award went to Paul Clipson's brilliantly hypnotic Chorus, which was reviewed on this site back when it screened at the 2009 ATA Film & Video Festival.
Other awards went to Alexander Sakarev & Krasimira Sakareva's Reminiscences for Best of Alberta, Magnus Irvin's Spiral In, Spiral Out won the Jury's Choice Award, and the Audience Favorite was Cassidy Bankson & Greg Jackson's Christmas Compunction.
Congrats to all the winners and all the filmmakers who screened at the fest this year. The winners, in a handy list format, is below:
Best of Alberta
Reminiscences, dir. Alexander Sakarev & Krasimira Sakareva
Best 16mm Film
May Tomorrow Shine the Brightest of All Your Many Days As It Will Be Your Last, dir. Ben Rivers & Paul Harnden
Best Super 8 Film
Chorus, dir. Paul Clipson
Jury's Choice
Spiral In, Spiral Out, dir. Magnus Irvin
Audience Favourite
Christmas Compunction, dir. Cassidy Bankson & Greg Jackson