2010 WNDX Festival Of Film And Video Art: Official Lineup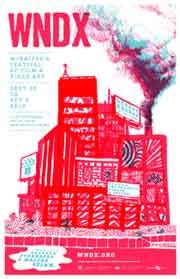 Over the last five years, it's nice to have watched the WNDX Festival of Film and Video Art in Winnipeg grow into such a terrific powerhouse of showcasing the best Canadian avant-garde and experimental media. It's fifth killer edition will run on Sept. 30 — Oct. 3.
There's one great non-Canadian exception this year, though. WNDX honors the life and work of the legendary Brooklyn-bred underground filmmaker George Kuchar. There will be three retrospectives of his films, chronicling his career from his early '60s Hollywood-inspired pastiches to his more recent autobiographical videos.
Also screening as part of the Kuchar celebration will be Jennifer M. Kroot's hit documentary It Came From Kuchar about George and his twin filmmaking brother Mike. Of course, George will be there in person attending the festival and on Sunday, Oct. 3, he will join Winnipeg filmmaker Guy Maddin for a panel discussion that's not to be missed.
As far as Canadian filmmakers go, there's a retrospective of the films and video of Babara Sternberg; two installation pieces: One by Doreen Girard and Julia Ryckman, and one by Malena Szlam Salazar; plus, several short film collections, including the annual New Prairie Cinema showcase.
Filmmakers who are screening new films is like a Who's Who of the best of the best of the Canadian avant-garde: Clint Enns, Leslie Supnet, Mike Rollo, Noam Gonick, Mike Maryniuk, Alexandre Larose, Richard Kerr, François Miron, Daïchi Saïto and a ton more.
For more information on the festival, please visit the official WNDX website. The full film lineup is below:
Sept. 30
7:00 p.m.: "New Prairie Cinema: A Whole New World"
Warchild, dir. Caroline Monnet
Phantasm, dir. Andrew Milne & Ming Hon
Somatic, dir. Kelsey Braun
Return to You, dir. Cam Woykin
Self Improvement, dir. Clint Enns
How to Care for Introverts, dir. Leslie Supnet
The Importance of Being Earnest, dir. Divya Mehra
Down(town)time, dir. Steve Loft
Hello, Calgary, dir. Anne Koizumi & Travis Murphy
Whatzhizname, dir. Murray Toews
Big Bad Baby Brain, dir. L. Bruce Robertson
Dead Meat, dir. Clark Ferguson
Hirsch, dir. Noam Gonick
Scenes From a Secret World, dir. Amalie Atkins
Dead Ringer, dir. Mike Maryniuk
9:00 p.m.: Sontiainen, dir. Doreen Girard & Julia Ryckman. This will be a live film performance by Girard and Ryckman in which animation will be screened using a hand-built multi-frame slide projector that uses hand-turned reels and focus pulls to advance the images. The film tells the true story of Tom Sukanen, a Saskatchewan resident who tried to build a boat to sail back to his home country of Finland. Instead of taking the trip, though, he was sent to live in a mental institution.
Oct. 1
7:00 p.m.: "A Process of Seeing: A Barbara Sternberg Retrospective: Films"
Awake – 3 mins, S8mm on video, 2000
After Nature – 11 mins, 16mm, 2008
Transitions – 10 mins, 16mm, 1982
Like a Dream That Vanishes – 41 mins, 16mm, 1999
9:00 p.m.: "George Kuchar Retrospective: Program 1: Getting to Know George"
Hold Me While I'm Naked – 1966, 15 min
Electrocute Your Stars, dir. Marie Losier – 2004, 8:00 min, video
Lovers of Eternity – 1963, 30:00 min, 8mm
Burnout – 2003, 20:00 min, video
Art Space – 2009, 8:30 min, video
Route 666 – 1994, 7:40 min, video
Calorie Cottage – 2010, 9:45 min, video
11:00 p.m.: "George Kuchar Retrospective: Program 2: Filmy Sex & Mayhem"
Unstrap Me – 1968, 77 min, 16mm
One Night a Week – 1978, 27 min, 16mm
Oct. 2
1:00 p.m.: "Lost Spaces: Curated by Carole O'Brien & Lawrence Bird"
The Other Face of Time, dir. Anca Matyiku
A Re-enactment of Events, dir. Rhayne Vermette
Odeon, dir. Michael Maksymiuk
Space Replaced, dir. Andy Puiatti
Dazed or Confused, dir. Shaun Cummins
The Lost of Chinatown, dir. Zhi Yong Wang
How Far Is It to Expo 2010?, dir. Hong Zhang
3 Minutes in Beijing, dir. Kevin Kelly
Boomtown, dir. Clark Ferguson
3:00 p.m.: Chronogram of Inexistent Time, dir. Malena Szlam Salazar. This is the opening reception of Salazar's new film and video installation at the Black Lodge. The piece deals with "the architectural possibilities of ephemeral images, their displacement and the traces that they leave behind" and it consists of "loops of multiple images projected onto asymmetrical screen surfaces." Following this event, the installation will be on view from Oct. 4-15 from Noon to 5:00 p.m. (Closed Sundays).
5:00 p.m.: "A Process of Seeing: A Barbara Sternberg Retrospective: Program 2: Videos"
Dark – 30 mins, Beta SP, 2005
Sunsets – 40 mins, Beta SP, 2002
7:00 p.m.: "Canada Avant Garde: Cine-Adrenaline"
Perceptual Subjectivity, dir. Phillipe Leonard
VILLE MARIE, dir. Alexandre Larose
Refraction Series, dir. Chris Gehman
Action: Study, dir. Richard Kerr
Lola, dir. Mike Rollo
Extrants, dir. Marik Boudreau
Hydromorphone 8mg, dir. François Miron
Trees of Syntax, Leaves of Axis, dir. Daïchi Saïto
9:00 p.m.: "George Kuchar Retrospective: Program 3: Tornadoes & Travelogues"
Weather Diary 3 – 1988, 25:00, video
Supercell – 2004, 9:16, video
Burrito Bay – 2009, 25:15, video
Rocky Interlude – 1990, 7:28, video
Weather Watch – 1991, 16:05, video
Oct. 3
1:00 p.m.: It Came From Kuchar, dir. Jennifer M. Kroot. A documentary on the life of twin pioneering underground filmmakers, George and Mike Kuchar, who directed such classics as Hold Me While I'm Naked and Sins of the Fleshapoids. (Read the review)
3:00 p.m.: "Unholy Alliance: George Kuchar & Guy Maddin in Conversation"
The two underground film powerhouses will participate on a panel discussion of epic proportions. Joining them will be guest curator Irene Bindi.
5:00 p.m.: "Canada Avant Garde: The View From Here"
Tamalpais, dir. Chris Kennedy
Tungijuq, dir. Felix Lajeunesse & Paul Raphael
Roundabout, dir. Peter Byrne
bio [feed] back, dir. Crystal Melville
Rachki, dir. Kandis Friesen
Collagist, dir. Amy Lockhart
Everybody, dir. Steve Reinke
Lucky Girl, dir. Alexandra Grimanis
Her Sugar Is?, dir. Dana Claxton
Solar Paludism, dir. Lamashtu
Wandering Through Secret Storms, dir. Christina Battle
8:00 p.m.: "One Take Super 8 Event"
It's the annual WNDX event in which filmmakers are given a single cartridge of super 8 film, which they go shoot, return and get processed. Then, the filmmakers and the audience alike see the results at the same time.