2010 TromaDance Film Festival: Official Lineup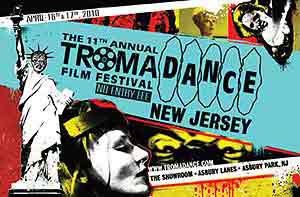 The TromaDance Film Festival has moved to the most toxic place on Earth for its 11th annual edition: New Jersey! That's right, screw the snow! TromaDance has moved the hell out of Park City and will be making Asbury Park a little bit skeevier on April 16-17 with a grotesque abomination of a lineup of short films and features.
On the 16th, check out the dear ol' uncle Lloyd Kaufman's brutally hilarious, bloody and feces-tastically toe-tapping Poultrygeist: Night of the Chicken Dead, a musical set in a fast food restaurant haunted by demonic spirits.
Then, on the 17th, its a gargantuan all-day affair of riotous and offensive short films from all over the world, plus a screening of Tom Six's bizarro feature-length horror film The Human Centipede in which a mad doctor sews innocent victims together mouth-to-butt. Hey, whatever turns you on.
Plus, there's panel discussions, parties and … bowling! If you dare to brave the madness, please visit the official TromaDance website. For now, below is the full lineup:
April 16
10:00 p.m.: Poultrygeist: Night of the Chicken Dead, dir. Lloyd Kaufman. (Read the review)
April 17
12:00 p.m.:
This Is Where We Live, dir. Ben Falk, Josiah Newbolt, Jordan Wood
Burn the Whole Place Down, dir. Adam Comiskey
Insanophenia, dir. Steven Kostanski
Parade, dir. Pierre-Emmanuel Lyet
Beautiful As You Are, dir. Doug Mallette
Pesticide, dir. Cameron Kerr
The True Adventures of GHOSTTANK, dir. John E. Goras
SuperBattle: Episode 1, dir. Ethan Marak
1:00 p.m.:
Nemesis, dir. Stian Hafstad
Dirty Martini, dir. Iban Del Campo
Pie of the Day, dir. Victoria Cook (Watch online)
Lazer Ghosts 2: Return to Laser Cove, dir. Steven Kostanski (Watch online)
Sinkhole, dir. Eric Scherbarth
2:00 p.m.:
The Golden Nazi Vampire of Absam: Part II, dir. The Secret of Kottlitz Castle, dir. Lasse Nolte
The Devil, dir. Andrea Lodovichetti
3:00 p.m.:
Zombies and Cigarettes, dir. Rafa Martinez and Inaki San Roman
Milbe / Mite, dir. Karl Tebbe
Mina, dir. Jose Zambrano Casselle
Small Penis, dir. Stian Hafstad
Four Thieves and the Not-So Sweet Shop, dir. Ryan Braund
4:15 p.m.: The Human Centipede, dir. Tom Six (Read the review)
Screening with:
Whiplash, dir. Clint Enns
Sick Animation, dir. Marc M.