2010: The Year In The Underground Film Journal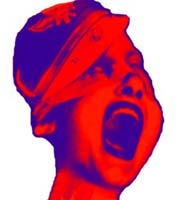 2010 was, without a doubt, the best year for the Underground Film Journal. I'd just like to thank everybody who's been so supportive of the site over the past 12 months, both new readers and those who've been along for the ride for the past few years. The Underground Film Journal's reach keeps expanding at a steady pace, which is a trend I hope continues through 2011.
But, I did say this was the Underground Film Journal's "best year." Here's why:
First of all, I was truly honored to be accepted into the Online Film Critics Society. While this hasn't had a tremendous impact on the site, the recognition was a tremendous ego boost. Plus, it is great to go to their site and see links to the Underground Film Journal reviews of underground films mashed between the typically more mainstream fare my colleagues promote. I do get a few clicks through this, so slowly, but surely the word is getting out.
Also in 2010, IMDB linked up to the Underground Film Journal's RSS feed as an "official" movie news source. This has brought in a steady stream of readers every day as every time I list a film or a filmmaker in an article, I appear on the relevant IMDB info page. So, if you thought I was sneaking in more mainstream titles and actors into more posts this year, you weren't imagining things. (This tactic has also brought in a couple of cranks who complain I get my "facts wrong," but you gotta take the good with the bad.)
I also started a couple of the Underground Film Journal's biggest reference projects this year that are still on-going and, really, have no definitive end.
The first big project I started — inspired by my gig as a researcher at the American Film Institute that I held throughout the year — was the Underground Film Timeline, a chronological listing of all major underground films from 1905 through the 1990s. The data for this project is being gathered from books, which I'm up to five sources now. It took a little while, but traffic to these pages is steadily growing, which makes me happy because it takes a lot of work.
The other big project that I haven't been pimping too much, but of which I've seen lots of positive results is my filmmaker tagging project. Filmmakers that show up in a lot of posts on the Underground Film Journal get a special "tag" page where I provide a brief bio, partial filmography and, of course, links to all the articles in which their names pop up. Traffic to these pages keeps growing the more I add them, but it's a lot of research and link-adding, so it's slow going. I've got a couple dozen done already, though.
The last big project I worked on was the Underground Film Loop, but I already reported on its performance in a separate article.
But, also, the Underground Film Journal's reference/research section grew generally over the year, too. In addition to the Timeline and the filmmaker tagging, I added a book reference page, a classic DVD availability page and a film school page.
Social networking around the web grew, as well. Here are the stats as of today, Jan. 1, 2011:
Facebook fans: 411
Twitter followers: 262
Reddit readers: 139
VodPod monthly views: 403
Granted, those aren't in the thousands like other big-time film blogs, but those numbers have been growing steadily throughout the year.
I've also been trying to keep up more with underground film side projects on other blogging platforms, like on Tumblr and on WordPress.com.
So, what do I want to do in 2011? Just keep growing! So, please help me get the word out this year, not just about the Underground Film Journal, but about underground film in general. The social networking numbers I listed above are a good barometer of seeing how interested people are in underground film.
The site's moving away from getting a "I can't see those movies you write about" reaction out of people, to those going out of their way to watch so much great, amazing content, commenting on it and spreading the word on blogs, Facebook, Twitter, etc. It's exciting to see because these filmmakers deserve the attention.