2010 Sydney Underground Film Festival: Award Winners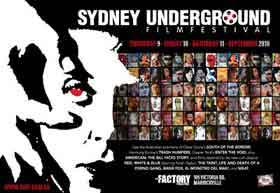 The Sydney Underground Film Festival recently wrapped up their 4th annual killer year on Sept. 11 with nearly half of all their screenings completely selling out.
Awards this year were given out in three sections. First, there were three Director's Choice Awards chosen by the festival. Then, there are a selection of Jury Awards for categories such as Innovative Narrative, Unique Aesthetic, Provocative and more. The jury consisted of filmmakers Dean Francis and Tom Cowan, and artist Mark Wotherspoon.
Lastly, each short film block of the festival had an Audience Award given to a single film in that block. However, there were also special notations given to two films that received the most and the second most votes total of all short films in all blocks.
The full lineup of winners is below. Some of the big winners were Stuart Simpson's El Monstro Del Mar!, which won the Jury's Choice Award. The film also just won the Best Film Award at the Melbourne Underground Film Festival last month.
The film that won the second most audience votes was Dr. Mermaid and the Above Marine directed by Jack McGrath and Mark Elliot, which also took home the jury's Unique Aesthetic Award. The film that won the most audience votes overall was Maya Newell's Two.
Congrats to all the winners! Here's the full lineup:
Director's Choice Awards:
LanFranchi's Memorial Discoteque, dir. Richard Baron
The Taint, dir. Drew Bolduc and Dan Nelson (Read the review)
Piss Film, dir. Clare Ferra
Jury Awards
Innovative Narrative Award
Broken, dir. Christian Doran
Unique Aesthetic Award
Dr. Mermaid and the Above Marine, dir. Jack McGrath and Mark Elliot
Provocative Film Award
Blac Blocs-NVDA, dir. Richard Eames
Recycled Cinema Award
Girl on Fire, dir. Tony Lawrence
Confessional Film Award
The Old House, dir. Kathleen Lee
Voyeuristic Award
Rapture, dir. Angelica Mesiti
Original Concept Award
Robotic Panic, dir. Justin Crooks
Juror's Choice Award
El Monstro Del Mar!, dir. Stuart Simpson (Read the review)
Audience Awards
LOVE/SICK
Then She Was Gone, dir. Burleigh Smith
LSD FACTORY
Maze, dir. Martin Gilbert
House, dir. John Gillies
MONDO BIZARRO
Robotic Panic, dir. Justin Crooks
ANIMATION FORNICATION
Dr. Mermaid and the Above Marine, dir. Jack McGrath and Mark Elliot (Runner Up for the most votes overall)
MOTHER'S MILK
The Crimson Wave, dir. Terri Matthews
Untitled, dir. Vivienne Linsley
REALITY BITES
Two, dir. Maya Newell (Winner overall for most votes)
RECYCLED CINEMA
Girl on Fire, dir. Tony Lawrence