2010 SXSW Film Festival Lineup: Underground Picks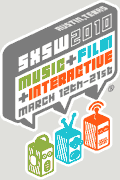 The official lineup for the 2010 SXSW Film Festival was announced today, which features a lineup of 119 films that will screen this year on March 12-21. You can look over the full lineup on the SXSW website, although as far as I can tell actual screening times still have yet to be provided.
Listed below here are a couple of films that may be of specific interest to readers of the Underground Film Journal:
Some Days Are Better Than Others, dir. Matt McCormick. McCormick has been a force on the underground film scene for the past several years making acclaimed short films like The Subconscious Art of Graffiti Removal, founding the underground DVD distributor Peripheral Produce and overseeing the PDX Film Festival. Some Days Are Better Than Others is McCormick's first feature film and is a "poetic, character-driven film that asks why the good times slip by so fast while the difficult times seem so sticky." The film also stars Carrie Brownstein, formerly the guitarist for Sleater-Kinney, for whom McCormick directed the music video "Jumpers." SXSW marks the film's World Premiere.
Watch the trailer for Some Days Are Better Than Others:
A Different Path, dir. Monteith McCollum. McCollum has previously directed several acclaimed documentaries. You can read a review on the Underground Film Journal of his first feature Hybrid when it screened at the 2001 Chicago Underground Film Festival. Hybrid also won the Best Documentary award at the 2001 Slamdance Film Festival. McCollum's second feature documentary Milk in the Land, co-directed with Ariana Gerstein, won the Best Documentary award at the 2007 Chicago Underground Film Festival. A Different Path follows "a sidewalk activist Senior, a Critical Mass trumpeter, a city Kayak-er, and others, as they struggle to make their way through the modern automobile-centric urban environment." The film will also be making its World Premiere at SXSW.
The People vs. George Lucas, dir. Alexandre O. Philippe. This documentary interviews fans who are mad at George Lucas for his second Star Wars trilogy. (Or would they make up the first trilogy? So confusing.) One of those fans happens to be Underground Film Journal friend and fellow cult film blogger Mike White of the legendary Cashiers du Cinemart zine, which turned me onto several great filmmakers back in the day. World Premiere.
Cotton, dir. Daniel Stamm. This thriller about a phony exorcist who actually comes in contact with a very real, very possessed girl was co-written by Andrew Gurland, who helped co-found the New York Underground Film Festival with Todd Phillips, the Golden Globe-winning director of The Hangover. (The other co-screenwriter is Huck Botko.) World Premiere.