2010 New Media Film Festival: Official Lineup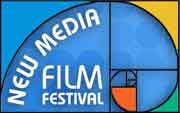 Los Angeles may be considered the film capital of the world, but what is "film" these days anyway? A new L.A-based festival has just popped up that addresses and celebrates all of the unique forms that visual storytelling can take in our new media world.
The inaugural New Media Film Festival will run the course of one weekend, June 11-13, at the Downtown Independent theater and show a mix of Internet-based short films, "webisodes," documentaries that deal with the way media influences and is influenced by real world affairs and feature films in which new media figures as a major story element.
While the festival is strictly concerned with new media, I do want to note that there is a slight "underground" connection. While the fest was founded by Susan Johnston, the event's Artistic Director is David Kleiler, who founded the Boston Underground Film Festival way back in 1998. Plus, the fest's Director of Programming is Noel Lawrence, the longtime underground film curator, critic and distributor.
Below is the full lineup, but for more information, to buy tickets, etc., it's a good idea to check out the New Media Film Festival official website before heading out to a screening.
June 11
7:00 p.m.: RiP: A Remix Manifesto, dir. Brett Gaylor. The world's first open source documentary, the product of hundreds of collaborators all working on the subject of copyright and the Remix Culture.
9:45 a.m.: "Online Shorts: Webseries Program"
Flying Kebab, dir. Matheus Siqueira
The Dick & Jane Show, dir. Elvis Winterbottom
Bigs & Shorty, dir. James Roddy
The Ballad of Mary & Ernie, dir. Robert Stadd
You Can't Do That on the Internet, dir. Kate Sargeant
1:00 p.m.: Orgasm, Inc., dir. Liz Canner. Learn all the shocking details about how the pharmaceutical company goes about producing new sex drugs in this insider documentary about the making of the first pill to "cure" Female Sexual Dysfunction.
3:00 p.m.: 2012: Time for Change, dir. Joao Amorim. Can the human species transform their disposable, unsustainable lifestyle into a truly regenerative culture? This documentary attempts to find out.
Screening with:
Site/Light, dir. Peter Coonradt
5:00 p.m.: "Offline Shorts: Shorts Program #1"
The Modernist, dir. Thom Higgins
Kids Might Fly, dir. Alex Taylor
Beautifully Esther, dir. Ricardo Korda
Charlie and the Rabbit, dir. Rodrigo Ojeda-Beck & Robert Machoian
Fear Itself, dir. William Wonders III
The Box, dir. Joel Sadilek
7:00 p.m.: Double Take, dir. Johan Grimonprez. This documentary recasts famed movie director Alfred Hitchcock as a paranoid history professor living during the peak years of the Cold War.
10:00 p.m.: Confessions of a Superhero, dir. Matt Ogen. This documentary profiles the quirky characters and aspiring actors who dress up as superheroes and pose for pictures with tourists outside of Hollywood's Mann's Chinese Theater.
June 13
1:00 p.m.: "Web & Mobile Content Program"
When Lynch Met Lucas, dir. Sascha Ciezata
The Final Breaths of a Main Character, dir. Raul B. Fernandez
Kenny Loggins Pitch Videos, dir. Paul Briganti
Video Magnet Poetry, dir. Amanda Poore
Safety Geeks : Episode 11 — A Strange Sucking Sound, dir. Dave Beeler & Tom Konkle
Awareness, dir. Olivier Chatard
The Rise, dir. Garret Williams
Superstitious, dir. David Magnier
2:30 p.m.: Memories of Overdevelopment, dir. Miguel Coyula. After the Cuban revolution, an aging intellectual moves to the "free" world only to become even more dismayed at what he finds there than the life he left behind.
5:00 p.m.: "Shorts Program #2"
All the Bulbous Accidents, dir. Juliet Schnieder
The Beast, dir. Rhoderyc C. Montgomery
Notes on the Other, dir. Sergio Oksman
Goodbye Shanghai, dir. Adam Christian Clark
Evidence Is Everywhere, dir. Todd Goings
What's That Sound?, dir. Geoff Johnston
7:00 p.m.: Herpes Boy, dir. Nathaniel Atcheson. A tortured teenager with a huge birthmark on his upper-lip becomes an unwitting Internet superstar.
Screening with:
New Media, dir. JJ Adler