Movie Review: 2010 Movie Of The Year: Gravity Was Everywhere Back Then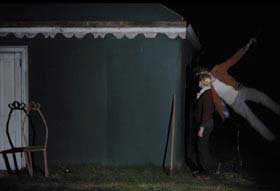 My criteria for picking the Underground Film Journal's Movie of the Year is simple: First, I ask myself, "What movie has stuck in my head the most this year?" Then, whatever movie pops to mind first is my selection. But, at the same time, knowing how I think and all, some consideration goes towards what little-seen film do I think could use a little extra attention and a good publicity boost.
That didn't happen this year.
Brent Green's live-action animated feature film Gravity Was Everywhere Back Then is about as close as an underground film can get to being a blockbuster. First of all, it had a theatrical run in NYC at the IFC Center, then Green and his live performance collaborators have been touring with it all over the country and screening the film to major audiences everywhere it goes. And it deserves every bit of attention and acclaim it has gotten.
Simply put, Gravity Was Everywhere Back Then is the most audacious film of the year. In telling the simple story of a man who builds a patchwork house as a conduit to God to cure his wife of cancer, Green has crafted an emotionally complex and visually stunning modern, tragic fairy tale. It's a film filled with big ideas, faith, spirituality and heart.
Actually, if I could sum up this year in underground film, it would be about "going big" with several filmmakers pushing themselves with big visions and big concepts. This is really important because great underground films should be about choosing audacity over the status quo, about pushing the limits of what films can say and do far outside the bounds of the mainstream world.
While Gravity Was Everywhere Back Then was clearly the biggest and most audacious, here are the runners up from all over the world:
Help Wanted, dir. Waylon Bacon. There are lots of "worst ever jobs" films out there, but for this one Bacon truly created a sickening vision of hell — and then dared us to laugh at it.
Maximum Shame, dir. Carlos Atanes. For this twisted fantasy, the Spanish underground auteur Atanes took viewers on a deep philosophical journey across a decaying minimalist playground on the fringes of reality. Oh, and it's a musical.
El Monstro Del Mar!, dir. Stuart Simpson. Rising Australian horror visionary Stuart Simpson channels Roger Corman and Russ Meyer for a thoroughly modern retro-classic featuring one of the greatest monsters in B-movie history. Sexy, scary and hyper-violent — this film has everything genre fans crave.
The Taint, dir. Drew Bolduc and Dan Nelson. One of the gnarliest, filthiest, most repugnant and absolutely hysterical visions of the apocalypse ever seen. Forget about snoozy zombie takeovers, Bolduc and Nelson show us what we need to fear most: Misogynists.
All of these films featured truly grand and unique visions. However, Green literally built a whole new world and created an entirely unheard-of style of filmmaking: Live-action animation.
Shot one frame at a time, Green actually utilized his two actors, artist donna k. and musician Michael McGinley, the same way he would puppets in a stop-motion animated films. The walk and talk and build and kiss in and around a full-size replica of the house built by the real-life subject of the film, Leonard Wood. Plus, for other effects in the film, Green also built an enormous eight-foot or so high half-moon, life-size wooden angels that fly across the set on wires and pulleys, and more.
Pushing the live-action, stop-motion concept to its limit, Green even concocted an astounding stop-motion car crash using real automobiles that were dinged, smashed and bashed one frame at a time.
As visually impressive as all that is, though, the most impressive feature of the film is the heartbreaking true story of Leonard and Mary Wood. The happy, quirky couple are truly meant for each other, but their love affair is cut short when Mary is diagnosed with cancer and falls tragically ill.
Placing a naive faith in God, Leonard builds a crazy, patchwork quilt of a house whose main feature is an enormous tower that stretches way up into the sky to better harness the healing power of Heaven to channel down into Mary's body.
I was personally lucky enough to see a live performance of the film in Los Angeles where Green narrated the film and played guitar while donna k. did live foley, Brendan Canty played drums and John Swartz played cello. Although the live music was great, what really made the performance was to hear Green's emotionally-invested narration. The movie may be about two real people, this is clearly a deeply personal film that during many scenes it's difficult to distinguish if Green is telling a story about Leonard or about himself.
For that profound emotional intensity and bold, innovative visual style and filmmaking, I'm making Gravity Was Everywhere Back Then the Underground Film Journal's 2010 Movie of the Year.
(Click here for all previous Movie of the Year winners.)
Watch the Gravity Was Everywhere Back Then movie trailer: