2010 Melbourne Underground Film Festival: Official Lineup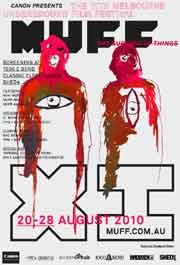 The Melbourne Underground Film Festival returns to terrorize Australia with a selection of outrageous genre films for its 11th annual edition that will be held on Aug. 20-28.
For years now, MUFF Festival director Richard Wolstencroft has been bemoaning the state of Australian cinema — and rightfully so — for abandoning its history of popular genre entertainment and settling for a state-sponsored industry of wussy indie fare. Well, looking over this year's MUFF schedule from a distance, it appears that the fest has gathered its most impressive lineup of bold and risky genre fare yet.
There's the deep sea terror of Stuart Simpson's El monstro del mar!, the outback nightmare of Road Train by Dean Francis, the BDSM fantasy world of David King's Purge, the chaotically violent world of Bad Behavior by Joseph Sims, the sexy and disturbing Burlesque by Dominic Deacon; plus Richard Wolstencroft's own documentary Heart of Lightness about his trip to war-ravaged Uganda. All of which sound incredibly intriguing and worthy of being checked out. Maybe a new Australian cinema boom is actually on the horizon.
In addition, the fest is screening a ton of short films in six jam-packed Mini MUFF sections, the Norwegian thriller Dark Souls and a retrospective of all film adaptations of books by Brett Easton Ellis, from Less Than Zero to The Informers. And, not listed below, is a secret screening of the gay porn horror film L.A. Zombie by Bruce LaBruce, a film that has been explicitly banned by Australian censors that MUFF will be showing in defiance of the law. The screening time and location will be announced via social media. So, if you're interested in breaking the law by seeing a film, hunt around the web and befriend MUFF at their media sites.
For more info on screening times, locations and tickets, please visit the official Melbourne Underground Film Festival website. Below is the full film lineup:
August 20
7:00 p.m.: El monstro del mar!, dir. Stuart Simpson. A group of sexy gals must do battle with a tentacled monster from the sea. (Read the review)
Screening with:
Crazy in the Night, dir. Jason Turley
Carrot, dir. Tom Salisbury
August 21
7:00 p.m.: Bad Bush, dir. Sam Genocchio. A young mother living in a remote farmhouse is terrorized by a gang of outlaw bikers.
9:00 p.m.: Cinemaphobia, dir. Glenn Triggs. A cast and crew of a horror movie are stalked by a psychotic killer.
August 22
7:00 p.m.: "Mini MUFF #1"
The Petrol Can Rider, dir. Simon O'Carrigan
Homo Tasmanicus, dir. Bernard Lloyd
On Guard, dir. David Jarvis
Gamete, dir. Aiden Morse
Doppelganger, dir. Micheline Durocher
Cuisine Avec Zutalor, dir. Lachlan Millsom
Skinny Puppy, dir. Willy Bernanoff
Spilt Milk, dir. Alexander Edwards
The Mermaid, dir. Oscar Molinaro
Beware of Black Dog!, dir. Frank Candiloro
Matt's Story, dir. Dan Schneidkraut
7:00 p.m.: Road Train, dir. Dean Francis. A group of backpackers in the Australian outback are pursued by an ominous 'road train.'
9:00 p.m.: "Mini MUFF #2"
Sl/ash, dir. Nick Spunde
Looking for Bert, dir. Andrew Goldsmith
Cambodia: A State of Need, dir. Ebony Butler
Revolving Door, dir. Natasha Carrington
The Dandy Doctrine (A Delightful Illusion), dir. Jordan Baseman
Send It to Tropfest, dir. Robin Geradts-Gill & Hannah Moon
Saviors and Angels, dir. Paul Andrew Williams
Pride of Warriors, dir. Jono Van Hest
9:00 p.m.: The Informers, dir. Gregor Jordan. The lives of several disparate '80s L.A. residents intersect. Based on the novel by Brett Easton Ellis.
August 23
7:00 p.m.: "Mini MUFF #3"
In Her Eyes, dir. Chris & Robert Smellin
Oh, Uh, Siobhan, dir. Sean T. Barnes
Last Night, dir. Daniel Findlay
Stripped Bare, dir. Lucien Simon
Dark Horse, dir. Marc Furmie
9:00 p.m.: The Rules of Attraction, dir. Roger Avary. At Camden College, a drug dealer, a male bisexual student and a woman saving herself for her boyfriend form an unusual love triangle. Based on the novel by Brett Easton Ellis.
August 24
7:00 p.m.: "Mini MUFF #4"
Carrot, dir. Tom Salisbury
Racist, dir. Andrew Dunstan
Proposal, dir. Belinda King
Not My Film, dir. Stuart Willis
Before Midnight, dir. Dale Whitton
Hirsute, dir. Stephen Nicolazzo
The Zimmer Gang, dir. David Thrussell
Love Comes Out of the Butt, dir. Matthew Silver
9:00 p.m.: Less Than Zero, dir. Marek Kanievska. Three overprivileged L.A. teens deal with drug addiction and other vices. Based on the novel by Brett Easton Ellis.
August 25
7:00 p.m.: "Mini MUFF #5"
The Dead Wastes, dir. Wade K. Savage
Deep Space Love, dir. Alan Bennett
Hanging at Picnic Rock, dir. Clint Cure
PI Weinstein, dir. David Broder
The Package, dir. Oliver Waghorn
Ultraman, dir. Robin Geradts-Gill & Hannah Moon
Thy Kill Be Done, dir. Greg Hanson & Casey Regan (Watch online)
7:00 p.m.: Dark Souls, dir. Cesar Ducasse & Mathieu Peteul. A young woman who's been murdered returns home to live with her father. (Streaming Online)
9:00 p.m.: "Mini MUFF #6"
Enemy, dir. Peter Gleeson
The Summit, dir. Lucas Scheffel & Julie Dickson
Broken, dir. Christian Doran
Radev, dir. Matt Cleaves
The Last Mile, dir. Shannon George
Deliberation, dir. Josh Tanner
Crazy in the Night, dir. Jason Turley
9:00 p.m.: The Wild and Wonderful Whites of West Virginia, dir. Julian Nitzberg. A portrait of the infamous family that lives in the heart of the Appalachian Mountains.
August 26
7:00 p.m.: Heart of Lightness, dir. Richard Wolstencroft. MUFF Festival director Wolstencroft shot this travelogue of his recent trip to Uganda to see what life is like there in the aftermath of war.
Screening with:
The Hellfire Club, dir. Mark Bakaitis
7:00 p.m.: Purge, dir. David King. On a parallel world, a woman who has been genetically assigned to be a BDSM mistress-slave rebels against her station in life.
9:00 p.m.: Burlesque, dir. Dominic Deacon. A reclusive horror writer gets a reprieve from his solitude by two exotic dancers who mysteriously knock on his door. (Read the review)
9:00 p.m.: American Psycho, dir. Mary Harron. Patrick Bateman is obsessed with climbing the corporate and social ladder — and will kill anybody in his way of achieving success. Based on the novel by Brett Easton Ellis.
August 27
7:00 p.m.: The Pawn, dir. David Brand. After losing his job and his wife, a mild-mannered workaholic wakes up one day to find himself covered in blood and has no idea how he got that way.
9:00 p.m.: Lanfranchi's Memorial Discotheque, dir. Richard Baron. A documentary about the closing of one of Sydney's most popular artist-run spaces.
Screening with:
Blondes in the Jungle, dir. Lev Kalman and Whitney Horn. Three teenagers head out into the jungles of Honduras in order to find the fabled fountain of youth. (Read the review)
August 28
7:00 p.m.: Bad Behavior, dir. Joseph Sims. Sibling psychopaths, a jilted husband and a group of teenagers all run into each other in a collision of mayhem and violence.
Screening with:
The Zimmer Gang, dir. Davis Thrussell