2010 Coney Island Film Festival: Official Lineup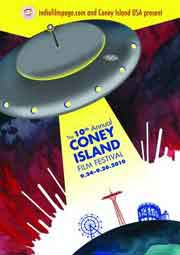 Has it been a decade of films and freaks already? Well, it has! The 10th annual Coney Island Film Festival is set to run once again on Sept. 24-26 at the world famous Sideshows by the Seashore — the last operating circus-style sideshow/freak show in the U.S.A.
The festival starts with real bang this year with the Brooklyn premiere of Gary Beeber's latest documentary Dirty Martini and the New Burlesque, which chronicles the rise of the hot new burlesque trend in NYC and its most popular star, Dirty Martini. The film will also be preceded by two short films: The recently uncovered Museum of Wax by playwright Charles Ludlam and Jaye Cherian's documentary Shape of the Shapeless.
This year the festival is also celebrating by hosting director Darren Aronofsky as their 2010 honoree. On Sept. 26, Aronofsky — who was born in South Brooklyn — will be present at a special ceremony held on his behalf, after which there will be a screening of his classic Requiem for a Dream, much of which was shot right in Coney Island and the neighboring Brighton Beach.
Another film celebrating the festival's hometown is JL Aronson's documentary Last Summer at Coney Island, which chronicles the fight over the resort's future — those who want to preserve its heritage and those who want to raze it to the ground and start over. (Aronson previously directed the underground documentary Danielson: A Family Movie.)
And CIFF isn't just about showing films featuring and about Coney Island. Also screening will be Bill Plympton's latest short film The Cow Who Wanted to Be a Hamburger; Brian Lonano's spooky sci-fi smash 8bit Ghost Hop; Eric Krasner's educational film send-up Bobby Visits the Library; and the fart-tacular Love Comes Out of the Butt by Matthew Silver.
Plus, there will be feature films by Steve Staso and James McKenney; plus new short films by Aurelio Voltaire, Randy Scott Slavin, Signe Baumane and more.
For more info on screening locations, ticket purchasing and party-happenings, please visit the official Coney Island Film Festival website.
The full film lineup is below:
September 24
7:30 p.m.: Dirty Martini and the New Burlesque, dir. Gary Beeber. Get a backstage pass to the burgeoning New Burlesque scene in NYC with its most popular star, the lovely and vivacious Miss Dirty Martini.
Screening with:
Museum of Wax, dir. Charles Ludlam
Shape of the Shapeless, dir. Jayan Cherian
September 25
1:00 p.m.: "Short Films"
The Cow Who Wanted to Be a Hamburger, dir. Bill Plympton
American Brooklyn, dir. Michael Schloemer
Ministry in the Subway, dir. Dennis W. Ho
2:00 p.m.: "Short Films"
Ray Condo's Crazy Mixed Up World, dir. Debra Dawson
Banana Bread, dir. Barton Landsman
We Could Be Ninjas, dir. Poz Lang
With Anchovies… Without Mamma, dir. Thomas Justino
Alienated, dir. Paul Borghese
Thy Kill Be Done, dir. Greg Hanson & Casey Regan (Watch online)
Bobby Visits the Library, dir. Eric Krasner (Watch online)
Paradise Beach, dir. Louis Netter
3:00 p.m.: "Short Films"
Vinny Vino, dir. Bill Sorice
The Rocking Horse Winner, dir. Bob Calabritto
Watching, dir. Max Myers
Rain Dog, dir. David Gutnik
Poetry Man, dir. James McSherry
Utopia Lies at the Horizon, dir. Leo Curbelo
Til My Voice Is Gone, dir. Sam Griffith
4:00 p.m.: "Short Films"
Why Is Blue Man Blue?, dir. Charles Cohen
Amant De Chaussure (Shoe Lover), dir. Michael Erland Walsh
Career Advice, dir. Peter Stass
Socarrat, dir. David Moreno
Birth, dir. Signe Baumane
Love Comes Out of the Butt, dir. Matthew Silver
OLIVE – Coney Island, dir. Chris DePierro, Amanda Jencsik
"This Town" Gambit, dir. Randy Scott Slavin
5:00 p.m.: Satan Hates You, dir. James McKenney. A homicidal maniac and a young girl with a devil-may-care attitude cross each other's — and Lucifer's! — paths. Starring horror icons such as Angus Scrimm, Reggie Banniser, Michael Berryman, Debbie Rochon and Larry Fessenden.
6:00 p.m.: Last Summer at Coney Island, dir. JL Aronson. Who will win in the struggle over Coney Island's future? The residents who hope to hold onto their neighborhood's heritage? Or a developer who is buying up property for unknown motives.
7:00 p.m.: "Short Films"
Flushed, dir. Luke Hansen
Hairnimation #2, dir. Amy Grumbling
Va Fa Napoli, Hipster, dir. Matt Weckel
New York Trilogy, dir. Tal Shamir
Snapshots, dir. Andres Rosende, Kate Barker
Two, dir. Ryan Gielen
Midlife, dir. Michael Swingler
Bay Rizz: The Man for You, dir. Mike Rizzo, Rachele Richards
Loop-da-Loop and Giuseppe, dir. Jason R. Jaworski
8bit Ghost Hop, dir. Brian Lonano, Kevin Lonano (Watch online)
8:00 p.m.: "Short Films"
DemiUrge Emesis, dir. Aurelio Voltaire
Vision, dir. Jamie Hooper
Happy Face, dir. Franklin P. Laviola
Tub, dir. Bobby Miller
Alice Jacobs Is Dead, dir. Alex Horwitz
Flowers for Norma, dir. Juan Reinoso
Parking Space, dir. David Bitton
The Devil's Toy, dir. Alex Lugones
9:00 p.m.: "Short Films"
Panache, dir. Nicole Emmons
Coney Ideal, dir. Anthony Simon
Springtime in November, dir. Jane Dorogoyer
The Sparrow and the Tigress, dir. Billy Sharff
10:30 p.m.: The Warriors, dir. Walter Hill. It's CIFF's annual interactive screening of the classic film about a gang trying to return home to Coney Island when the entire city wants them dead.
10:40 p.m.: Cellar, dir. Steve Staso. Three separate stories about residents of NYC's Hell's Kitchen neighborhood, including a Lebanese immigrant chef, a Colombian manicurist and a lesbian African-American veteran of the Iraq war.
September 26
1:00 p.m.: "Short Films"
Hey Rachel…, dir. Sylvia Liken
What About the Father?, dir. Sara Strahan
Hoop Springs Eternal, dir. Linda Goldman, Ted Fisher
A Fool's Idea – An Exploration of Clown, Pilot: "What is Clown?", dir. Brian Bernhard
Mermaids of New York, dir. Ilise S. Carter, Mica Scalin
The Faux Real, dir. Suzanne Hillinger
Hell On Wheels: Gang Girls Forever, dir. Katrina del Mar
2:00 p.m.: "Short Films"
Gizmo Kaleidoscope, dir. Susan Shaw
The Waking Artist, dir. Jacob Mendel
Coney Island: Secrets of the Universe, dir. Charles Denson
My Own Private March, dir. Howie Alex
Night Falls on Coney Island, dir. Daniel Turkewitz
Saving the Sideshow, dir. Mahawish Rezvi, Rebecca Huval
Last Night in Astroland With Jimmy Prince, dir. Lou Dembrow
3:00 p.m.: "Short Films"
The Skisherman, dir. Chandler Kauffman
Tiger Ted Lowry, dir. Chris Cassidy
Enter the Beard, dir. Matthew Lawrence
1939 I Have Seen the Future, dir. Lisa Seidenberg
Moby: One Time We Lived, dir. Robert Powers
4:00 p.m.: "Short Films"
Slap Back Jack: High Five Master, dir. Mark Newell
Gelber & Manning in Pictures, dir. James Lester
Road Less Traveled, dir. Laura Moss
Land Without Shadows, dir. Antoine Blanchet
The Cycle, dir. Roy Clovis
Empire Corner, dir. JP Chan
The Final Weapon, dir. Stephan Berwick
5:00 p.m.: Requiem for a Dream, dir. Darren Aronofsky. A drug dealer struggles to save his own soul while dealing with his best friend, girlfriend and mother's addictions. Filmmaker in person!
6:00 p.m.: "Short Films"
Albert, dir. Elin Gronblom
Jules and Candy, dir. Joseph Quirk
Flat Love, dir. Andres Sanz
Butterflies of Trip City, dir. Nika Belianina
Tollbooth Motel, dir. Annika Kurnick
Blindsided, dir. Mark Cabaroy
Le tramway fantôme de Marseille, dir. Lionel Laget
You're Here, dir. David Vandas