2010 Coney Island Film Festival: Award Winners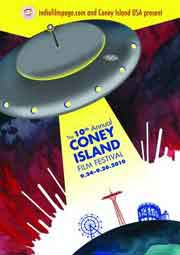 Just like the Cyclone Roller Coaster, the Coney Island Film Festival has whipped right on by for its 10th annual edition in a whirlwind of thrills, spills and chills. The fest ran back on Sept. 24-26 and since then they've announced their 10 award winners, which are listed below.
Special congrats go out to good Underground Film Journal friend Gary Beeber, who took home the Best Documentary Feature award for his latest bump-and-grind extravaganza, Dirty Martini and the New Burlesque, about the vivacious entertainer and her pals. Beeber has previously won for his short docs at CIFF, such as in 2006 for Messenger, then again in 2007 for Bally-Master.
Other big winners were the Christian scare film Satan Hates You by James Felix McKenney that took home Best Feature; Alex Horwitz's Alice Jacobs Is Dead took home Best Horror Film and documentary filmmaker JL Aronson took home the Best "Made in Coney Island" award for Last Summer at Coney Island.
Congrats to all the winners, and an extra special congrats to the fine folks at the Coney Island Film Festival for a decade of fun, film and freaks at the wonderful Sideshows by the Seashore. Here's the full list of winners:
Best Documentary Feature
Dirty Martini and the New Burlesque, dir. Gary Beeber
Best Documentary Short
The Faux Real, dir. Suzanne Hillinger
Best Feature
Satan Hates You, dir. James Felix McKenney
Best Short
Flat Love, dir. Andres Sanz
Best Horror Film
Alice Jacobs Is Dead, dir. Alex Horwitz
Best Animation
Birth, dir. Signe Baumane
Best Experimental
My Own Private March, dir. Howie Alex
Best Silent Film
Loop-da-Loop and Giuseppe, dir. Jason R. Jaworski
Best Music Video
"This Town" Gambit, dir. Randy Scott Slavin
Best "Made in Coney Island"
Last Summer at Coney Island, dir. JL Aronson