2010 Comic-Con International: Peter Bagge And The Underground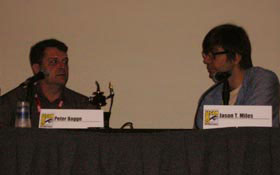 Yep, the day after I published my long-winded rant on the importance of blogging about personal media, I attended what some might consider the mecca of impersonal commercial media: The 2010 Comic-Con International held every year, so far, in San Diego, California. While the convention runs for four full days, July 22-25, I was only able to go for one day, Saturday the 24th.
The funny thing about Comic-Con, which I also noted last year, is that it's actually several different conventions slammed into one celebrating several different aspects of pop culture. While all the major media covering Comic-Con focuses on the convention's more hyped-up, most mainstream genre offerings, there's still a ton of little reported underground and indie media happenings occurring all over the convention.
I had a different strategy for the Con this year and had a less overwhelming experience than I did for my first Con last year. Arriving in San Diego, I literally ran to the far end of the convention center to pick up my press credentials then ran to the front end on the top floor to attend a panel for comic book writer/artist Peter Bagge, who is one of my idols and, I believe, a slightly underrated figure in the comics scene.
Bagge was one of the biggest pioneers of underground comics' second wave in the '80s. The underground publishing boom of the '60s had almost completely died out and was being slowly resurrected by self-publishers, such as Bagge and contemporaries such as Matt Groening, Gary Panter and Lynda Barry. Groening, of course, went onto mainstream success with The Simpsons and Futurama while Panter would also go on to win two Daytime Emmys for his set design work for Pee-Wee's Playhouse.
The panel Q&A session with Bagge that was conducted by Fantagraphics' Jason T. Miles focused mostly on Bagge's early career, particularly the cultural rivalry he shared between his low-brow humor magazine Weirdo, which was begun by Robert Crumb, and the fine art aspiring Raw, published by Art Spiegelman and his wife Françoise Mouly.
Miles also zeroed in on what makes Bagge's work so unique, the way his almost juvenile drawing style illustrates very real and sometimes very painful human experiences. Bagge is a very astute and knowledgeable cultural commentator and, at one point, compared his own approach to his material like the early films of Woody Allen. He even admitted to liking the films of Allen's idol Ingmar Bergman, although he described the differences between those two filmmakers as "Bergman is the medicine and Allen is the candy."
But what Miles' questioning and Bagge's answering tangentially touched on is how his work, from self-publishing his own work, then publishing and promoting others in Weirdo and later Hate, fostered a community that — I would draw the conclusion at least — significantly contributed to comic books evolving into a respected and respectable medium. As an early fan of Hate, he totally encouraged an inspiring sense of community that included those who were not cartoonists, such as myself.
It's that type of feeling that I have tried to continue online myself, on previous web endeavors and currently here on the Underground Film Journal. And it was just very instructive to listen to a comic book artist, who didn't use this panel at Comic-Con to especially pimp or promote product of his — although he did briefly mention his new graphic novels Apocalypse Nerd and Other Lives. Instead I heard about strong parallels between things that were going on in underground comics in the '80s and what I was writing about underground film now just the day before.
If you're not familiar with Peter Bagge's work, I strongly suggest checking it out, particularly one of his Hate collections, Buddy Does Seattle and Buddy Does Jersey. Or just visit his official website.