2010 Comic-Con International Independent Film Festival: Official Lineup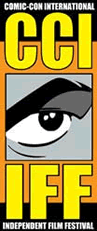 Typically lost amongst all the big media hoopla of panels, booths, celebrity appearances, etc., is that San Diego's annual Comic-Con hosts an International Independent Film Festival that runs concurrently along with the convention, which will be this year on July 22-25.
This is a full-fledged fest with short and feature-length films from all over the world that are typically either genre or comic book related. The full lineup of films screening this year is listed below. Screening blocks are broken up by genre: Action/Adventure, Animation, Comics, Horror, Documentary, Humor and Science Fiction.
Not listed below are the assorted panels that will be held specifically for the festival. Plus, on Sunday there will be an Awards Presentation followed by repeat screenings of all the winners.
The festival is doing something a little bit differently this year in that it's not going to be held in the actual convention center. Instead, it's going to be held in the Marriott Hotel and Marina that's right next door.
That's a bit of a disappointment as it will discourage easier pop-ins. Last year, I found that settling in to watch a couple of short films was a nice respite from the craziness of the rest of the convention, but even then it was held pretty far from the main action. It'll probably be about the same hike to get there this year. So, if you're at the convention consider checking out some films not out of the Hollywood machine.
I'm not familiar with most of the films listed below and, as of this writing, the convention didn't provide any information beyond the film titles. (I've added director names where I could find them.)
But, there are two films I want to point out specifically. One is superstar animator Bill Plympton's latest film, The Cow Who Wanted to Be a Hamburger, which is the last film of the night on Thursday. I haven't seen this one yet, but Bill's films always rock. (Plympton will also be holding court in a booth on the convention floor all week, so definitely hunt him down and say hi.) Then, on Saturday, it's Stingray Sam, the latest feature film by cult icon Cory McAbee that previously screened at Sundance and the Revelation Perth International Film Festival.
Here's the lineup:
Thursday, July 22
Action/Adventure
11:30-12:00 p.m.: The Action Hero's Guide to Saving Lives, dir. Justin Lutsky
12:00-12:30 p.m.: The Danger Element
Animation
12:30-12:50 p.m.: Mutantland
12:50-1:10 p.m.: Death Row Diet, dir. Mike Salva, Tom Snyder. Featuring the voice of Jonathan Katz of Dr. Katz, Professional Therapist. (Watch online)
1:10-1:15 p.m.: Ormie, dir. Rob Silvestri
1:15-1:35 p.m.: Lifeline
1:35-1:55 p.m.: The Mouse That Soared, dir. Kyle Bell
1:55-2:00 p.m.: Vive Le Crise!, dir. Alexei Gubenco
2:00-2:30 p.m.: Little Old Ladies
2:30-3:00 p.m.: The Way to Heaven
3:00-3:25 p.m.: Articulate!
3:25-4:00 p.m.: The Cow Who Wanted to Be a Hamburger, dir. Bill Plympton
Comics-Oriented
5:00-5:25 p.m.: The Legacy
5:25-5:50 p.m.: Shadow Angel, dir. Heather Donnell
5:50-6:20 p.m.: Cancer Man
6:20-6:50 p.m.: Street Angel, dir. Lucas Testro
Comics-Oriented
9:00-9:45 p.m.: The League, dir. Kyle Higgins
9:45-11:00 p.m.: Mastermind
Friday, July 23
Horror/Suspense
11:30-11:55 a.m.: The Window
11:55-12:20 a.m.: Mistaken Identity
12:20-12:40 p.m.: Things We Leave Behind, dir. Andrew Brand
12:40-12:55 p.m.: Death in the Garden, dir. Michael Chrisoulakis
12:55-1:20 p.m.: The Price to Pay, dir. Paul Gayard
1:20-3:05 p.m.: Minuteman, dir. Mark Millhone
Documentary
3:05-3:30 p.m.: Comic-Kaze
Documentary
4:30-5:55 p.m.: Comic Book Literacy, dir. Todd Kent
5:55-7:40 p.m.: The Vinyl Frontier, dir. Daniel Zana
7:40-9:25 p.m.: Marwencol, dir. Jeff Malmberg
9:25-11:10 p.m.: New Brow: Contemporary Underground Art, dir. Tanem Davidson
Saturday, July 24
Humor/Parody
11:30-11:45 a.m.: Twelve
12:05-12:25 p.m.: Go Sukashi!
12:25-12:45 p.m.: The New Dad's Survival Guide
12:45-1:15 p.m.: Walk
1:15-1:50 p.m.: The Substitute
1:50-2:25 p.m.: Thunder Chance, dir. Sean-Michael Smith
2:25-4:00 p.m.: Herpes Boy, dir. Nathaniel Atcheson
Science Fiction/Fantasy
5:00-5:25 p.m.: Mr. Bojagi, dir. Marco Van Belle
5:25-6:25 p.m.: Enigma
6:25-8:10 p.m.: Hunter Prey, dir. Sandy Collora
8:10-9:25 p.m.: Stingray Sam, dir. Cory McAbee. A reformed outlaw attempts to rescue the kidnapped daughter of the king of an alien planet.
9:25-10:55 p.m.: A Time for the Heart, dir. Christopher Allen
10:55-12:20 p.m.: I (Heart) Doomsday, dir. Patrick Downing