2010 Comic-Con International: After Dark Films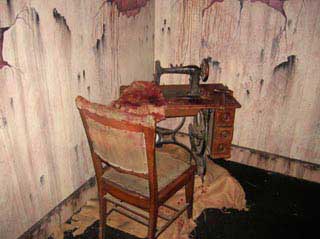 The actual convention floor of Comic-Con International has become famous — and notorious — for the massive, bombastic booths of Hollywood entertainment companies promoting their upcoming product. Especially these days with ever-increasing-in-size flat-screen TVs and more sophisticated and apparently increasingly bass-heavy audio equipment, walking the floor it's impossible to not be assaulted by 50 movie trailers, full-length TV shows and other promotional videos playing all at once.
However, at the 2010 Comic-Con, my favorite spot on the convention floor — one I returned to two or three times — was the somewhat unassuming booth for After Dark Films, which hosts the annual, one-week-only, national horror movie film festival called Horrorfest. In addition to an open-air portion of the booth that included promotional giveaways and costumed horror characters, there was a separate room one could walk into to watch trailers for their 2011 films.
Those are snapshots I took of the room above and below, although the flash kind of washed out the dark, truly creepy ambiance of the room that included blood-spattered walls and a blood-soaked table sewing machine complete with a bloody hammer that looked like it had just been used as a killing instrument. It was like walking into a little haunted house within the convention where one could tune out the insanity going on elsewhere on the floor.
After Dark Films began their annual "8 Films to Die For" Horrorfest in 2007, acquiring eight independently-produced horror films and releasing them in theaters nationwide for one week only before putting them out on DVD. The annual festival has become so popular that for the first time in 2011, After Dark will be releasing eight horror films that they've produced themselves with a budget of about $1 million apiece.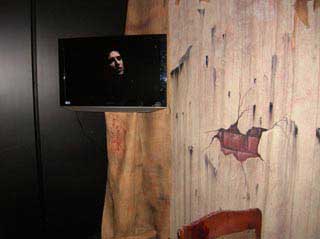 In their haunted screening room, After Dark was showing trailers for two of the films, both of which looked really impressive. The first was Re-Kill, a mock documentary about soldiers fighting zombies after the plague has wiped out most of the planet's population. Directed by Valeri Milev and written by Michael Hurst, the film's trailer had lots of action and production values that made it look like it cost more than a million bucks. Plus, it stars Roger R. Cross of 24.
The other trailer was for a smaller, spookier-looking film called Seconds Apart about a pair of homicidal twin boys that may or may not have a supernatural connection. (The trailer was more oblique than Re-Kill's) The film is directed by Antonio Negret, written by George Richards and stars Orlando Jones as a detective investigating the boys' murders.
Other films in the 2011 Horrorfest lineup that I didn't see trailers for were Scream of the Banshee, directed by Steven C. Miller; Prowl, directed by Patrik Syverson; The Task, directed by Simon Fellows; Fertile Ground, directed by Adam Gierasch; 51, an After Dark/SyFy co-production; and Husk, which is a feature-length expansion of the short film directed by Brett Simmons that was a big hit at Sundance a few years ago.
For more info on these films and the dates for next year, please visit the official Horrorfest website.