2010 Calgary Underground Film Festival: Official Lineup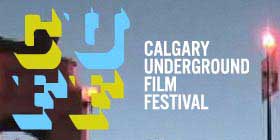 The 7th annual Calgary Underground Film Festival is ready to start off with a bang this year on April 12 and then continue through to April 18. Opening night will see the results of the festival's wildly popular 48-hour Movie Making Challenge, where registered teams were given a genre, a prop and a line of dialogue; then sent out to craft perfect cinematic masterpieces in just two short days.
Then, the rest of the fest is dedicated to some of the wildest films made in both the fest's home country of Canada and from around the world, including Indonesia, Serbia, the UK and the U.S.
If you're attending the festival, there's one incredibly fun documentary you need to see: Michael Petersen's Eddies: The Documentary, about the craziest beer commercial-making competition in the world — that happens to take place right in Calgary every year! Petersen profiled several amateur and professional filmmakers hoping for a little piece of glory bestowed upon them from the Big Rock Brewery.
Also, don't miss the short film program "Snappy Snippits," which includes two really terrific films. First, there's Jon Clark's zippy music video for the song "Video Challenge" by the 8-bit punk band Anamanaguchi. Then, there's Richard Bates Jr.'s super creepy horror tale of teen angst and medical experimentation, Excision.
Below is the full lineup for the fest, but for more info about theaters, tickets, parties and more, please visit the official Calgary Underground Film Festival website.
April 12
6:30 p.m.: "48-hour Movie Making Challenge"
9:30 p.m.: Merantau, dir. Gareth Evans. A young martial arts student must push his physical endurance after getting caught up in the world of human trafficking in Jakarta.
Screening with:
Junko's Shamisen, dir. Sol Friedman
April 13
7:00 p.m.: The Disappearance of Alice Creed, dir. J. Blakeson. Two kidnappers meet their match when the girl they're holding for ransom goes head-to-head with them in an extreme battle of wills.
Screening with:
Younglove, dir. Ariel Kleiman
9:30 p.m.: A Gun to the Head, dir. Blaine Thurier. A reformed criminal's past intrudes back into his life when his wife is held hostage by a drug kingpin.
April 14
7:00 p.m.: The Queen of Hearts, dir. Valérie Donzelli. After being dumped by her boyfriend, a single thirtysomething gal is coaxed to "get back into the game" by her cousin.
Screening with:
Horsefingers 2: I Am the Tiger, dir. Kristen Kearse
9:00 p.m.: "Snappy Snippits"
Anamanaguchi Music Video, dir. Jon Clark (Watch online)
Cease & Desist, dir. John Carluccio
Deadspiel, dir. Jay Molloy
Can We Talk?, dir. Jim Owen
Le Queloune (The Clown), dir. Patrick Boivin
Excision, dir. Richard Bates Jr.
Renegades, dir. Jim Hosking
N.A.S.A.: A Volta, dir. Alexei Tylevich
The Remones, dir. Christopher Malanchen
April 15
7:00 p.m.: The Wild Hunt, dir. Alexandre Franchi. A jilted boyfriend enters the strange world of medieval re-enactments in a desperate bid to win his girlfriend back.
9:30 p.m.: The Revenant, dir. D. Kerry Prior. An Iraq war veteran returns home only to discover that he's a flesh-eating zombie. Luckily, his best buddy decides to drive him around town to help him look for food.
Screening with:
Random Task Collective: Barricade, dir. Matt Babinec
April 16
7:00 p.m.: When You're Strange, dir. Tom DiCillo. A documentary about The Doors that includes live performances, TV appearances, home movies, studio footage, and a never-before-seen independent film made by and starring Morrison.
9:15 p.m.: Cummings Farm, dir. Andrew Drazek. A trio of couples hoping to bring some excitement into their relationships decides that freely swapping sexual partners is the way to go.
Screening with:
Cat Mask, dir. Hussein Juma
11:45 p.m.: The Life and Death of a Porno Gang, dir. Mladen Djordjevic. In '90s-era Serbia, a film school graduate joins up with a group of artists to form a travelling porno cabaret act. To make some extra cash, the gang eventually start producing real snuff films for the black market.
Screening with:
Feeder, dir. Joseph Ernst
April 17
1:00 p.m.: Sound Aspects of Material Elements, dir. John Grzinich. Shot over a three-year period, this experimental film takes a unique look at "the uses of sound as a medium for interaction and activation of the landscape."
Screening with:
Plastic and Glass, dir. Tessa Joosse
Inherent Obligations, dir. Rao Heidmets
3:30 p.m.: Punishment Park, dir. Peter Watkins. In this classic 1971 film, soldiers force a team of hippies and other radicals to play a game of "Capture the Flag" that slowly descends into a psychological endurance test of humiliation and abuse.
7:00 p.m.: The Wild and Wonderful Whites of West Virginia, dir. Julian Nitzberg. A portrait of the infamous family that lives in the heart of the Appalachian Mountains.
Screening with:
The Poodle Trainer, dir. Vance Malone
9:30 p.m.: Suck, dir. Rob Stefaniuk. A failed musician is about to give up on his music career and life until he meets a rock 'n' roll vampire. Starring Dave Foley, Nicole de Boer, Alice Cooper and Iggy Pop.
11:45 p.m.: Robogeisha, dir. Noboru Iguchi. A geisha and her younger sister are kidnapped and trained to be a pair of deadly assassins.
April 18
1:00 p.m.: Machotaildrop, dir. Corey Adams, Alex Craig. In an alternate world, skateboarding is a noble sport where knights battle for their honor on the half pipe.
3:30 p.m.: Eddies: The Documentary, dir. Michael Petersen. This documentary profiles hopeful amateur filmmakers competing to win the top prize in a beer commercial competition. (Read the review)
Screening With:
Surfing Across Canada, dir.
6:30 p.m.: Jean-Michel Basquiat: The Radiant Child, dir. Tamra Davis. A documentary portrait of the iconoclastic artist who died way too young.
Screening with:
Painted Moon, dir. Leslie Bell
9:00 p.m.: Trash Humpers, dir. Harmony Korine. A group of elderly thugs inflict chaos in their sleepy neighborhood town.
Screening with:
Herbert White, dir. James Franco