2010 Atlanta Underground Film Festival: Official Lineup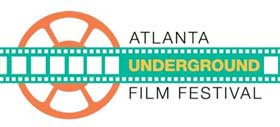 The 7th annual Atlanta Underground Film Festival is like having four different fests crammed into an exhaustive three days on Aug. 27-29. It's an outrageous underground fest, an animation festival, a documentary fest and a horror movie festival: The culmination of a month of fests run by Atlanta's Festival League. There's tons of short films, documentaries, features and more.
There's lots of great stuff to recommend, too. On the last night of the fest, there will be a screening of Chris Hansen's second feature film, Endings, which tells the touching story of three people spending their last day on Earth together. The film was reviewed on the Underground Film Journal a few months ago. On the short film front, there's Loretta Hintz's wild lesbian bestiality (sort of) tale, The Sheep and the Ranch Hand and two films by the perpetually awesome Neil Ira Needleman, Meeskit and Look What GOD Did to My Adult Movie. Plus, there's new some killer animated films by two Underground Film Journal faves: Victoria Cook's Devil Town and Mike Salva's Death Row Diet.
There's also several films that have been making the underground festival rounds that are making Atlanta appearances: Mladen Djordjevic's The Life and Death of a Porno Gang, Kenneth Price's Americatown, as well as Nude Study by Stefan Popescu who runs the Sydney Underground Film Festival in Australia.
The full film lineup is below, but for more info on tickets, locations and more detailed film info, please visit the official Atlanta Underground Film Festival website.
August 27
6:00 p.m.: Vancouver Vagabond, dir. Heath Tait. An autobiographical feature that chronicles Tait's life as a Gen-X indie artist and animator in Vancouver the '90s.
7:00 p.m.: "Pass the Past: Narrative Shorts"
Guignol, dir. Dana Turken
The Harvey Girl From Shanghai, dir. Michael Frost
Air Heart, dir. Allie Kenyon
The Last Moments of Leopoldo Berenguer, dir. Jaime Dezcallar
Elevator, dir. Nicole Kemper
8:00 p.m.: Dirty Pictures, dir. Etienne Sauret. A documentary about chemist Alexander "Sasha" Shulgin, who invented Ecstasy amongst other pursuits.
8:30 p.m.: "LET'S EAT! Documentary Shorts One"
Homemade Is the Best, dir. Slaven Zimbrek
Dive!, dir. Jeremy Seifert
Feeding the Soul at Jones Valley Urban Farm, dir. Matthew Graves
The Sharecroppers, dir. Jonathan Shepard
CUD, dir. Joe York
8:30 p.m.: Disney Shot Kennedy, dir. David Lawrence. Four conspiracy-minded friends face the disappointing closing of their alternative newspaper, The Oswald.
9:30 p.m.: "The Best of Animation Attack!"
Terrible Thing of Alpha-9, dir. Jake Armstrong
The Dreams of Kings, dir. Katherine Blakeney
Backwards, dir. Aaron Hughes
My Sister's Butt, dir. Pilar Newton
Phillip the Safety Egg, dir. Mike Owens
Rinky Dink, dir. John R. Dilworth
Skylight, dir. David Baas
Bean Society, dir. Antonio Pérez Garrido "Jotoni"
Puffer Girl, dir. Joan Gratz
Kentucky Fried Memories, dir. Michael Scott
The Magnitude of the Continental Divides, dir. Christopher Coleman
Prayers for Peace, dir. Dustin Grella
Vacuum Attraction, dir. Morgan Miller
Death Row Diet, dir. Mike Salva and Tom Snyder (Watch online)
Devil Town, dir. Victoria Cook
10:30 p.m.: Halloween on 6th Street, dir. Michelle Canning, Chris Blankenship. This documentary chronicles a year in the life of Bud Hasert, who spends 12 months obsessing over the best Halloween costume every year. (Watch online)
10:30 p.m.: Americatown, dir. Kenneth Price. The best of the U.S. is squeezed into the ultimate small town community, a wonderful place to live until a mysterious visitor shows up.
11:00 p.m.: "Local Shorts"
Breathe, dir. Fletcher Holmes
Christmas and Hanukkah, dir. Garry Bowden
Godamsterdam — Yellow Fever, dir. Ben Cohen
The Doors, dir. W. Scott Morris
YardByrds, dir. Jason Hawkins
Sci-fi Summer Girl's Off Day, dir. Adrian Havens
The Chronicles of a Daft Man, dir. Peter Fodero
Until Dust, dir. Nathan Honnold
A Knife of Her Own, dir. Russell Holbrook
Elevator, dir. Nicole Kemper
Recession Santa, dir. The Woodcreek Faction
Party Sauce, dir. The Woodcreek Faction
11:45 p.m.: "Foreign Horror Shorts"
St. Christophorus: Roadkill, dir. Gregor Erler
Dead Bones, dir. Olivier Beguin
Zombies and Cigarettes, dir. Rafael Martinez and Iñaki San Román
A-Positive, dir. Chris Bamford and Serge Ou
12:00 a.m.: Sell It to the Devil, dir. David Gaz & Alex Vazart. Just how does someone sell their soul to the devil? This investigative documentary attempts to find the truth.
August 28
3:30 p.m.: "Make it Right: DRAMA Shorts"
LASTRAIN, dir. Tony Lopez
Tequila Sunrise, dir. Lamont Pierre
Abandon ME, dir. Sayer Frey
4:00 p.m.: Overdose, dir. Martin Borgs. This documentary examines the history of financial crises and how modern day problems fit into their paradigm.
Screening with:
American Mayor, dir. Travis Irvine. A documentary about an ambitious 24-year-old who wants to become mayor of his town — if only he knew what the mayor actually does.
5:00 p.m.: "They Always Get You in the End Shorts"
Enclosed, dir. Goran Six
Allure, dir. Ian Hunter
No Junk Mail, dir. Chris McHugh
Happy Face, dir. Franklin P. Laviola
The Clothes, dir. Toby Morris
Roofies & Romance, dir. Cody Campanale
Pario, dir. Vandon Gibbs
6:00 p.m.: Making Your Mark (A Year in the Life of an Entrepreneur), dir. Jason Boritz. Mark Husmann has big plans to create a billion-dollar empire while the entire financial system crashes down around him.
6:30 p.m.: "It's Personal Shorts"
The Sandwich Movie, dir. Sean Christensen (Watch online)
Shave, dir. Sean Christensen (Watch online)
Castle Otttis, dir. Nils Taranger II
Caniformia, dir. Jessica Leigh Stevens
Meeskeit, dir. Neil Ira Needleman (Watch online)
My Dog Doesn't Have a Job, dir. Karl Tebbe
Prayers for Peace, dir. Dustin Grella
Las Vegas, dir. Stefany Anne Golberg
Brief Is Love & Life Is Long, dir. Corey Corbett and Owen Hamilton
Payday Loan, dir. Jack Truman
7:30 p.m.: Where I Stand: The Hank Greenspun Story, dir. Scott Goldstein. A profile of the convicted gun runner and newspaper publisher.
8:00 p.m.: "North American Horror Shorts"
DemiUrge Emesis, dir. Aurelio Voltaire
Eyes Beyond, dir. Daniel Reininghaus
The Familiar, dir. Kody Zimmermann
The Curse of Micah Rood, dir. Alec Asten
9:15 p.m.: Nude Study, dir. Stefan Popescu. A female filmmaker believes she's found the perfect model for her latest project, but her involvement with her subject develops into a frantic passion.
9:30 p.m.: The Secret of Kells, dir. Tomm Moore. In this 2010 Oscar-nominated film, an orphan living in an Irish monastery who has never stepped outside the walls of his home is forced to go on an adventure that takes him outside for the first time into a world populated with fairies and other creatures.
9:30 p.m.: I Heart Doomsday, dir. Patrick Downing. A scientist builds an android that looks exactly like himself in order to woo his amnesiac former assistant who was seriously hurt following a doomsday device mishap.
10:45 p.m.: "AUFF, Push It (push it real good) – Erotic Shorts"
Night Nurse, dir. David Aronson
Vacuum Attraction, dir. Morgan Miller
Porn Guide, dir. Dick Thompson
Look What GOD Did to My Adult Movie, dir. Neil Ira Needleman
Too Bare Or Too Bush, dir. Shannon Silva
Semiotics of Intimacy, dir. Adam Hirsch
The Sheep and the Ranch Hand, dir. Loretta Hintz (Read the review)
No Asians…it's just not my thing, dir. Scott Eriksson
Hooka Face and the Virgin Boy, dir. Robert Putka (Read the review)
11:00 p.m.: Zombie Dearest, dir. David Kemker. A struggling comedy writer accidentally digs up a zombie that becomes his mindless slave.
11:00 p.m.: "Comedy Shorts"
Showers, dir. Charles LaVoy & Owen Hornstein III
UnderCover, dir. Iman Zawahry
Wheels of Death, dir. Rob and Edward Kennedy
Dead Hungry, dir. William Bridges
Martes por la Manana (Tuesday Morning), dir. Cheli Sanchez
All Birds Whistle, dir. Roy Khalil
Written By, dir. Karni Baghdikian
12:00 a.m.: The Life and Death of a Porno Gang, dir. Mladen Djordjevic. In '90s-era Serbia, a film school graduate joins up with a group of artists to form a traveling porno cabaret act. To make some extra cash, the gang eventually start producing real snuff films for the black market.
12:30 a.m.: "ACTION Shorts"
AL's BEEF, dir. Dennis Hauck
Sunday Punch, dir. Dennis Hauck
Kill Your Television, dir. Andrew Mitchell
Alice and the White Hair, dir. Wyatt Denny
August 29
3:30 p.m.: Shooting for Democracy, dir. Meghan Shea. High school students in Bhutan prepare for their country's first democratic election, which occurred in the same year that Barack Obama won the U.S. presidency.
Screening with:
The Death of Film: A Lost Art Form, dir. Peter Fodero
4:00 p.m.: Gangs of LA 1991, dir. Lamonte Moore. A 13-year-old boy, who comes from a stable working-class family, falls into gang life.
5:00 p.m.: Contact, dir. Bentley Dean and Martin Butler. The last living group of Australian aborigines who have had no contact with the outside world are terrorized when white men come to evacuate them from their homes in anticipation of a space rocket test.
5:30 p.m.: AUFF Best Feature (TBA)
5:30 p.m.: Tic, dir. Keith Parmer. After a decade living a life of crime and decadence, a professional criminal's past finally catches up to him. Starring Lennie James from the hit HBO show Hung.
6:30 p.m.: I Want So Much to Live, dir. Elizabeth Holder. This documentary profiles the biotech company Genentech who helped spearhead the first ever "targeted therapy" for breast cancer.
7:00 p.m.: The Very Best of Independent Film Month Shorts (TBA)
7:20 p.m.: Mad World, dir. Cory Cataldo. Four bullied teenagers strike back against their school's bullies. (Read the review)
8:00 p.m.: Full Disclosure, dir. Brian Palmer. So, how well do American troops and Iraqi citizens communicate with each other? According to this documentary, not very.
9:00 p.m.: "Keep Fighting: Doc Shorts 2"
Fighting Cholita, dir. Małgorzata Łupina
Pequeña Revolución, dir. Marianne Hougen-Moraga
Waiting for Women (Esperando Mujeres), dir. Estephan Wagner
9:00 p.m.: Dynamite Swine, dir. Mark Poisella. A card sharp enters a dangerous in order to win money to save his girlfriend's hair salon for the homeless.
9:15 p.m.: Assisting Venus, dir. Charles Huddleston. After quitting his boring computer job, an aimless young man becomes the assistant to a very powerful and dominant woman.
10:30 p.m.: Blindlings, dir. Wolfgang Weigl. After their car breaks down in the snowy forest, a man and his ex-girlfriend must deal with the elements.
10:45 p.m.: Endings, dir. Chris Hansen. A young girl with an incurable illness, a drug addict looking for one last fix and a mother diagnosed with breast cancer all spend their last day on Earth together in each other's company. (Read the review)