2010 Atlanta Underground Film Festival: Call For Entries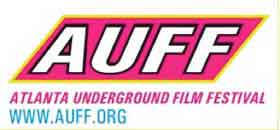 The 2010 underground circuit is really starting to gear up already. Now it's time to list the deadlines for the next edition of the Atlanta Underground Film Festival, which will run on Aug. 27-29, 2010.
This will be the 7th year for the Atlanta Underground and it seems to get bigger every time, having developed into a real institution in the underground film world. Actually, while AUFF just runs over one weekend, all of August can now be considered "Independent Film Month" in the city thanks to the Atlanta Festival League, which runs several fine festivals over the course of the entire month.
But, let's just focus on the Atlanta Underground for now. Here are all the deadlines, with the earliest one coming up pretty soon:
Early Bird Deadline:
December 1, 2009 (postmark)
$25 – Shorts
$35 – Features
Regular Entry Deadline:
March 1, 2010 (postmark)
$30 – Shorts
$40 – Features
Late Entry Deadline:
April 1, 2010 (postmark)
$45 – Shorts
$55 – Features
Super Late Entry Deadline:
May 1, 2010 (postmark)
$50 – Shorts
$60 – Features
To get a feel for what AUFF wants, you can always check out their official website. You can also peruse lineups from previous editions right here on the Underground Film Journal, such as the 2009 and the 2008 events.
To submit, please visit either AUFF's Withoutabox page or the submission page on their own site.