2010 Atlanta Underground Film Festival: Award Winners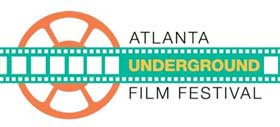 The Atlanta Underground Film Festival wrapped up its 7th successful year back on Aug. 29 and has given out awards to 13 feature films and 14 shorts.
Several of the winners are films that have been featured here on the Underground Film Journal, either with a review or having been embedded on the site for your viewing pleasure. First, repeat AUFF winner Chris Hansen won the Best Director award for his second feature film Endings, a film that finds three disparate strangers spending their last day on Earth together.
Loretta Hintz's outrageous lesbian farm fantasy The Sheep and the Ranch Hand took home the 2010 AUFF The Wall award. Also, the recently embedded Shave by Sean Christensen, a haunting memoir, won the Best Experimental Short award. And, lastly, I was very happy to see that animator Victoria Cook, whom I've written about in the past, took home the Best Short Short award for her Devil Town.
Other big winners were Stefan Popescu — filmmaker and co-founder of the Sydney Underground Film Festival — took home the Best Foreign Drama Feature. Mladen Djorkjevic's The Life and Death of a Porno Gang, which has been a huge hit the underground fest circuit this year, won for Best Erotic Feature. And Kenneth Price won Best Feature for his Americatown, which also screened earlier this year at the Chicago Underground Film Festival.
Congrats to all the winners! The full list is below:
2010 Feature Films:
Best Feature
Americatown, dir. Kenneth Price
Best Foreign Feature
Blindlings, dir. Wolfgang Weigl
Best Drama Feature
Mad World, dir. Cory Cataldo (Read the review)
Best Foreign Drama Feature
Nude Study, dir. Stefan Popescu
Best Director
Endings, dir. Chris Hansen (Read the review)
Best Comedy Feature
I Heart Doomsday, dir. Patrick Downing
Best Documentary Feature
Dirty Pictures, dir. Etienne Sauret
Best Foreign Documentary Feature
Shooting for Democracy, dir. Megan Shea
Best Action Feature
Dynamite Swine, dir. Mark Poisella
Best Animated Feature
Gangs of LA 1991, dir. Lamonte Moore
Best Horror Feature
Zombie Dearest, dir. David Kemker
Best Erotic Feature
The Life and Death of a Porno Gang, dir. Mladen Djorkjevic
Best Local Feature
Disney Shot Kennedy, dir. David Lawrence
2010 Shorts:
Best Short Film
Al's Beef, dir. Dennis Hauck
Best Foreign Short
St. Christophorus: Roadkill, dir. Gregor Erler
Best Documentary Short
Dive!, dir. Jeremy Seifert
Best Short Short
Devil Town, dir. Victoria Cook
Best Horror Short
Zombies and Cigarettes, dir. Rafael Martinez and Iñaki San Román
Best Drama Short
Abandon Me, dir. Sayer Frey
Best Comedy Short
Hooka Face and the Virgin Boy, dir. Robert Putka (Read the review)
Best Experimental Short
Shave, dir. Sean Christensen (Watch online)
Best Experimental Animation
Prayers for Peace, dir. Dustin Grella
Best Animated Short
Rinky Dink, dir. John R. Dilworth
Best Erotic Short
Night Nurse, dir. David Aronson
Best Local Short
Breathe, dir. Fletcher Holmes
Audience Choice Award
The Ticket, dir. Robert Eagar
2010 AUFF the Wall Award
The Sheep and the Ranch Hand, dir. Loretta Hintz (Read the review)