2010 Arkansas Underground Film Festival: Official Lineup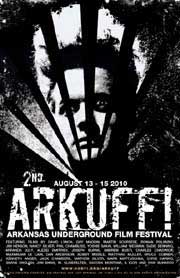 The second annual Arkansas Underground Film Festival returns to Hot Springs, AR on Aug. 13-15 for an eclectic mix of both classic and modern films and videos.
Actually, after the festival's official website vanished from the web following their inaugural edition last year, I thought ARKUFF had called it quits. But, they've simply moved to a new website and are apparently somehow affiliated with the Hot Springs Documentary Film Festival.
It also seems to be a totally curated festival sans submissions from filmmakers. The fest mostly consists of themed short film blocks, such as first films by filmmakers like David Lynch, Martin Scorsese, Jim Henson and Guy Maddin; a night of classic avant-garde films by Bruce Conner and Kenneth Anger; a William Wegman retrospective; and a block devoted to Riot Grrrl cinema by Sadie Benning and Miranda July.
The two features that are being screened are David Lynch's classic midnight movie Eraserhead (screening at 9:15 p.m.!); and the obscure The Hart of London by Jack Chambers that typically divides audiences between those that love it or loathe it.
Also, the last night of the festival is turned over to the Bearded Child Film Festival traveling road show with oddball films from the U.S. and Hungary.
The full film lineup is below, but for more info on locations, tickets, panel discussions and more, please visit the official Arkansas Underground Film Festival website.
August 13
6:00 p.m.: "Famous First's"
The Alphabet, dir. David Lynch
The Dead Father, dir. Guy Maddin
What's a Nice Girl Like You Doing in a Place Like This?, dir. Martin Scorsese
The Fat and the Lean, dir. Roman Polanski
Time Piece, dir. Jim Henson
7:30 p.m.: "Arkansas' Finest: Films by Nancy Silver and Phil Chambliss"
Spider Eyes, dir. Nancy Silver
Shadows of the Hacket-Man, dir. Phil Chambliss
The Mr. Visit Show, dir. Phil Chambliss
The Funeral Center, dir. Phil Chambliss
9:15 p.m.: Eraserhead, dir. David Lynch. The classic midnight movie in which a man living in a tiny apartment is forced to take care of a mutant baby. Also features unforgettable surreal images, such as the woman singing in the radiator; the master of machines at the heart of the world; the bleeding, dancing turkey and more.
August 14
All Day: Video installation by Yoshie Sakai
Strip, dir. Yoshie Sakai
Britney Scale Surgery, dir. Yoshie Sakai
dojoji@match.com, dir. Yoshie Sakai
Keep It to Yourself, dir. Yoshie Sakai
2:00 p.m.: "William Wegman Retrospective"
Reel 6 & 7 (26 short videos), dir. William Wegman, 38min, 1975-1976
Reel 6: Ball and Can (6:23),The Reel (1:00), Eyes of Ray (0:34), Dog Duet (2:38), Stereo System (1:32), Tube Talk (1:16), Video (1:18), Joke (0:46), Furniture (1:42), Moby Dick (1:09), Cord Walk (0:45).
Reel 7: Alarm Clock (0:30), Doctor Patient (2:20), Bad Movies (2:00), Drop (0:43), Fruit (0:25), Smoking (1:55), Horseshoes (1:10), Fast (0:15), Concerto (1:20), For Sale (2:30), Woodchuck (0:20), Alphabet (1:20), Growl (0:50), Sofa Piece (1:25), Alarm Clock II (0:40).
The Hardley Boys in "Hardley Gold", dir. William Wegman, 28min, 1996
3:30 p.m.: "Riot Girrl: Films by Sadie Benning & Miranda July"
If Every Girl Had a Diary, dir. Sadie Benning
Jollies, dir. Sadie Benning
Living Inside, dir. Sadie Benning
Me and Rubyfruit, dir. Sadie Benning
A New Year, dir. Sadie Benning
Nest of Tens, dir. Miranda July
5:00 p.m.: "Abstractions and Dreams: Contemporary Cinema of the Mind"
Abstract?, dir. Alexei Dmitriev (Russia)
Second Aje, dir. Joseph Burns (Minneapolis, MN)
At Hand, dir. Andrew Busti (Georgia state)
The Eternal Occurrence, dir. Charles Chadwick (Los Gatos, CA)
The Hamilton Cell, dir. Maximilian Le Cain (Ireland)
Bird Nest, dir. Dan Anderson & Bobby Missile (Hot Springs, AR)
6:30 p.m.: "Avant-Garde Classics: Shown on beautiful 16mm film!"
Alpsee, dir. Matthias Muller
Looking for Mushrooms, dir. Bruce Conner
Valse Triste, dir. Bruce Conner
Kustom Kar Kommandos, dir. Kenneth Anger
Invocation of My Demon Brother, dir. Kenneth Anger
7:30 p.m.: The Hart of London, dir. Jack Chambers. This obscure, little seen film from 1970 combines newsreel footage and original footage shot by Chambers for a commentary on the cycles of life and death. Some people have condemned the film for being terribly "confusing," while Stan Brakage declared it "one of the greatest films ever made."
9:30 p.m.: "Visions of Madness: Matthew Silver & Mara Mattuschka"
Love Comes Out of Your Butt, dir. Matthew Silver
Burning Palace, dir. Mara Mattuschka & Chris Haring
August 15
8:00 p.m.:
Arkansas Underground Film Festival presents:
Bearded Child Film Festival
Screenings include:
Space Camp, dir. Dan Anderson and Shane English, multi-visual media installation, 60min, 2009
"American Bizarre"
Radioactive Beaver Episode 1, dir. Jon Ennis (Spokane, WA)
The Little Business Man, dir. Montgomery Klinefelter (Rauch, MN)
For Them, dir. Dacoda Montana (Shreveport, LA)
"Short films of Igor and Ivan Buharov"
Hotel Tubu, dir. Igor and Ivan Buharov
Overheadword Protection, dir. Igor and Ivan Buharov
Is the Killer Going to the Cemetary?, dir. Igor and Ivan Buharov
Johnny and the Goosies, dir. Igor and Ivan Buharov
Mothmilk, dir. Igor and Ivan Buharov