2010 Arizona Underground Film Festival: Official Lineup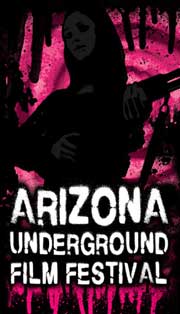 Tucson and Phoenix: Prepare to be rocked, shocked and defiled. Blasting its way into its third — and biggest — year on Sept. 18-25, the Arizona Underground Film Festival is a cacophonous concoction of angry transsexuals, bumbling hit men, slacker superheroes, living dolls, aliens, dead hookers, adventure-seeking blondes and other crazies.
This year the fest is screening 30 feature films, some of which are making their U.S. and even world debuts. The opening night film is the U.S. premiere of the German hit man comedy Snowman's Land, directed by Tomasz Thomson, while closing the fest is the controversial and violent A Serbian Film by Srdjan Spasojevic, which you have to be over-18 to get into.
Don't worry, there's plenty of homebrewed films as well, such as Dead Hooker in a Trunk by Jen Soska & Sylvia Soska; Nude Nuns With Big Guns by Joseph Guzman; 1,001 Ways to Enjoy the Missionary Position by Alan Chu; and the GLAAD-banned Ticked Off Trannies With Knives by Israel Luna.
Plus, there's the hit of the underground festival circuit for the past year — and a personal favorite of the Underground Film Journal — Lev Kalman and Whitney Horn's fun-loving Blondes in the Jungle; as well as the popular documentary American Grindhouse by Elijah Drenner. And, it almost wouldn't be an underground film festival if it didn't include Brian Lonano's blast-happy short film Attackazoids, Deploy!!, which of course AUFF does. Also, there's the wonderfully bloody short film The Sleuth Incident by Jason Kupfer.
Really, that's just the tip of the underground iceberg. In addition to all the films, AUFF is also holding lots of after parties, director Q&A's and other shenanigans. For more info, please visit the official Arizona Underground Film Festival website. The full film lineup is below:
Sept. 18
8:00 p.m.: Snowman's Land, dir. Tomasz Thomson. A gangland wife is killed in a freak accident and a bumbling hit man tries to hide the body before her husband finds out — and, when he doesn't, all hell breaks out.
Screening with:
Echoes, dir. Rob Brown
Sept. 19
4:00 p.m.: Memories of Overdevelopment, dir. Miguel Coyula. After the Cuban revolution, an aging intellectual moves to the "free" world only to become even more dismayed at what he finds there than the life he left behind.
5:00 p.m.: Window on Your Present, dir. Cinqué Lee. A couple discover love in a world without color. This is the first feature film, made back in the '80s, directed by Spike Lee's brother. (Read the review)
Screening with:
Inside Out/Side One, dir. Matt Meindl
Shinjuku, Night aka Shinjuku, Yoru, dir. Tatsuma Kyono
Plastic Opera, dir. Matthew Perino
6:00 p.m.: Phasma Ex Machina, dir. Matt Osterman. A lonely guy invents a machine that allows him to communicate with his dead parents.
Screening with:
L' Accordatore (The Tuner), dir. Tomax Aponte
7:00 p.m.: Crimefighters, dir. Miles Watts. Three twentysomething slackers finally find meaning in their lives when they become costumed vigilantes.
Screening with:
Frank Dancoolo: Paranormal Drug Dealer, dir. Andrew Jones
8:00 p.m.: Strigoi, dir. Faye Jackson. In a small Romanian village, a man investigates a strange death and discovers that the rich landowners living there are Strigoi, bloodsucking souls that have risen from the grave.
Screening with:
Stranger Danger, dir. Misha Collins
9:00 p.m.: Blondes in the Jungle, dir. Lev Kalman and Whitney Horn. Three teenagers head out into the jungles of Honduras in order to find the fabled fountain of youth. (Read the review)
Screening with:
Vacation, dir. Vladimir Kozlov. In a Russian city, two alienated teenagers fall in love during their school's autumn vacation.
Sept. 20
6:00 p.m.: Dark Souls, dir. César Ducasse & Mathieu Peteul. A young woman who's been murdered returns home to live with her father. (Streaming Online)
Screening with:
The Arachnafist, dir. Mike Gray
7:00 p.m.: 1,001 Ways to Enjoy the Missionary Position, dir. Alan Chu. In the future, a young couple has their most intimate acts rated by a government auditor to see if they're good candidates for marriage.
Screening with:
8:00 AM, dir. Pablo Ortega Medina
8:00 p.m.: Harpoon: Reykjavik Whale Watching Massacre, dir. Júlíus Kemp. A group of whale watchers run afoul of a brutal, torturous family who know how to really use a harpoon.
Screening with:
Hortum, dir. Ayse Altinok
9:00 p.m.: One Hundred Mornings, dir. Conor Horgan. Two couples living in a remote part of Ireland try to survive an apocalyptic disaster.
Screening with:
Telefone, dir. Jeffrey Bliss
Sept. 21
7:00 p.m.: Air Doll, dir. Hirokazu Koreeda. A man's human-sized, plastic female companion is magically transformed into a real woman.
9:00 p.m.: Quit, dir. Dick Rude. A couple who love to smoke go to extreme lengths to quit their bad habit.
Screening with:
Artifact, dir. Heather Wodrich, Andrew Brown, Sean Madrid
Sept. 22
6:00 p.m.: Cyrus: Mind of a Serial Killer, dir. Mark Vadik. A news reporter and her cameraman invesigate the mysterious story of a serial killer and interview a man who strangely has intimate knowledge of the case.
Screening with:
Wilted, dir. Rafael De Leon Jr.
7:00 p.m.: "Shorts Block – Drama Without Limits"
Deep Sleep, dir. Alejandro Alvarez
Amexica, dir. Ron Krauss
Taste, dir. Yvonne Grzenkowicz
The Advantage of The Hitman aka La Ventaja Del Sicario, dir. Luis Moreno Bernardo
Alice Jacobs Is Dead, dir. Alex Horwitz
Survival, dir. Soyeon Kim
The 8th Samurai, dir. Justin Ambrosino
8:00 p.m.: American Grindhouse, dir. Elijah Drenner. An in-depth exploration into the sordid history of exploitation filmmaking, featuring tons of clips and interviews with some of the masters of the medium, such as Herschell Gordon Lewis, Joe Dante and John Landis. (Watch Streaming Online)
Screening with:
The Cop, The Priest, Their Chicks, and a Rockstar, dir. Pascal Cooper
9:00 p.m.: Roll Out, Cowboy, dir. Elizabeth Lawrence. A rappin' country singer tours the country during he 2008 Presidential election.
Screening with:
Raising Arizona: Politics & Opinions, dir. Andrew Brown
Sept. 23
7:00 p.m.: Earthling, dir. Clay Liford. A group of unconnected strangers wake up one day with the understanding that they are actually aliens living in borrowed human bodies.
7:00 p.m.: "Shorts Block – Celluloid in the Sun"
Bloody Basin, dir. Dave Surber
The Ruffians, dir. Travis Mills
The Villikon Chronicles: Return to Mayhem, dir. Rebecca Friedman
Care, dir. Erika Gronek
Misguided Sympathies of Flowers, dir. Gregory Dyke
Kink N Kill, dir. Diego Ibarrola
ABC Death, dir. Brett Walker
Amexica, dir. Ron Krauss
9:00 p.m.: Ticked Off Trannies With Knives, dir. Israel Luna. Abused transgendered women are brutally beaten and ultimately get revenge against their attackers.
Screening with:
Demiurge Emesis, dir. Aurelio Voltaire
9:00 p.m.: The Last Lovecraft: Relic of Cthulhu, dir. Henry Saine. A depressed dude learns he's the last living ancestor of H.P. Lovecraft and he must protect an ancient relic that could bring Cthulhu back to our world.
Screening with:
The Sleuth Incident, dir. Jason Kupfer (Watch online)
11:00 p.m.: Nude Study, dir. Stefan Popescu. A female filmmaker believes she's found the perfect model for her latest project, but her involvement with her subject develops into a frantic passion.
Screening with:
An Affair With Dolls, dir. Hans Montelius
Sept. 24
7:00 p.m.: The Last Lovecraft: Relic of Cthulhu, dir. Henry Saine. A depressed dude learns he's the last living ancestor of H.P. Lovecraft and he must protect an ancient relic that could bring Cthulhu back to our world.
Screening with:
The Sleuth Incident, dir. Jason Kupfer (Watch online)
8:00 p.m.: The Last Rites of Ransom Pride, dir. Tiller Russell. In 1910, a cowgirl blasts her way to Texas in order to give her murdered lover a proper burial.
Screening with:
Colibrí, dir. Cesar Huitron
9:00 p.m.: Robogeisha, dir. Noboru Iguchi. A geisha and her younger sister are kidnapped and trained to be a pair of deadly assassins.
Screening with:
Attackazoids, Deploy!!, dir. Brian Lonano and Jeff Jenkins (Watch online)
11:00 p.m.: Nude Nuns With Big Guns, dir. Joseph Guzman. After a corrupt clergy abuse a well-meaning nun, she gets a message from God to get revenge against those who have wronged her.
Screening with:
Thy Kill Be Done, dir. Greg Hanson & Casey Regan (Watch online)
Sept. 25
3:00 p.m.: "Shorts Block – Beyond & Back"
The Extreme Nature of Bats, dir. Greg Passmore
The Empress, dir. Lyle Pisio
My Friend Root Rot, dir. Paul von Stoetzel
Birdsong, dir. Oleg Jankovic
Exhale, dir. Phuong Herzer
Lacrymal, dir. Pierre-Alexandre Girard & Xavier Hamel
Guignol, dir. Dana Turken
The Good, the Bad and the Dead, dir. Alberto G. Rodriguez
5:00 p.m.: Dead Hooker in a Trunk, dir. Jen Soska & Sylvia Soska. A quartet of women — including a pair of twins, a Jesus freak and a junkie — have their world rocked when the stumble upon, that's right, a dead hooker in a trunk.
Screening with:
OVUM, dir. Lochsley Wilson
6:00 p.m.: Darklands, dir. Peter Leon. Two inept detectives are hired to find the men who kidnapped a little kid and kill them — before the police do.
Screening with:
Clemency, dir. Joseph Albanese
7:00 p.m.: Beyond the Grave, dir. Davi de Oliveira Pinheiro. In a post-apocalyptic world that's ruled by magic and mayhem, a police officer desperately searches for a possessed serial killer.
Screening with:
Payment Due, dir. Chris Rabion
8:00 p.m.: Machotaildrop, dir. Corey Adams & Alex Craig. In an alternate world, skateboarding is a noble sport where knights battle for their honor on the half pipe.
Screening with:
Red Princess Blues, dir. Alex Ferrari
9:00 p.m.: Nightbeasts, dir. Wes Sullivan. After kicking the habit, a reformed drug addict takes his son on a hunting trip for a little re-bonding time. But, while out in the woods, they must fend off an attack from the monstrous Sasquatch. Starring Zach Galligan (Gremlins).
Screening with:
Dead Exit, dir. Wes Young
10:00 p.m.: A Serbian Film, dir. Srdjan Spasojevic. A retired adult film actor takes a role in a questionable new movie that forces him to perform unspeakable actions.