2010 Arizona Underground Film Festival: First Picks!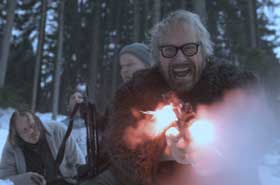 The Arizona Underground Film Festival has just revealed the names of six feature films chosen to screen at its third annual edition that will run on Sept. 18 to 25 in Tucson and Tempe, AZ. The selections are an exciting mix of genre-bending films from all over the world, several of which are making their North American and World Premieres.
AZUFF began as a modest three-day affair back in 2008 and has now grown into a full-blown eight-day affair in 2010. The sampling of titles that have been announced are a good sampling of the overall tone of the fest. The films range from black comedy to western to horror to one of the most controversial films of the year, A Serbian Film. Countries that some of the other films come from include Germany and Brazil.
Listed below are the six titles that have been announced so far and the full lineup will be released on Sept. 3.
Snowman's Land, dir. Tomasz Thomson. North American Premiere! In this German dark comedy, a gangland wife is killed in a freak accident and a bumbling hit man tries to hide the body before her husband finds out — and, when he doesn't, all hell breaks out.
Watch the trailer:
Last Rites of Ransom Pride, dir. Tiller Russell. North American Premiere! This western takes place in 1910 and tells the tale of a cowgirl (Lizzy Caplan) who blasts her way to Texas in order to give her murdered lover (Scott Speedman) a proper burial. Also starring Dwight Yoakam, Kris Kristofferson, Jason Priestley and Peter Dinklage. Plus, the director will be in attendance for a post-screening Q&A.
Watch the trailer:
Machotaildrop, dir. Corey Adams, Alex Craig. Arizona Premiere! Set in an alternate world where skateboarding has been an admired and admirable sport for generations, an amateur skateboarder will do anything to ride for the greatest skateboard company in the world. But, as he eventually discovers, that company may have something more insidious up its sleeves than just simple skateboarding.
Watch the trailer:
Beyond the Grave, dir. Davi de Oliveira Pinheiro. World Premiere! In a post-apocalyptic world that's ruled by magic and mayhem, a police officer desperately searches for a possessed serial killer. Plus, the director will be in attendance for a post-screening Q&A.
Watch the trailer:
The Last Lovecraft: Relic of Cthulhu, dir. Henry Saine. A depressed dude with a dead end job learns that he's the last living ancestor of H.P. Lovecraft and it's up to him to protect an ancient relic that, if it falls into the wrong hands, will bring Cthulhu back into our plane of existence.
Watch the trailer:
A Serbian Film, dir. Srdjan Spasojevic. Milos, a former male porn star, is lured out of retirement to star in one more film. But, once arriving on set, Milos discovers that the director is making something other than just a porno — something that's much darker, dangerous and a whole lot more violent.
Watch the trailer: