2010 Arizona Underground Film Festival: Award Winners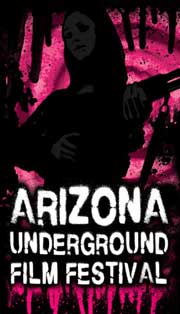 The Arizona Underground Film Festival wrapped up its 3rd and biggest year ever back on Sept. 25. Over a wild eight days, the fest screened 30 feature films and 50 short films from all over the world, some of them making their world premiere or their U.S. debut. Out of those films, AUFF handed out a dozen awards.
AUFF gave out awards to both shorts and features in the categories of Best Narrative, Best Horror, Best Documentary. Plus, they gave out awards such as Best Exploitation, Best Experimental, Audience Award, Director's Choice and more.
Best Experimental went to a film directed nearly 30 years ago that's just being seen now. That film is Window on Your Present by Cinqué Lee, brother of Spike Lee.
Other big winners are Corey Adams and Alex Craig's skateboard fantasy Machotaildrop for Best Narrative Feature; Aurelio Voltaire's short film Demiurge Emesis for Best Animation; Joseph Guzman's provocatively-titled Nude Nuns With Big Guns for Best Exploitation. And the Underground Film Journal is thrilled to hear that one of its favorite short films of the past year, Jason Kupfer's cuddly and bloody The Sleuth Incident, took home Best Horror Short.
Congrats to all the winners and to AUFF for another great year. Here's the full list of winners.
Best Narrative Feature
Machotaildrop, dir. Corey Adams, Alex Craig
Best Narrative Short
Guignol, dir. Dana Turken
Best Horror Feature
Beyond the Grave, dir. Davi de Oliveira Pinheiro
Best Horror Short
The Sleuth Incident, dir. Jason Kupfer (Watch online)
Best Documentary Feature
Roll Out, Cowboy, dir. Elizabeth Lawrence
Best Documentary Short
Extreme Nature of Bats, dir. Greg Passmore
Best Experimental
Window on Your Present, dir. Cinqué Lee (Read the review)
Best Animation
Demiurge Emesis, dir. Aurelio Voltaire
Best Exploitation
Nude Nuns With Big Guns, dir. Joseph Guzman
Best of the Fest
Phasma Ex Machina, dir. Matt Osterman
Audience Award
The Last Lovecraft: Relic of Cthulhu, dir. Henry Saine
Director's Choice Award
Quit, dir. Dick Rude