2009 Strasbourg International Film Festival: Call For Entries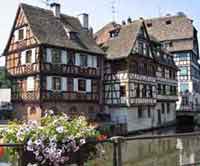 Straight outta France, the Strasbourg International Film Festival has a mission: To show the works of new and emerging filmmakers. So, if you're one of them and you got a film: Send it in!
The festival will run in Strasbourg, France this year on Sept. 11-20.  I only got word of this fest recently, so unfortunately this post is appearing after the Earlybird Deadline already flew by, but there's still plenty of time to get your film in. And I'm listing this fest because last year they showed several great underground films, which I'll mention below. But here are the deadlines:
Regular Deadline:
April 8
$40
Late Deadline:
June 8
$50
In 2008, the Strasbourg Fest showed several films reviewed here on the Underground Film Journal, including Julia Ostertag's awesomely punk rock Saila and Leo Age's stylized and sexy Hombre Kabuki. They also screened Alex Orr's Blood Car, which I haven't seen personally, but it did win the Best Narrative Feature Award at the 2007 Chicago Underground Film Festival.
Strasbourg also gives out their own awards, including Best Feature, Director, Actor, Documentary and a whole bunch more. Plus, I really like their mission statement:
Our mission is to show the works of new and emerging filmmakers. SiFF will showcase creative, edgy, out-of-the-box and maverick filmmakers in all genres including experimental and avant-garde as well as more traditional dramas, thrillers, romantic comedies, daring documentaries, and wild ride animation.
For submission info, please either visit the official Strasbourg International Film Festival website or just submit via Without a Box.
And check out the Underground Film Journal's list of film festivals for more great underground fests to submit to.