2009 PDX Film Festival: Official Lineup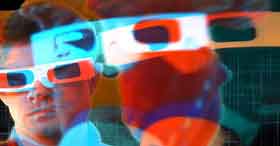 The Portland Documentary and eXperimental Film Festival, also known as the PDX Film Fest, looks like it's going to have another terrific year of great new experimental films, retrospectives of classic artists' work and their popular traditional events the Karaoke Throwdown and the Peripheral Produce Invitational. The fest runs May 6-10.
As far as the retrospectives go, the fest will open with a tribute to pioneering experimental filmmaker Bruce Conner who died last year. PDX will screen films from throughout Conner's career from 1978's Mongoloid to 2008's Eastern Morning. There will also be retrospectives of Peggy Ahwesh, which will include her 16mm and 8mm films, digital video and computer animation, and Ben Coonley, who will present a variety of films, live slide presentations and PowerPoint exhibitions.
There are also programs devoted to short experimental documentaries and short films by local Portland artists; plus, several feature films making the avant-garde rounds this year, such as Brett Gaylor's RiP, Michael Gitlin's The Earth Is Young, Deborah Stratman's O'er the Land and Jennifer Montgomery's Deliver. Looks like an outstanding lineup:
May 6
7:30 p.m.: "Bruce Conner: In Memoriam"
This retrospective of the late experimental filmmaker includes the films:
Mongoloid
American Is Waiting
Crossroads
Take the 5:10 to Dreamland
Valse Triste
Looking for Mushrooms (long version)
Eastern Morning
May 7
4:30 p.m.: "Shorts Program #1 – Battle Scars: New Experimental Documentaries"
Poor Audrey, dir. Lydia Moyer
The Sixtus Project, dir. Lindsay Foster
Still Life With Ho Chi Minh, dir. Kevin T Allen
Adaptation Fever, dir. Hong-An Truong
A Film Far Beyond a God, dir. Waël Noureddine
7:00 p.m.: "Talking Points & Talking Ponies: An Evening with Ben Coonley"
Pre-Show slides for an eXperimental Audience
PowerPoint loop
The Future of Metal
Titanic
3D Trick Pony
Valentine for Perfect Strangers
Appropriation Piece
Valentine for Russian Perfect Strangers
Pony Changes Everything
The Best Gifts
Remapping the Apparatus: Cinematographic Specificity and Hybrid Media
9:00 p.m.: RiP: A Remix Manifesto, dir. Brett Gaylor. The world's first open source documentary, the product of hundreds of collaborators all working on the subject of copyright and the Remix Culture.
May 8
5:00 p.m.: The Earth Is Young, dir. Michael Gitlin. This documentary visits with the Young Earth Creationists, who believe the world was literally created in six days and is only 6,000 years old.
7:30 p.m.: "Never Merely Pretty: Films and Videos by Peggy Ahwesh"
The Scary Movie
The Color of Love (Read the review)
Beirut Outtakes
Martina's Playhouse
Pittsburgh Trilogy Pt.2
She Puppet
The Third Body (Watch online)
10:00 p.m.: "The Experimental Filmmaker Karaoke Throwdown Take II! @ Holocene"
May 9
1:00 p.m.: "Shorts Program #2 – Friends and Neighbors: New Videos by Portland Artists"
In Search of a Mystic Bar Tone, dir. Mack MacFarland
Oscillating Fan, dir. Rob Tyler
Florida, dir. Jeffrey Richardson
Watch Me Break It Down, dir. Julie Perini
Axioms of a Dishwasher, dir. Vance Malone
Children and Olafur, dir. Ryan Jeffery
Of Air/Of Earth: The Story of the Portland Aerial Tram, dir. Tom Frisch
More Please!, dir. Dustin Zemel
Last Year, dir. Jarratt Taylor
Tallahassee, dir. Brendan Broome
A Bump Was a Pearl, dir. Johanna Hibbard
Notes on Iceland, dir. Melody Owen
Night Vision, dir. Megan Holmes
The Night Gardener, dir. Jennifer Hardacker
Light Tiger Eye, dir. Matt McCormick
Tea Drinker, dir. Chris Lael Larson
Don't Worry, It's a New Century, dir. Jeff Guay
3:15 p.m.: "Shorts Program #3 – You Are Here: American Filmmakers Abroad"
Nothing Is Over Nothing, dir. Jonathan Schwartz
Trypps #6 (Malobi), dir. Ben Russell (Read the review)
Today! (excerpts 28, 19), dirs. Jessie Stead & David Gatten
Utopia Part 3: The World's Largest Shopping Mall, dir. Sam Green & Carrie Lozano
Songhua, dir. J.P. Sniadecki
5:30 p.m.: California Company Town, dir. Lee Anne Schmitt. An examination of California communities that have been devastated by the industries that first created then abandoned them.
8:30 p.m.: The 8th Peripheral Produce Invitational
May 10
1:00 p.m.: Deliver, dir. Jennifer Montgomery. A an all-female remake of the classic film Deliverance.
3:15 p.m.: "Shorts Program #4 – Mysterious Journeys: New Experimental Shorts"
Thrashed, dir. Thad Kellstadt
Snake Skin, dir. Nathan Pancione
Mysterious Journey, My Dark Secret, Singing and Things, Crazy and Freaky, Aw Fuck, dir. Jesse Hulcher
The Eternal Quarter Inch, dir. Jesse McLean
Trailer Trash, dir. Mark Street
Ceibas: H(x) = -∑ p(xi) logp(xi) | Shannon's Entropy, dir. Evan Meaney
Lossless #5, dir. Rebecca Baron and Douglas Goodwin
Split, dir. Kitty Green
Return of the Black Tower, dir. Jennet Thomas
Sweet Ruin, dir. Elisabeth Subrin
Blood Work, dir. Julie Orser
Hydro-Lévesque, dir. Matthew Rankin
5:30 p.m.: "Shorts Program #5 – Speechless: Illuminating the Senses"
Tattoo Step, dir. Mike Maryniuk
Fore-and-Aft, dir. Sara MacLean
16-18-4, dir. Tomonari Nishikawa
Blue Tide, Black Water, dir. Eve Gordon & Sam Hamilton
Near the Egress, dir. Antonio Martinez
And the Sun Flowers, dir. Mary Helena Clark
Aftermarks, dir. Fern Silva
Quiero Ver, dir. Adele Horne
My Tears Are Dry, dir. Laida Lertxundi (Read the review)
Rose, dir. Robert Todd
Plastic Opera, dir. Matthew Perino
Trypps #5 (Dubai), dir. Ben Russell
Speechless, dir. Scott Stark
8:00 p.m.: O'er the Land, dir. Deborah Stratman. An examination of national identity through the prism of militarism.