2009 Oakland Underground Film Festival: Official Lineup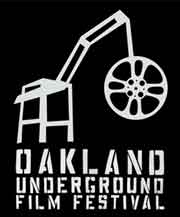 There's a new kid on the block in 2009 — or, at least, this is the first time I'm hearing of it — when the Oakland Underground Film Festival screens in the Bay Area on Sept. 25-27.
Don't have much to go on here other than the full festival lineup, which is below. However, this is probably the first underground film festival listed on the Underground Film Journal that screens on a military bases. OAKUFF will take place at the Art Deco Movie Theater located on the Alameda Point Naval Base. (No site for the theater online, but it's located at 2700 Saratoga St.)
The OAKUFF lineup is a pretty interesting one, consisting mostly of documentaries, including ones by Sam Green and Adrianne Jorge. There are just two modern fiction films, as well as the late Ray Dennis Steckler's infamous monster horror musical The Incredibly Strange Creatures Who Stopped Living and Became Mixed-Up Zombies. Plus, on the opening night, there is a special projectionists' "jam" with moving projections and live music.
Here's the full lineup:
Sept. 25
7:00 p.m.: Utopia, Part III: The World's Largest Shopping Mall, dir. Sam Green and Carrie Lozano. A profile of the humongous shopping structure located in Guangzhou, China.
Screening with Last Days of the Hotel Pennsylvania, dir. Yoichiro Yoda
8:00 p.m.: No Subtitles Necessary: Laszlo & Vilmos, dir. James Chressanthis. A profile of two of the greatest cinematographers of all time, Laszlo Kovacs and Vilmos Zsigmond.
10:15 p.m.: The Incredibly Strange Creatures Who Stopped Living and Became Mixed-Up Zombies, dir. Ray Dennis Steckler. The classic grade-Z masterpiece in which a sideshow psychic hypnotizes a perfectly normal young man into becoming a sadistic killer.
11:30 p.m.: "All-Star Projectionist Jam"
Sept. 26
3:00 p.m.: The Garden, dir. Scott Hamilton Kennedy. Visit the 14-acre community garden located in the heart of South Central Los Angeles that was created to heal the wounds created by the 1992 riots.
5:00 p.m.: Waterlife, dir. Kevin McMahon. Following the rush of water from the Great Lakes to the Atlantic Ocean and the ways this major supply of fresh water is under assault from toxins, sewage and other disasters.
7:00 p.m.: Pick Up the Mic, dir. Alex Hinton. Covering the world of underground hip-hop, from San Francisco to New York to Houston and other surprising locations.
9:00 p.m.: Making Our Own, dir. Adrianne Jorge. Go on a world tour with the Boston-based punk band Neptune. (Watch Online)
Screening with A Flicker Forest, dir. Curtis Tamm
10:00 p.m.: Que Viva La Lucha, dir. Gustavo Vazquez. Get an insiders view of the world of Mexican wrestling, particularly the over-the-top brutal kind found in Tijuana.
Screening with Danger Dr. Poison, dir. Jose Ruben Escalante Mendez.
12:00 a.m.: Destined to Be Ingested, dir. Sofian Khan. A rich couple on a yachting cruise in the Caribbean get steered into cannibal country.
Sept. 27
4:00 p.m.: Beyond the Ropes, dir. Nathan Israileff. The director, who is an amateur boxer, goes in search of why boxing has fallen out of favor in recent years.
Screening with This Close Or This Far, dir. Peter Lee
6:00 p.m.: Junkie Nurse, dir. Jeffrey Jay Orgill. While taking care of old folks in a nursing home, a drug addict befriends a jazz musician living there whom he can get high with.
8:00 p.m.: Big River Man, dir. John Maringouin. Meet Martin Strel, a fiftysomething citizen of Slovenia, who attempts to swim the entire length of the Amazon river.