2009 Melbourne Underground Film Festival: Official Lineup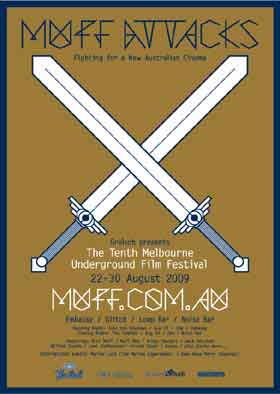 Ten years ago, the Melbourne Underground Film Festival was founded to offer a kick-arse antidote to a floundering and tepid Australian film industry. However, as that industry has continued to devolve into mawkishness over the last decade, festival director Richard Wolstencroft has decided to amp up his critical assault with this year's edition that runs Aug. 22-30.
The festival theme this year is simply "MUFF Attacks" and this year's program guide includes an Open Letter on the Film Industry written by Wolstencroft to which supporters can add their names before it's delivered to "various Ministers and funding Bodies." Here's an excerpt from the Open Letter with suggestions on how to fix things:
It is suggested that many, many more genre films be produced in this country; more, indeed, than sensitive, politically correct 'art-house' fare that has been force-fed to the public since the end of the '80s. By genre we mean horror, action, sci-fi, crime, comedy and erotica.
To prove points such as the one above, MUFF is once again stocked to the gills with the outrageous genre filmmaking its been known for. In addition to great cutting-edge Australian films produced outside the current system, there are also retrospectives of non-Australian genre filmmakers like classic schlock horror director William Castle, who's been enjoying a renaissance of interest in his work lately, and grindhouse action star and director Wings Hauser.
Plus, I have a couple of personal Underground Film Journal recommendations, including Wolstencroft's own modern-day F. Scott Fitzgerald adaptation The Beautiful and Damned. An early cut preview of the film screened at last year's MUFF, but this year sees the new final version. You can read my review of the film, which I think is a terrific, accomplished film that harkens back to the grand tradition of edgy Australian fare.
Other Underground Film Journal hits that are screening are Paul von Stoetzel's horrifically disturbing Snuff: A Documentary About Killing on Film and Zach Clark's outrageously low-key sex farce Modern Love Is Automatic. I'd also like to recommend William Castle's The Tingler, which I happened to catch on TV recently, but think would be great fun to see with an audience, particularly the scream participation sequences.
The full, over-stuffed lineup is below with loads more than my tiny list of mentions and shout-outs above:
Aug. 22
7:00 p.m.: Into the Shadows, dir. Andrew Scarano and Phil Hignett. An examination into the troubled Australian film industry, from it's heyday in the '70s to the "travesty of today." Featuring interviews with George Miller, Scott Hicks, Bruce Beresford and Richard Wolstencroft.
Screening with Context, dir. Stuart Simpson and M.C.G.F.C., dir. Anna Helme.
Aug. 23
7:00 p.m.: The Nigel Diaries, dir. Frank Howson. A documentary about Howson trying to make the feature film Remembering Nigel.
7:00 p.m.: "Mini MUFF 1"
Serial Gardener, dir. Andrew Connell
Potential Employee, dir. Andrew Dunstan
Reality Survivor, dir. Pauline Findlay
Good Cop Bad Cop, dir. Brett Nichols
CTRL+P, dir. Gohutan Swathasan
The Jesus Spoon, dir. Craig Fox
The Surprise, dir. Gary Hegedus
Dog With Electric Collar, dir. Steve Baker
Sarah's Jihad, dir. Zev Howley
Ruthless Days, dir. Ivan Zelic
H, dir. Stephen Francis
7:00 p.m.: The Dinner Party, dir. Scott Murden. A group of people gather for a lavish dinner party — and plan on committing suicide afterward.
9:00 p.m.: The Beautiful and Damned, dir. Richard Wolstencroft. Party boy meets party girl, gets married and parties the years away while waiting for dear old grandpa to croak so they can inherit his fortune. Based on the novel by F. Scott Fitzgerald. (Read the underground movie review)
9:00 p.m.: "Mini MUFF 2"
Scorn, dir. Brent Armfield
The Marina Experiment, dir. Marina Lutz (Watch online)
Tinglewood, dir. Alexander Von Hofmann
El Visitante, dir. Maisie Cohen
Igor & Mal, dir. Michael Kratochil
Fear, dir. Leilani Croucher
Monarch, dir. Shane Willis
Binge, dir. Andrew Langcake
Rikki, dir. Ben Kermode
Colony, dir. Michael Olson
Cane Cutter, dir. Dustin Clare
9:00 p.m.: Deadly Force, dir. Paul Aaron. A NYC policeman avenges the murder of his best friend's granddaughter. Starring Wings Hauser.
Aug. 24
7:00 p.m.: Tomboys, dir. Nathan Hill. Young girls enact their revenge against a serial rapist.
7:00 p.m.: The Siege of Firebase Gloria, dir. Brian Trenchard-Smith. Soldiers defend their fort against the Vietnamese. Starring Wings Hauser.
7:00 p.m.: "Mini MUFF 3"
The Community Cup, dir. Stratos Pavlis
Ramones Are Not Dead, dir. Suzy Ramone and Andrew Bunney
Rule of the Thirds, dir. Dean Robb
Tip, dir. Neil Horton
1973, dir. Karen Flores-Alfaro
Visit China, dir. Anthony Samangy
The Dark Side of War, dir. Paul Dinnerville
7:00 p.m.: Burn City: A Journey Into Melburn and Australian Krump, dir. Rachel Main. A look at the rise of the dance craze "krump" that began in L.A. and grew in Melbourne.
9:00 p.m.: Ricky! The Movie, dir. Liam Firmager. A mockumentary about an '80s one-hit wonder and his surprising re-appearance on the pop scene.
Re-living off the Land, dir. Paul Murphy and Simon Best. Childhood friends reunite to finish the zombie masterpiece they began as teenagers.
9:00 p.m.: Skins, dir. Wings Hauser. An alcoholic father encourages his family to fight a gang of neo-Nazis.
9:00 p.m.: "Mini MUFF 4"
Lucy Wants to Kill Herself, dir. Andrea Brooks
Cogitate, dir. Aaron Swann
Tactile, dir. Alex Watkins
The Black Dog, dir. Shaun Katz
Through a Gash Darkly, dir. Carey Burtt
The Decayed, dir. Josef J. Weber
Dream of a Ridiculous Man, dir. Carey Burtt
You and I, dir. Luke McKay
Charleyville, dir. Emile M. Smith
Vulture Culture, dir. Christian Farrugia
9:00 p.m.: S.O.S. Iceberg, dir. Arnold Fanck. An Arctic expedition searches for one of its lost members. Starring Leni Riefenstahl.
Aug 25
7:00 p.m.: The White Hell of Pitz Palu, dir. Arnold Fanck. A married couple help a man find his wife's corpse, who was killed in an avalance. Starring Leni Riefenstahl.
7:00 p.m.: Snuff: A Documentary About Killing on Camera, dir. Paul von Stoetzel. This documentary explores the mythology of the "snuff film," movies featuring real killings on camera that may or may not actually exist. (Read the underground movie review)
9:00 p.m.: Storm Over Mont Blanc, dir. Arnold Fanck. An observatory worker needs help from a female astronomer and an airplane pilot when he's trapped in a snowstorm. Starring Leni Riefenstahl.
9:00 p.m.: Bad Habits, dir. Dominic Deacon. A nun has an unusual, and especially violent, relationship to God.
9:30 p.m.: Boronia Boys, dir. Timothy Spanos. Two thirtysomething slackers decide it's finally time to leave their small town.
Aug. 26
7:00 p.m.: Sleeper, dir. Marc Gracie. A deranged prisoner escapes from behind bars to find the woman of his dark obsessions.
7:00 p.m.: Homicidal, dir. William Castle. A beautiful blonde becomes a psychotic killer.
7:00 p.m.: "Mini MUFF 5"
The Body Watchers, dir. Adam Pellicy
Clown's Lament, dir. Gabriel Dowrick
Light, dir. Shelley Semo
Out, dir. Daniel Fox
Libido Ex Machina, dir. Josh Nelson and Rohan Spong
Matinee, dir. Jennifer Bell
9:00 p.m.: Modern Love Is Automatic, dir. Zach Clark. A nurse whose heart isn't in her job anymore moonlights as a dominatrix. (Watch online)
9:00 p.m.: Mr. Sardonicus, dir. William Castle. A neurosurgeon tries to help a man whose face has been frozen into a horrible grin.
9:00 p.m.: "Mini MUFF 6"
Quantum Shorty, dir. Liam Firmanger and David Man
Rufus, dir. Rebecca Thomson
Dirty Music, dir. Steve Murray
The Swallow, dir. Gabriel Dowrick
Toak, dir. Jamie Wilson
Michael, dir. Jason Saville
Skye, dir. Jason Saville
Bad Day at Work, dir. Kole Dysart
Higher Plane, dir. Travis Bigg
Penmenship, dir. Christian Kloukinas
Aug. 27
7:00 p.m.: The Marina Experiment, dir. Marina Lutz. An autobiographical documentary about a woman who uncovers shocking film and photographs taken of her as a young child by her own father. (Watch online)
Impolex, dir. Alex Ross Perry. A WWII GI goes on a lonely mission to find undetonated German V-2 rockets. (Read the underground movie review)
7:00 p.m.: The Lost, dir. Chris Sivertson. A fictional biography of Charles "Schmitty" Schmid, the Pied Piper of Tucson serial killer. Based on the book by Jack Ketchum.
9:00 p.m.: Seeking Wellness, dir. Daniel Schneidkraut. In four disturbing stories, gunmen launch an assault in a burn ward, a father shares his painful Christmas memories with his kids, a dejected man does himself harm and a student enacts an outrageous classroom experiment.
9:00 p.m.: The Girl Next Door, dir. Gregory Wilson. A young girl is murdered by her abusive foster mother and some boys in the neighborhood. Based on the novel by Jack Ketchum.
Aug. 28
7:00 p.m.: MacIntyre's Underworld, dir. various. Two episodes from the British TV series about gangsters.
7:00 p.m.: Red, dir. Trygvee Allister Diesen and Lucky McKee. An old man seeks to avenge the murder of his best friend by a teenager. Based on the novel by Jack Ketchum.
9:00 p.m.: "Uganda Special Event"
Cry Freetown, dir. Sorious Samura. A horrific document of atrocities committed in Sierra Leone's civil war.
Exodus, dir. Sorious Samura. A documentary following African exiles around the continent.
9:00 p.m.: Carmilla Hyde, dir. Dave de Vries. An adult female virgin transforms into a sexy creature of vengeance after being violated.
11:00 p.m.: The Tingler, dir. William Castle. A scientist discovers a creature that lives in the spines of all people and grows whenever a person is frightened. The only way to kill it is to scream and scream again.
Aug. 29
7:00 p.m.: Offspring, dir. Andrew van den Houten. Based on a true story, two women try to evade being eaten by cannibalistic Scottishmen in rural North America.
9:00 p.m.: Vice Squad, dir. Gary Sherman. The cops try to stop a depraved killer. Starring Wings Hauser.
11:00 p.m.: Family Demons, dir. Ursula Dabrowsky. A young girl murders her abusive alcoholic mother, only to be tormented by dear ol' mom's vengeful spirit.
Aug. 30
5:00 p.m.: Eraser Children, dir. Nathan Christoffel. In a dystopic future, an evil corporation invents a new source of energy that impacts all human life on the planet, and not in a good way.
7:00 p.m.: The Tumbler, dir. Marc Gracie. An ex-con and an Afgani-Australian befriend a Yankee soldier at a military base only to enact a sinister agenda.
Screening with Herman: Am I Proud, dir. Sascha-Rene Karner; and The Un-Australian, dir. Jon Lucas.
For more info, please visit the official festival website.