2009 Melbourne Underground Film Festival: Award Winners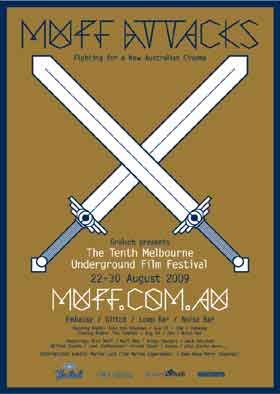 The Melbourne Underground Film Festival just wrapped up its 10th edition on August 30 and they've announced their list of award winners, which I have listed below.
Before I get to congratulating the winners, MUFF deserves it's own special congratulations for making it ten years strong. As I noted recently, several underground film festivals have gone kaput this year, so to make to a full decade is a major accomplishment that needs to be applauded. And big props go to festival director Richard Wolstencroft for not only tirelessly keeping the fest going every year, but to be such a vocal proponent of improving the state of Australian filmmaking.
The festival's theme this year was "MUFF Attacks" and a direct challenge to wake up the moribund film industry down under. So, it's fitting that the Best Australian Film was a tie with one of the winners being Andrew Scarano and Phil Hignett's Into the Shadows, a documentary on the history of Australian film, from the highs of the Mad Max movies to the lows of Danny Deckchair. Into the Shadows shares the award with Nathan Christoffel's Eraser Children, a dystopian sci-fi film.
MUFF gave out a lot of awards on the final night of the fest. The full list of winners is below and congratulations to all of them. But here are a couple of special Underground Film Journal shout-outs. Congrats to Kristin Condon who tied for the Best Australian Female Actress award for her role in Richard Wolstencroft's The Beautiful and Damned. Even though I didn't focus on her so much in my review of the film, I think she gave a bang-up performance. Hopefully the film will come to the States soon enough.
I'm also really thrilled that Modern Love Is Automatic won two foreign awards at MUFF. This is one of my favorite films of the year so special congrats to Zach Clark for winning Best Foreign Director and the lovely Melodie Sisk for winning Best Foreign Actress.
Enough of my blather, here's the full list of award winners:
Lifetime Achievement
Frank Howson & John La Monde
Best Australian Film (tie)
Into the Shadows
Eraser Children
Runner Up Best Australian Film
The Tumbler
Best Australian Director
Marc Gracie (The Tumbler)
Best Australian Male Actor
Gary Sweet (The Tumbler)
Best Australian Female Actor (tie)
Sandra Casa (Bad Habits)
Kristen Condon (The Beautiful and Damned) (Read the underground movie review)
Best Supporting Male Actor
Shane Nagle (Eraser Children)
Best Supporting Female Actor
Georgii Speakman (Carmilla Hyde)
Special Jury Prize
Seeking Wellness: Suffering in Four Movements
Special Jury Prize (Short)
Herman: Am I Proud
Best Guerrilla Film
Carmilla Hyde
MUFF Producers Award
Prey, producers Robert Galinsky & Elizabeth Howatt-Jackman
Best Documentary
The Nigel Diaries
Burn City
Best Cinematography
Justin Brickle (The Tumbler)
Best Screenplay
Jack Ketchum (Offspring)
Dominic Deacon (Bad Habits)
Best Short
The Marina Experiment, dir. Marina Lutz (Watch this underground movie online)
Matinee
Runner Up Best Short
Higher Plane
Best Foreign Film
Impolex, dir. Alex Ross Perry (Read the underground movie review)
Best Foreign Director
Zach Clark (Modern Love Is Automatic) (Read the underground movie review)
Best Foreign Male Actor
Riley O'Brien (Impolex)
Best Foreign Female Actor
Melodie Sisk (Modern Love Is Automatic) (Read the underground movie review)