2009 Denver Underground Film Festival: Call For Entries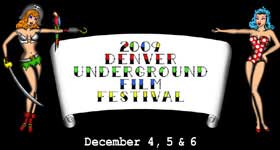 The Denver Underground Film Festival has been pushed back until December this year, so their entry submission period is still open. Traditionally, DUFF runs sometime around September or October, but in 2009 it will run on Dec. 5-7.
Actually, some of the promotional material on the site still lists October dates, but the site homepage lists the correct December dates. The entry deadlines are still a few months off, too:
Regular Deadline:
Nov. 15
Entry fee: $20
Late Deadline:
Nov. 25
Entry fee: $30
Entry fees are waived for filmmakers who have screened at DUFF in the past. Also, the fest is accepting films in the following categories:
Narrative Short
Narrative Feature
Experimental Short
Experimental Feature
Animated Short
Animated Feature
Documentary
Music Video
DUFF is a small festival running just three days, but they typically screen some great films, including several Underground Film Journal hits. For example, last year they screened Altamont Now, Saila and Silence Ca Tue.
For more info and full submission info, please visit the official DUFF website.