2009 Denver Underground Film Festival: Award Winners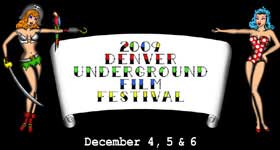 The Denver Underground Film Festival took place on Dec. 4-6 and gave out nine awards, plus lots of honorable mentions in most categories. Awards were given to feature films and short films, as well as one award given to two actors.
However, the most exciting award — in the Underground Film Journal's opinion — was the Special Lifetime Achievement Award given to Colorado filmmaker Tony Gault, a familiar name on this site as his films screen regularly at the greatest underground film festivals in the world. So, congratulations to Tony and all the filmmakers who screened at DUFF this year:
Best Narrative Feature
Something Missie in the Life of Jordan Bank, dir. Matthew Zatkoff
Best Documentary
Love Letters: Legacy of Torment and Addiction, dir. Michael Drumm
Runner up – Honorable Mention
Road to Bataan, dir. Chad Henninger
Runner up – Honorable Mention
According to Dom, dir. Deren P. Abram
Best Narrative Short
Sapsucker, dir. Christopher Holmes
Runner Up – Honorable Mention
The Burden, dir. Eileen Agosta
Runner Up – Honorable Mention
Hollywood Folklore: Mick Donald, dir. Mark Nelsson
Runner Up – Honorable Mention
Fugue, dir. Jamie Helmer
Best Experimental Short
Huella, dir. Andrew Arell
Runner Up – Honorable Mention
La Mer Immersed (The Sea Immersed), dir. Robert Shawn Isbell
Runner Up – Honorable Mention
Shave, dir. Sean Christensen (Watch online)
Best Animation
Pastrami on Rye, dir. Gio Toninelo
Best Music Video
"This Too Shall Pass" by Mark Mitten, dir. Matt Anderson
Runner Up – Honorable Mention
"Someone Like You" by Pinachulada, prod. The Matadores
Best of Fest
Because There Are Things You Never Forget (Perche Ci Sono Cose Che Non Si Dimenticano Mai), dir. Lucas Figueroa
Honorable Mention for Dramatic Performance
David Finkelstein
Two Distinct Courses of Action
Kasha Fauscett
The White Room
Special Lifetime Achievement Award
Tony Gault
For his continuous dedication to independent filmmaking in Colorado.