2009 Comic-Con International: Underground Style
2009 was the first year I've gone to the Comic-Con International in San Diego, despite having lived in Los Angeles for seven years now and being a huge comic book and movie nerd.
But, this was the year I finally made arrangements to head down, even though I could only go on the weekend. So, Saturday was my big trek, taking the train down from Union Station to downtown S.D. I didn't make much plans, except mostly to not have plans. There were two people I definitely wanted to meet up with, whom I'll mention later, but this meant no media panels or event attendance. I can always read about that stuff on other people's websites.
Instead, I remembered some advice I think I read on Mark Evanier's blog a year or two ago. Comic-Con is actually a bunch of different conventions crammed into one. Therefore, to not get consumed by all the hullabaloo, an attendee has to find the convention he or she wants to attend. So, what I wanted to know was: Is there an "underground" con lurking in there?
The answer is yes. But, here's the funny thing. I walk in the "D" entrance and the convention floor is completely overwhelming and packed elbow-to-elbow with people. I don't look at the map, so I don't know where anything is. I figure my best bet is to stick to the outer wall to figure out the lay of the land before heading into the thick of it.
I start off by walking left and — BAM! — two minutes later I run into superstar underground animator Bill Plympton, who is selling DVDs in his own booth. I'm a huge fan of Plympton's work and his films, including the feature Mutant Aliens, were some of the highlights of the New York Underground Film Festival when I attended that a few years ago. So I bought from him his latest DVD collection of shorts, Dog Days, which he was proudly telling folks included some of his best work.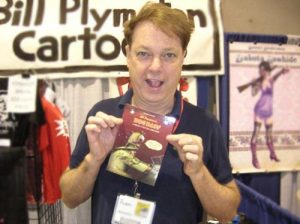 I have seen one of the shorts on the DVD before, Shuteye Hotel, which played at the 2008 Spooky Movie Film Festival. But I'm very anxious to check out the Oscar-nominated Guard Dog and it's two sequels Guide Dog and Hot Dog. Plympton very graciously signed the DVD cover, which you can see him holding up in that picture up there. He was also making custom dog sketches on a Hot Dog promo postcard with each purchase. I'll put up a full review of the DVD eventually.
In the booth next to Plympton was actress and producer Alexia Anastasio selling DVDs starring and produced by her. I snatched up The Wild World of Ted V. Mikels, a documentary about the infamous B-movie filmmaker that's directed by Kevin Sean Michaels and narrated by John Waters. To be honest, I don't think I've ever seen a Mikels creation, such as The Corpse Grinders and The Astro-Zombies, but he's one of those filmmakers I think I need to learn more about, so that's why I bought this. Well, that and the Waters narration.
Continuing in the B-movie director vein, from Anastasio I also grabbed a copy of Inside the Ecomm Cult, a mockumentary that features Detective H.G. Lewis who investigates an evil, girl-snatching cult. The film actually does star Herschell Gordon Lewis, director of horror classics like Blood Feast and 2000 Maniacs. Sounds fun and I hope it is. Again, I'll have reviews of these up sometime.
Also, I don't know if Plympton and Anastasio sitting next to each other at the con is a coincidence or what, but she's working on a documentary on the animated called Adventures in Plymptoons, of which you can watch footage from on YouTube.
I did traverse the main convention floor quite a bit and didn't come across any more underground film offerings after Plympton and Anastasio. Even at the rare and out-of-print DVD seller booths, I didn't see anything interesting. So, after walking up and down the aisles, then an ill-fated hike to find lunch outside of the convention — I should have just given in to the $8 Boca burger at the con and saved my feet the hassle — I figured I should sit for a spell and watch some of the films at the CCI Independent Film Festival.
This is a regular part of the convention that I never hear or read about. With most press and attendees going gaga over the major media presentations, that CCI holds a film festival that runs the whole time during the regular convention gets overlooked. I was bummed that on Thursday I missed the screening of C.W. Prather's Every Other Day Is Halloween, which I've reviewed previously, but from what I hear the film went over like gangbusters.
I'm going to review the individual short films I watched on Saturday in another post, but here's my general thoughts. First, the film festival is held in a convention room that's way the hell out on the fringe of the con. You really kind of have to be determined to trek down the massively long hall to find out. Then, while the actual screening room is on the small-ish side, it can hold a decent-sized audience. But, middle of the afternoon on Saturday, which is the biggest day of the convention in general, the 90 minutes or so I stayed there the films were pretty sparsely attended. Plus, you have to contend with the entrance being open to the hall and that most people who would wander in couldn't figure out to walk AROUND the big black curtain and would instead pull it wide open to grab a seat.
The films I saw I wouldn't classify as "underground." They were all straight-forward narratives that would play well for a big audience, especially a comics and pop-culture audience that CCI would attract. So, I find it a shame that the festival goes under-reported and under-seen. I would have stuck around to see more films — the fest screens mostly shorts — if I hadn't had such a brief window of time of being at the con. More people should go and write about the film festival.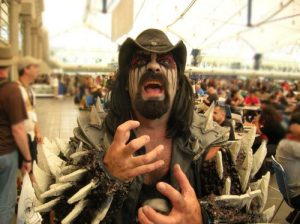 After watching some short films, I ran into Karlos Borloff, one of the TV horror hosts who appears in Every Other Day Is Halloween. That's his frightening picture to the left. I had fun chatting him up as well as John E. Hudgens (not pictured), the director of the horror host documentary American Scary, which I haven't had a chance to see yet.
Then, I had my one and only comic book experience at the con, which was also the first of the two plans I had made. I knew crime comic book author Steven Grant was going to be signing books at the AiT/Planet Lar booth at 4 p.m., so I hustled over to say "Hi." I'm A) a big fan of his work; and B) I comment from time to time on his Permanent Damage message board, so I was terrifically excited to meet him in person. Once I introduced myself as my message board alias, that he didn't groan and/or punch me in the face for posting stupid shit I took as a good sign.
But seriously, it was great to chat with him in person for a few minutes. I also bought a copy of Grant's legendary Badlands graphic novel, which he has also transformed into one of the great unproduced screenplays in Hollywood. The book has a great hook — Meet the man who really killed JFK — but perhaps Oliver Stone's JFK spoiling the punch has prevented Hollywood producers from backing the adaptation. Who knows why some things that should get snapped up don't. Producers who haven't backed Badlands are crazy. It'd make a kick ass movie.
Finally, I fulfilled my second and final plan of the convention. I got a chance to meet up with C.W. Prather, the director of Every Other Day Is Halloween, as well as the founder of the Spooky Movie Film Festival in Washington, D.C. And on top of that, he's been a terrific online friend, so it was great to finally meet up in person.
Alas, this was towards the end of the day and I had to take an early train back to L.A. But I had a good time chatting up movie stuff in general and getting the lowdown on Every Other Day Is Halloween's successful con appearance. The film's star, Count Gore De Vol, whom I unfortunately didn't get a chance to meet, was a big hit at the convention. And it was funny when Prather handed me a stunning Every Other Day Is Halloween one-sheet that features a pull-quote from my Underground Film Journal review. After Prather unrolled the small poster for me, one passer-by looked at it and exclaimed, "Oh my god, where did you get one of those!" He had seen the film on Thursday and was super excited about it and the Count.
So, for my first Comic-Con, I think I had an extremely successful trip and "found" the convention I wanted. It's in there, you just need to know where to look to find the good stuff.