2009 Chicago Underground Film Festival: Call For Entries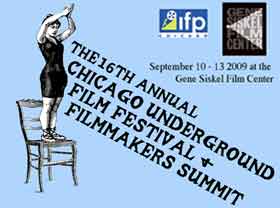 2009 is a landmark year for the Chicago Underground Film Festival as it moves into position as the longest running underground film festival in the world. Previously, it had been tied with the New York Underground Film Festival, until they called it quits last year. This year will mark CUFF's 16th year in existence.
2008 was a pretty big year for CUFF, too, as the long-running independent fest was acquired by IFP/ Chicago. Their first endeavor as a partnership didn't mark much of a change in the festival, as far as film selections go. The biggest difference is that IFP/C pushed CUFF from its usual dates in August all the way to late October. However, in 2009, the fest is getting moved back again, but to Sept. 10-13. The festival will also be moving into the prestigious Gene Siskel Film Center for its screenings.
There are two deadline dates, which are:
Regular Deadline:
May 15
$30
Late Deadline:
June 15
$40
For those who may still not be familiar with CUFF (god forbid), here's their mission statement:
The Chicago Underground Film Festival exists to showcase the defiantly independent filmmaker. Our mission is to promote films and videos that dissent radically in form, technique, or content from the "indie" mainstream and to present adventurous works that challenge and transcend commercial and audience expectations…if you suspect your film is "underground," it probably is.
Also, check out their lineup from last year to feel their vibe.
For more information and entry forms, please visit the official CUFF site. Or, submit via Withoutabox.
And check out the Underground Film Journal's list of film festivals for more great underground fests to submit to.