2009 Boston Underground Film Festival: The Wrap-Up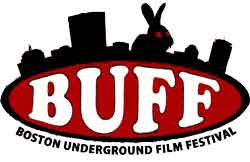 Because I can't let it go just yet, here is one more post about the Boston Underground Film Festival that finished up on March 26. I collected a lot of links from other media outlets of coverage of the fest this year. I don't know if the festival received more attention this year than previous years, or if I'm more tuned in with collecting data, but it felt like there was an abundance of BUFF reviews this go round.
So, in the spirit of David Hudson, the godfather of film link collection, here is my own collection of Boston Underground Film Festival reports and reviews. (Not including my own, which I already wrapped up here.):
Local paper the Weekly Dig exclaimed: "There is no mistaking the aesthetic of BUFF;" then went on to writing up capsule reviews of some films: Anywhere USA "creeps up on you;" Deadgirl is "only for those looking to stretch the outer limits of their stomach;" Modern Love Is Automatic is a "splendidly shot story of disillusionment, domination and redemption;" and Morris County "explores the macabre in suburban life and the horrors exposed when the Band-Aid comes off social niceties."
Georgia Brown had a lengthy preview piece on Twitch. She declared that Frank Henenlotter's Bad Biology was "the perfect opener for a festival that prides itself on showcasing the wild, weird, and hilarious." The Rock-afire Explosion had a "slightly (just slightly) sweeter bent than most of the fest;" while must-sees included Golgotha and Modern Love Is Automatic and her "favorite film" was Deadgirl.
Shaula Clark of the Boston Phoenix paper had another preview. She thought audiences should go see Bad Biology, but thought Modern Love Is Automatic was "less titillating," but worthy of a viewing. Also both Anywhere USA and Morris County raised "the loneliness motif to the power of three" while The Rock-afire Explosion omitting how online fans enjoy YouTube videos of the animatronic band "mars an otherwise great film." (Strongly disagree with that!)
Post fest, Sean of Reviews From the Couch has two reviews up. For Mock Up on Mu, he thinks that "at 110 minutes it wears you down to a beaten pulp by the end." Meanwhile he finds that with Hausu that "words cannot do this film justice," but ends up giving it a good go at it.
Johnny Butane of the horror website Dread Central sat on the BUFF jury this year and had a fest wrap up. He thought Bad Biology is a "soon-to-be classic." As for Best of Fest award winner Modern Love Is Automatic, Butane thought: "Though I didn't believe it to be the best thing that played I can see why the rest of the judges were enraptured with it." His vote went to Morris County, which got an Honorable Mention.
Jay of Jay's Movie Blog reviewed two movies at BUFF for one post. He gives 3 3/4 stars to Hausu for being "a visual smack upside the head" while 4 stars goes to Deadgirl for being "sexual and nasty."
Jared M. Gordon of New England Film thought that this year's Boston Underground Film Festival "pushed the envelope, crossed the line, and flew over the cuckoo's nest to bring you a wickedly delicious blend of unexpected fare that's a little more than off the beaten path." Gordon then gives an extensive write up to Tim Jackson's Radical Jesters.
Lastly, on the filmmaker front, director Alicia Conway was thrilled to watch the audience's reaction to her short film Rite, particularly one guy  who "was making this great face – somewhere between abject horror and total enjoyment." And Cory Bowles, who directed the great Scavengers, thought "the hospitality was great and we were fortunate enough to screen our short before Deadgirl, a film we were stoked to show with."