Movie Review: 2009 Boston Underground Film Festival: Short Film Reviews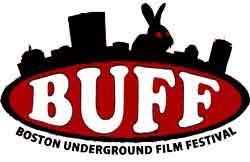 Below are reviews of a very small sampling of short films playing at this year's Boston Underground Film Festival, which runs March 19-26. BUFF, as usual, is showing loads of short films, including 11 different programs devoted just to them while almost every feature film also has a short screening before it.
The reviews below, of which there are seven, are culled from several different segments of the entire festival, so there's no running theme connecting them together, except that they are all, without exception, highly entertaining. Several of them do have lots of blood and gross-out parts, but some are just plain experimental type films. Also, the order of the reviews is just how they were presented to me on the screener disc.
'Charlie Rose' By Samuel Beckett, dir. Andrew Filippone Jr. Right off the top, this film is absolutely brilliant. It consists of edited footage of the PBS talk show host Charlie Rose interviewing himself, but with the dialogue cut up in a halting, repetitive pattern that mimics the dialogue of a Beckett play. I'm not quite sure how Filippone put this thing together. I'm assuming he used footage recorded off of a regular Rose episode and cut that up, but the entire piece is sewn together so perfectly it feels like Rose must have taped footage specific to this film. But, he couldn't have could he? Plus, as the conversation gets more and more abstract as it goes on, the film just keeps getting funnier. Again: Brilliant!
Death of the Reel, dir. Ben Meade. This film is actually a collaboration between Kansas City filmmaker and Canadian director Guy Maddin. It's a sad, yet action-packed, ode to the death of film. Giant 35mm film cans and reels are tossed into a garbage truck while Maddin vainly flies in to save the day. Not only is Maddin completely useless — himself as his character anyway — he completely misses the showdown between dueling media monsters in the dank tunnels beneath the movie theater. And somehow, Munchkins from the land of Oz fit in here somewhere. This is a playful, light and bouncy black-and-white film despite the sad "demise of celluloid" premise.
Thumbnail, dir. William Hoffman. Featuring three interconnected stories — though they may not seem that way at first — Thumbnails shows how digital imaging technology is raising a ruckus in the suburbs, which makes it kind of like a less offensive 21st century Polyester. A scandalous YouTube video leads an awkward teenage male to commit even more embarrassing acts in the suddenly-not-so-private bedroom of his quasi-sometime-maybe-girlfriend. Meanwhile, the girl's little brother steals daddy's videocamera and attempts to become a world famous young Jackass. The script of this film is so out-of-control, that during the most tense scene one starts to wonder if writer/director Hoffman is really capable of filming a little boy nosediving to off of a two-story roof into a driveway. In the last story, a lecherous married man is sexually taunted by his teenage employee via arousing cell phone photographs. At first, these stories seem a bit too disjointed to be related, but Hoffman eventually very smartly ties all the action together when they all come crashing together at the climax. The final surprise of the film also neatly ties right into the opening scene.
Far Out, dir. Phil Mucci. This is a quickie, dead-on recreation of the infamous party scene from Russ Meyer's classic Beyond the Valley of the Dolls, right down to the lifted line "This is my happening." However, Mucci has his own flair and the cinematography is gauzy compared to Meyer's shocking Pop Art palette. But, what's the point of all that? Mucci has a terrific surprise interjected into the familiar set-up that even if hinted out kind of ruins the experience of watching. I really hate to be vague here, especially for so groovy a short little piece, but I'm going to. This is really a great looking and surprising film.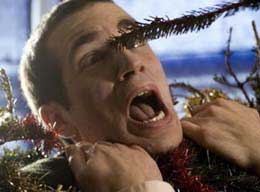 Treevenge, dir. Jason Eisener. Treevenge is quite possibly the greatest Christmas movie ever made. It's definitely the most twisted and easily surplants my previous favorite holiday favorite, Christmas Evil. Given that intro, you can probably tell from the title that this is a horror film about Christmas trees getting their revenge. The film is done with a mix of tongue-in-cheekiness as well as straight-up horror. It begins in a wooded field where lumberjacks decimate the pine tree population in the name of holiday cheer. The lumberers are an evil, sadistic lot, taking extreme glee in chopping their victims down to size. The terrified trees are unable to stop the slaughter and their petrified high-pitched screams are subtitled for us as they're taken from their homes, dragged to the tree lot and sold to nauseatingly happy families. It's a great, fun set-up that really takes it's time until the actual "treevenge" occurs in a horrific human bloodbath. Eisener strikes just the perfect tone of goofiness and terror for a really ingenious concept and execution. (Watch this underground movie online)
Heart Of Karl, dir. Steven Kostanski. Karl is a monster. A grinning, unassuming one, but a monster. And his brother, a normal human, is sick of taking care of him. So, he places Karl in a home for monsters and goes on vacation. When the brother returns, he finds a literal living hell where Karl is staying. The "home" is a decrepit, crud-encrusted mental asylum. I believe the actual location the film was shot in is a minaturized set that the actors were then green-screened into, giving an eerie, slightly off-kilter look to the visuals. The brother is also the only normal person appearing in the entire film. The "monsters" are all human figures, but either hideously deformed, as in Karl's case with his wrinkled skin and overbearing grin, and/or missing large chunks of flesh from various parts of their bodies. The make-up effects are hideous and grotesque. The entire movie is dripping with blood, gore and goop — and is utterly revolting and uncomfortable to watch. It's a staggering, impressive achievement.
The Scavengers, dir. Cory Bowles. A trio of young boys find a dead body in a remote wooded area. Sounds like Stand By Me, right? Wrong, especially since the body here is that of a mermaid and the boys spend an afternoon poking, prodding and desecrating the body the way only young, curious lads can. Still it's an oddly touching story about peer pressure and growing up. The trio is split among the typical dividing lines: The aggressive kid who tricks the weakest into the most difficult situations while the passive middle kid just casually observes without getting involved. Plus, the corpse/mermaid make-up effect is disturbingly convincing.
For more info on the Boston Underground Film Festival, please visit their official site.