2009 Boston Underground Film Festival: Award Winners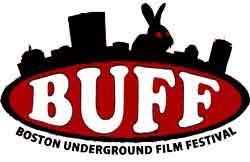 The Boston Underground Film Festival has wrapped up their 11th annual festival by giving out their yearly awards, many of which are already Underground Film Journal favorites that I've reviewed here on the site.
Taking top honors as the Best of Fest (Feature) is Modern Love Is Automatic, directed by Zach Clark. This was the film's second only festival screening after a previous stop at SXSW and it's first ever award. It's really an amazing film and we hope and expect this is only the beginning of a triumphant fest run. Also, taking up the Best of Fest Honorable Mention is Matthew Garrett's trilogy of twistedness, Morris County, which can only mean again the start of a fantastic run for this film, too. Two very worthy films and I'm thrilled the BUFF jury singled them out.
That BUFF five-person jury, by the way, consisted of Karim Hussain, a filmmaker who won a BUFF award last year; Ned Hinkle, the creative director of one of BUFF's homes the Brattle Theater; Miranda Banks, a professor at Emerson College; Shaula Clark, writer for the Boston Phoenix; and Johnny Butane, co-founder of the horror website Dread Central.
On the short film front, the outrageous Christmas horror film Treevenge by Jason Eisener took home the Best of Fest (Short) award while the Special Jury Prize went to Richard Bates Jr.'s tremendously creepy Excision. Also, William Hoffman's hilarious suburban sex comedy Thumbnail took home the Director's Choice Award for Best Short.
Lastly, racking up other honorable mentions were these other Underground Film Journal hits: The Rock-afire Explosion, The Scavengers and Far Out.
Below is the full list of award winners. And the festival is actually still running second screenings through today and tomorrow.
Jury Awards:
Best of Fest (Feature)
Modern Love Is Automatic, dir. Zach Clark (Read the review)
Honorable Mention
Morris County, dir. Matthew Garrett (Read the review)
Best of Fest (Short)
Treevenge, dir. Jason Eisener (Watch online)
Honorable Mention
The Scavengers, dir. Corey Bowles (Read the review)
Most Effectively Offensive
Mavela (My Love Lives in the Sewers), dir. Manuel Arija de la Cuerda
Honorable Mention
The Gingerbread House, dir. Claudio Centimeri
Special Jury Prize
Excision, dir. Richard Bates, Jr. (Watch online)
Honorable Mention
Far Out, dir. Phil Mucci (Read the review)
Director's Choice Awards:
Best Feature
Anywhere USA, dir. Chusy Haney-Jardine
Honorable Mention
The Rock-afire Explosion, dir. Brett Whitcomb (Read the review)
Best Short
Thumbnail, dir. William Hoffman (Read the review)
Honorable Mention
Electric Fence, dir. Matt O'Mahoney
Most Promising New England Filmmaker
O Scorpio, dir. Noah Blumenson Cook