2009 Atlanta Underground Film Festival: Official Lineup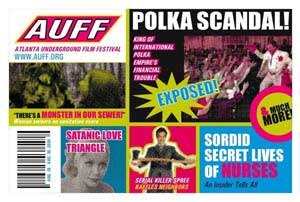 The 2009 Atlanta Underground Film Festival, which runs Aug. 26-30, is like three great festivals in one. First, you have your traditional "underground" type of festival with outrageous genre-bending films. Then there's the documentary-centric Docufest. And third there's the "Animation Attack" festival, which includes three collections of animated shorts plus one feature, Sita Sings the Blues.
There are also at least two films that straddle the line between the underground and documentary fests and I can't recommend either one of them enough. If you're lucky enough to attend AUFF, on opening day, be sure not to miss John Mikulak and Joshua Brown's riotous documentary The Man Who Would Be Polka King, which is the unbelievable story of Jan Lewan and his notorious polka Ponzi scheme. And on the 27th, go see Vic Zimet and Stephanie Silber's amazing Random Lunacy, which is still ripping up the underground scene with it's carefree tale about the world's happiest homeless dude, Poppa Neutrino.
In addition to those two docs, there are some other great underground films to check out. One not-to-be-missed feature is Zach Clark's wonderfully sublime and sordid Modern Love Is Automatic, about the sexual ennui of a dominatrix.
There are also two films that I haven't properly reviewed on the Underground Film Journal, but want to point out. First is Brian Lonano's sci-fi short Attackazoids, Deploy!!, the follow-up to his highly successful Attackazoids! short film. I've seen the sequel and have to say it's a ton of fun and a very worthy successor to his original film. Hopefully, I'll have a full review up of it soon. I've also seen and haven't reviewed Faythe Levine's feature-length documentary Handmade Nation, which I saw at a special screening in L.A. recently. This is a very charming and inspiring film to get people to be more creative.
Plus, check out Jon Clark's '80s rewind short film Black Cat Rap during the Experimental Shorts section. And while I haven't seen Georg Koszulinski's latest feature film, Dead Buffalo, I'm such a huge fan of his work, I can recommend that one sight unseen. Same goes for Neil Ira Needleman's short film I Know Who Sent The Anthrax Letters.
While I've never personally been to the festival, it's been nice to see it grow into such an amazing, massive annual event over the past few years. Really, there's a virtual ton of interesting sounding films making up this truly diverse lineup:
August 26
6:00 p.m.: I'm Gonna Do it Until The Day I Die, dir. Coleman Weinberg and Dale Peterson. A documentary about the short, rockin' life of Detroit band Mog Stunt Team.
6:30 p.m.: The Man Who Would Be Polka King, dir. John Mikulak and Joshua Brown. The true story of Jan Lewan, a Polish immigrant who tried to build a polka empire in rural Pennsylvania — by scamming his fans out of millions of dollars. (Read the review)
7:00 p.m.: "Local Shorts"
Bridge, dir. Frank Fearon
28 Years Later, dir. DornStar TV
Chocolate Death, dir. Dustin Brown
Reverie, dir. Paula Wood
The Farm Team, dir. Scott Balzer
The Ticket, dir. Robert Eagar
7:00 p.m.: Official Rejection, dir. Paul Osborne. A look at the difficulty of getting independent films into festivals, a task that's usually more difficult than actually making the films. Featuring interviews with Kevin Smith, Bryan Singer, Jenna Fischer, Andy Dick, Traci Lords, Jennifer Tilly, Lloyd Kaufman and more.
7:30 p.m.: The Last American Freak Show, dir. Richard Butchins. Go on the road with a real-life traveling freak show, which hosts such oddities as Low Rent the Clown, Lobster Girl, the Half Woman, Dame Demure, the Elephant Man and more.
8:30 p.m.: "Animation Attack! ONE"
War Is My Destiny, dir. Adam Calfee
Max the Hero, dir. Mike Salva
Revenge Academy, dir. Andrew Jones
What Blows Up Must Come Down!, dir. Adam Dubin
En Transit (excerpt), dir. Sara Hornbacher, Hartmut Koenitz and Ken Knoespel
The Astronomer's Dream, dir. Malcolm Sutherland
I Live in the Woods!, dir. Max Winston
Deadline, dir. Bang-yao Liu
Dirty ROM Dance, dir. Stieg Retlin
Spare Time, dir. Edmond Hawkins
Animation Draw 3, dir. ASIFA-Atlanta
Teat Beat of Sex, dir. Signe Baumane
9:00 p.m.: Rocaterrania, dir. Brett Ingram. A documentary about 76-year-old artist Renaldo Kuhler, who has illustrated hundreds of plates for the North Carolina Museum of Natural Sciences.
10:00 p.m.: "Sex Show"
Headshot, dir. Jennifer Lyon Bell
Little Johnny Discovers, dir. Benjamin Wilson
Pelo Ouvido, dir. Joaquim Haickel
Liminal, dir. Stephen Keep Mills
Rebel, dir. Nicole Brending
10:15 p.m.: Zombie Girl, dir. Justin Johnson, Aaron Marshall, Erik Mauck. This documentary profiles Emily Hagins, a precocious 12-year-old girl trying to make a feature length zombie movie.
10:30 p.m.: Abraham Obama, dir. Kevin Chapados. This documentary examines the new era of political street art that sprung up around the Barack Obama presidential campaign. Featuring interviews with Shepard Fairey, Morgan Spurlock, Mr. Brainwash, David Choe, Kevin Chapados, will.i.am., and more.
10:55 p.m.: Barbariana: Queen of the Savages, dir. Darren Herczeg. A campy savage barbarian flick "filled with brutes, beasts, babes, and magick."
August 27
6:00 p.m.: Random Lunacy: Videos from the Road Less Traveled, dir. Victor Zimet, Stephanie Silber. Poppa Neutrino isn't your average dad. He refuses to "settle down" and travels the world with his family in tow from one haphazard adventure to another. Yes, it's a documentary, i.e. a collage of videos made by Poppa Neutrino himself. (Read the review)
6:00 p.m.: Salute, dir. Matt Norman. The story of Tommie Smith, John Carlos and Peter Norman, who staged the infamous Black Power salute at the 1968 Mexico City Olympic games.
7:00 p.m.: "Comedy Shorts One"
Treasury Men in Action, dir. Joshua Moise
Massacrator, dir. Pierre Ayotte
Dinner With Raphael, dir. Joey Boukadakis
T-shirt of Me, dir. Matt Meindl
Imminent, dir. Randall Good
Sprinkles, dir. Josh Hope
The Outlaw Emmett Deemus & the Porno Queen, dir. Alex Ferrari
7:00 p.m.: Radical Jesters, dir. Tim Jackson. A documentary on the world of "culture jamming" that follows the hijinx of several groups of merry pranksters.
7:30 p.m.: Living Is Winning, dir. Linda Burns. A documentary profile of Drew Johnston, an Ironman World Championship competitor who was diagnosed with leukemia and still continued to compete.
8:00 p.m.: "Horror Shorts One"
Lazarus Taxon, dir. Denis Rovira
The Sleuth Incident, dir. Jason Kupfer (Watch online)
Death in Charge, dir. Devi Snively
The Fairy Princess, dir. Stephen Lyman
Altar, dir. Nathan Bezner
9:30 p.m.: "Animation Attack! Two"
The Cage That Is My Beauty, dir. Ileana Daniela Darie
Tin Can Heart, dir. Rod March
Ceci n'est pas une mouche (This is not a Fly), dir. Carlos Fraiha N. de A. Barbosa
Autonomy, dir. Brad Regier
Nature's Sweet Revenge, dir. Milly Welsh
Bait, dir. Tomi MALAKKI DIT MALAKIAS
Pie of the Day, dir. Victoria Cook (Watch online)
Fruitless Efforts – Fruit of the Womb, submitted by Oren Robashkin
Love Thy Neighbor, dir. Eric McNeely, Brittany Coons, Joe Worthen
Last Supper, dir. kishore vijay
Birth, dir. Signe Baumane
rock on, dir. Em Kempf
Q&A, dir. Tim and Mike Rauch
Loser Pays, Winner Stays, dir. Jerry Fuchs
Global Warming is your fault! part 2, dir. Jerry Fuchs
Anchorite, dir. MT Maloney
Codswallop, dir. The Brothers McLeod
9:30 p.m.: Rachel Is, dir. Charlotte Glynn. Director Glynn captures the last year of school for her sister Rachel, who is mentally challenged.
10:30 p.m.: Shooting Beauty, dir. George Kachadorian. A documentary on the life of Courtney Bent, an aspiring fashion photographer whose career got sidetracked when she met the residents of a center for people with extreme disabilities.
10:40 p.m.: "Comedy Shorts Two"
Tough Crowd, submitted by Iman Zawahry
Clones Gone Wild, dir. Harry Frishberg and Chad Mathews
Fuckin' Old Bitch, dir. Jack Truman
The Van Pelt Family, dir. Adam Bricker
The Adventures of Supernigger: Episode I, The Final Chapter, dir. Alrick Brown
Turf, dir. Joe Zito
August 28
6:00 p.m.: The Rebellious Son, dir. Shoshi Greenfield. Director Greenfield follows a cousin's decision to become a professional recluse by dropping out of high school and becoming a shepherd in Mount Hebron.
6:00 p.m.: Beauty of the Fight, dir. John Urbano. A profile of two Panama barrios, Barraza and El Chorrillo, which were both devastated when the U.S. invaded in 1989 to capture General Manuel Noriega.
7:00 p.m.: "Narrative Shorts One"
Parabola, dir. Lexi Lefkowitz
Run to Me Run From Me, dir. Ben Garchar
The Sneakers, dir. Dave Wells
Schrodinger's Cat, dir. Andre Lyon
The Hands, dir. Charise Studesville
Loma Lynda: The Red Door, dir. Jason Bognacki
7:30 p.m.: Left Field, dir. Ben Steger. A profile of a group of people in Chicago who are obsessed with playing kickball.
7:30 p.m.: Down the Road, dir. Joel Christensen and Chris Gordon. A group of American adventurers travel all over Central America for a three-month journey that shatters their American naivete about the region.
8:30 p.m.: "Foreign Shorts"
Landskaber, dir. Kristoffer Kioerboe
Manual Practico del Amigo Imaginario (abreviado), dir. Ciro Altabas
26.4, dir. Nathalie André
The Dangers, dir. Siouxzi Mernagh
Miente, dir. Isabel de Ocampo
8:30 p.m.: The Human Experience, dir. Charles Kinnane. A band of brothers travel all over the world to answer their burning questions about the nature of life on Earth.
10:00 p.m.: Barbariana: Queen of the Savages, dir. Darren Herczeg. A campy savage barbarian flick "filled with brutes, beasts, babes, and magick."
10:00 p.m.: Beyond the Call, dir. Adrian Belic. A documentary that follows three former soldiers who travel the world to deliver humanitarian aid.
11:00 p.m.: "Animation Attack! LIVE"
CAS'L, dir. Bruce Bickford
Milbe (Mite), dir. Karl Tebbe
From a Cow, dir. Danny Madden
Bloody Hands, dir. Malakias
Avery Matthews, dir. Richard Ferguson-Hull
Abductees, dir. Paul Vester
Story from North America, dir. Garrett Davis
yEAH!!!, dir. Remy M. Larochelle
August 29
2:00 p.m.: "DocuFest Shorts One"
War Dance Returns
Xukuru Ororuba, dir. Marcilia Cavalcante Barros
Ate Onde a Vista Alcanca (The Furthest the View Reaches), dir. Felipe Peres Calheiros
Nous Deux Encore, dir. Heather Harlow
3:30 p.m.: Hobby, dir. Ciro Altabas. A documentary that captures the different ways the Japanese spend their leisure time.
4:30 p.m.: "Narrative Shorts Two"
The Order, dir. Paul Dalio
Two Guys and a Gun, dir. Freddy Fredrickson
Scaredy Cats, dir. Bossi Baker
"F", dir. Tyler Thomas
On Homeostasis, dir. Matt Boman
Mute, dir. Hassan Said
5:45 p.m.: "Narrative Shorts Three"
Yellow Light, dir. Ryan Tse
The Double, dir. Rani DeMuth
Familiar Fruit, dir. Alrick Brown
Breath and Smoke, dir. Christopher Fernando
Fan Mail, dir. Sean Christensen
Love on the Tundra, dir. Dana Turken
Sapsucker, dir. Christopher Holmes
6:00 p.m.: Shooting Women, dir. Alexis Krasilovsky. A documentary that profiles over 50 camerawomen.
6:00 p.m.: The Anatomy of Hate, dir. Michael Ramsdell. This documentary explores the world of hate groups from White supremacists, anti-gay religious groups, Muslim extremists and more.
7:00 p.m.: Mississippi Queen, dir. Paige Williams. The director explorers the disconnect between her strict upbringing and her modern life being married to another woman.
7:15 p.m.: "Experimental Shorts"
The Magnificent Jinn, dir. Chris Minz
A Comforting Thought, dir. Donna Golden
Portrait of a Filmmaker, dir. Mark Mamalakis
Glass, dir. Ethan Knecht
Ichthyopolis, dir. Andre Silva
The Nightgardener, dir. Jennifer Hardacker
X-Mess Detritus, dir. Aurelio Voltaire
The Marina Experiment, dir. Marina Lutz (Watch online)
I Know Who Sent The Anthrax Letters, dir. Neil Ira Needleman
Black Cat Rap, dir. Jon Clark (Watch online)
Empty House, dir. Sean Christensen
En Transit, dir. Sara Hornbacher
7:30 p.m.: Beyond Our Differences, dir. Peter Bisanz. An exploration into the different ways modern people express their spirituality.
8:00 p.m.: Handmade Nation, dir. Faythe Levine. This documentary explores the exploding world of handmade craftmakers and how they make a living from making very personal and unique pieces of art.
8:30 p.m.: "Sci-Fi and Horror Shorts Two"
ATTACKAZOIDS, DEPLOY!!, dir. Brian Lonano (Watch online)
Cranius Rectus, dir. Aaron Sutherland
The Parallax Parallel, dir. Michael Clark
Sons of God, dir. Stephen Gilliam
Zombie Kings: the King of the Zombies, dir. Paul Streiner
Blood Shed, dir. Jason Shipley
Bruiser, dir. Jessica Parsons
Leperfuck, dir. Drew Tobia (Watch online)
9:00 p.m.: We Fun, dir. Matthew Robison. A profile of three hot Atlanta bands: Black Lips, Mastodon and Deerhunter.
9:00 p.m.: The Nature of Existence, dir. Roger Nygard. Director Nygard travels the globe to examine all the different philosophies, religions and belief systems that make the world go 'round.
10:15 p.m.: "Best of AUFF Shorts"
Lineup TBA.
10:30 p.m.: VICKtory to the Underdog, dir. Brandon Bond. This documentary profiles tattoo artist Brandon Bond and his effort to save the fighting dogs that were brutalized annd tortured by football player Michael Vick and and his gang of inhuman canine killers.
10:30 p.m.: Quest for Honor, dir. Mary Ann Smothers Bruni. A look at the despicable act of "honor killing," i.e. the murder of women to keep family honor intact.
August 30
2:00 p.m.: Emma Blue, dir. Robert MacLean. A man who keeps his wife in a cage is tortured by the Devil.
3:00 p.m.: Dead Buffalo, dir. Georg Koszulinski. A man dying from a terminal illness goes on a trip with his son to the American Great Plains region to find the last of the buffalo and restore the "sacred hoop."
3:30 p.m.: Basic Sanitation, dir. Jorge Furtado. This documentary follows a married filmmaking couple who decide to make a monster movie in their small Portugese village's sewer system.
4:30 p.m.: Four Roses, dir. Kris De Meester. Featuring six stories set in the same steamy hotel, including one about a man who hires a prostitute just to have someone to talk to.
5:30 p.m.: Between Floors, dir. Jen White. People trapped in five stuck elevators slowly go crazy from the claustrophobia.
6:00 p.m.: Print, dir. Ashley C. Beyer. When a young man discovers that his life story has been stolen and sold as somebody else's autobiography, he tries to find the thief and set things straight.
6:00 p.m.: Castle on High: An Undergrad Election Drama, dir. Michael Morgenstern. Three candidates compete to be president of the student body. One's an overachiever, one's a slacker and one's too busy with his rock band to actually campaign.
6:00 p.m.: "DocuFest Shorts Two"
Team Taliban, dir. Benjamin Kegan
Gimme a Hug, dir. Geert Droppers
Refurbished, dir. John Spottswood Moore
Manhattan Measure, dir. Johnny Gerhart and Philip Armand
Buried Alive, dir. John Ritchie and Michael Kennedy
6:45 p.m.: Zombie Girl, dir. Justin Johnson, Aaron Marshall, Erik Mauck. This documentary profiles Emily Hagins, a precocious 12-year-old girl trying to make a feature length zombie movie.
7:15 p.m.: Blybarnen (Toxic Playground), dir. Lars Edman and William Johansson. A filmmaker investigates if the local mining company is responsible for the build-up of toxic waste in his hometown.
7:00 p.m.: Modern Love Is Automatic, dir. Zach Clark. A nurse whose heart isn't in her job anymore moonlights as a dominatrix. (Read the review)
7:30 p.m.: Oral Fixation, dir. Jake Cashill. A woman obsessed with her dentist suddenly finds herself cut off from treatment, so she goes to extreme lengths to win him back.
8:30 p.m.: The Snake, dir. Adam Goldstein and Eric Kutner. A real jerk dates a bulimic woman and eventually becomes close with the women in his girlfriend's support group.
8:45 p.m.: Addicted to Plastic, dir. Ian Connacher. This documentary sets out to explore alternatives to the over-reliance on plastic in the modern world.
9:00 p.m.: How to be a Serial Killer, dir. Luke Ricci. A professional serial killer takes a young pupil under his wing to teach the lad everything he knows about murder.
10:00 p.m.: Myna Has Gone, dir. Sonia Escolano Pujante and Sadrac González Perellon. An illegal immigrant must find alternative ways to help the boy she's babysitting after the child is severely injured.
10:15 p.m.: Blue Gold: World Water Wars, dir. Sam Bozzo. This documentary explores the controversial attempt by major corporations to control the world's public water supplies.
10:30 p.m.: Sita Sings the Blues, dir. Nina Paley. An animated musical that uses the ancient Hindu text The Ramayana of Valmiki to explore modern notions of love and fidelity. (Watch online)
For more information, please visit the official AUFF website.