2009 Atlanta Underground Film Festival: Award Winners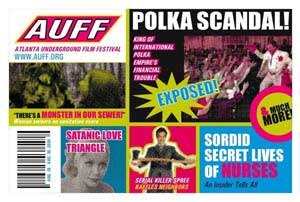 The Atlanta Underground Film Festival recently wrapped up another killer year on Aug. 30 and have given awards to over two dozen independent films. The full list of winners is posted below.
Several Underground Film Journal favorites took home awards. On the feature film front, the Best Feature award went to Zach Clark's hilariously deadpan sex comedy Modern Love Is Automatic, which has been tearing up the festival circuit this year. In the short film category, Brian Lonano and Jeff Jenkins world premiered their retro-futuristically awesome Attackazoids, Deploy!! at AUFF and won the Best Sci-Fi Short award; while Jason Kupfer's long-running festival favorite The Sleuth Incident won the Best Comedy Short award.
Congratulations to all the winners:
Features:
Best Feature
Modern Love Is Automatic, dir. Zach Clark (Watch Online)
Best Foreign Feature
Myna Se Va, dir. Sonia Escolano Pujante and Sadrac González Perellón
Best Drama Feature
Print, dir. Ashley C. Beyer
Best Foreign Drama Feature
Four Roses, dir. Kris De Meester
Best Director
Between Floors, dir. Jen White
Best Screenplay
Oral Fixation, dir. Jake Cashill
Best Comedy Feature
The Snake, dir. Adam Goldstein
Best Foreign Comedy Feature
Emma Blue, dir. Robert MacLean
Best Documentary Feature
Rocterrania, dir. Brett Ingram
Best Foreign Documentary Feature
Hobby, dir. Ciro Altabas
Best Action Feature
Barbariana: Queen of the Savages, dir. Darren Herczeg
Best Animated Feature
Sita Sings the Blues, dir. Nina Paley (Watch online)
Best Horror Feature
How to be a Serial Killer, dir. Luke Ricci
Best Local Feature
Vicktory to the Underdog, dir. Brandon Bond
Shorts:
Best Documentary Short
The Marina Experiment, dir. Marina Lutz (Watch online)
Best Foreign Short
Landskaber, dir. Kristoffer Kioerboe
Best Short Short
X-mess Detritus, dir. Aurelio Voltaire
Best Horror Short
Lazarus Taxon, dir. Denis Rovira
Best Sci-Fi Short
Attackazoids, Deploy!!, dir. Brian Lonano and Jeff Jenkins (Watch Online)
Best Drama Short
The Sneakers, dir. Dave Wells
Best Comedy Short
The Sleuth Incident, dir. Jason Kupfer (Watch online)
Best Experimental Short
The Magnificent Jinn, dir. Chris Minz
Best Experimental Animation
Milbe, dir. Karl Tebbe
Best Erotic Short
Headshot, dir. Jennifer Lyon Bell
Best Local Short
Bridge, dir. Frank Fearon
Audience Choice Award
The Ticket, dir. Robert Eagar
2009 AUFF the Wall Award
Leperfuck, dir. Drew Tobia (Watch online)