2009 ATA Film & Video Festival: Official Lineup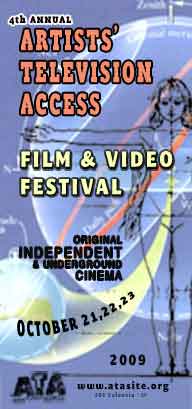 Once again San Francisco will be treated to a dizzying array of avant-garde and experimental short films at the 4th annual ATA Film & Video Festival held on Oct. 21-23.
On the first night of the festival, the 21st, there won't be any films screening, but there will be a very special free workshop on experimental film exhibition and distribution hosted by the people who know "the biz" the best: Local experimental filmmakers and distributors.
As for the film screenings on the 22nd and 23rd, several alumni of ATA Fests past will be screening new work, including Paul Clipson, Kerry Laitala, Carl Diehl and Sam Barnett, plus films by newcomers to the fest like Ben Popp, Zachary Epcar, Chris Kennedy and Philip Widmann. Also screening for the first time at ATA Fest is Martha Colburn with her new film Myth Labs.
In addition to the two short film programs there will be two video installations by Mary Frank and Rebecca Najdowski running continuously in the ATA gallery during the festival. Plus, running throughout the month of October — which means they're running now, so go check 'em out — there will be experimental videos and animations playing in the ATA front window.
And there's still more! After the short film program on each night, there will be live musical performances and the announcement of the ATA Audience Awards. For an only two-night affair, this is a huge event.
The full lineup is below:
Oct. 22
7:30 p.m.: "Specters & Machines"
Spectrology, dir. Kerry Laitala
Patrolling the Ether, dir. Carl Diehl
Diatribe, dir. Ben Popp
The Salariat in Parts, dir. Zachary Epcar
Breathe, dir. Sam Barnett
Up and About Again, dir. Maarit Suomi-Vaananen
Naomi & Irving, dir. Laura Bouza
Elro, dir. Ariel Diaz
Oct. 23
7:30 p.m.: "Stories We Tell Ourselves"
A Poem to be Read into a Flashlight with a Microphone Placed Above the Breast of a Pregnant Mother, dir. Tommy Becker
To Be Regained, dir. Zach Iannazzi
The Acrobat, dir. Chris Kennedy
Spaghettidog, dir. Elham Rokni
Destination Finale, dir. Philip Widmann
My Tears Are Dry, dir. Laida Lertxundi
Myth Labs, dir. Martha Colburn
Passage Briare, dir. Friedl vom Groller
Chorus, dir. Paul Clipson
Gallery Installations (Oct. 22 & 23)
Gaze, dir. Mary Frank
Trace, dir. Rebecca Najdowski
Window Installation (October 2009)
Opened eye, closed i – i closed, eye opened, dir. Jeejung Kim
So Much Water So Close to Home, dir. Matthew Kluber
Mercy — oh, MERCY! — mercenaries, dir. Alex Moeller
Numbers, dir. Yin-Ling Chen
Afternoon Dream, dir. Jim Granato
Ich bin ein junger Hupfer, dir. Anna Geyer
The Scorpion and The Frog, dir. Ben Brown
Dollar Portrait, dir. Matthew Perino
For more info, please visit the official ATA Film & Video Festival website.