2008 WNDX Festival Of Film And Video Art: Official Lineup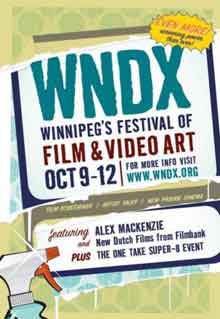 This year WNDX may have changed their name from being an "underground film festival" to the WNDX Festival of Film and Video Art, but they still have the same tremendous lineup of great experimental and avant-garde film works. The festival runs Oct. 9-12 in Winnipeg.
The fest opens with an interesting film "performance" by Alex MacKenzie featuring a hand-operated projector and closes with WNDX's now traditional "One Take Super 8 Event," where filmmakers are given one roll of film and they must make a short movie out of it without edits or splices.
In between those two events, WNDX is screening short films from filmmakers grouped by region, such as those from the Canadian prairie, Nova Scotia and the Netherlands. Most excitingly, though — to the Underground Film Journal anyway — is a program by Montreal's transgressive screening series Cinema Abattoir that I'm always raving about here on the site. Pierre-Luc Vaillancourt will be showing some films featured on Abattoir's DVD L'erotisme, as well as some new work. Best of all, he's screening his own film, Extase de Chair Brisee, that I positively adore. Don't miss it!
And if you're in Winnipeg, don't miss a lot of it. This sounds like some great stuff:
Oct. 9
7:00 p.m.: the wooden lightbox: a secret art of seeing, dir. Alex MacKenzie. More than a film, this is actually a film "performance." MacKenzie will operate a hand-cranked 16mm projector and project 10 "chapters" on 4 reels, appropriately speeding up and slowing down the action during different sections of the film.
Oct. 10
7:00 p.m.: "New Prairie Cinema"
Tattoo Step, dir. Mike Maryniuk
A Small Misunderstanding, dir. Leslie Supnet
Let's Go Hiking!, dir. Elvira Finnigan
INDIAN, dir. Darryl Nepinak
Hinterland, dir. Sheridan Shindruk
Greycon4, dir. Brandon Blommaert
Wet Girl, dir. Divya Mehra
Three Minute Miracle, dir. Amalie Atkins
Discovering Composition in Art, dir. Heidi Phillips
Frames and Leaves, dir. Brett Kashmere
The Great Divide, dir. Bryan Besant
Shark Man Chronicles, dir. Mark Klassen
The Death of Natural Language, dir. Clint Enns (Watch this underground film streaming online)
Hydro-Lévesque, dir. Matthew Rankin
9:00 p.m.: "Just because I'm standing here, doesn't mean I want to" (Dutch short films)
Oh Great Now Look What Happened, dir. Gerbrand Burger & Tijmen Hauer
Xenia I,II,III, dir. Anna Lange
Idyll, dir. Esther Urlus
Jolanda 23, dir. Pim Zwier
Passage, dir. Paul van de Wildenberg
Number Two, dir. Guido van der Werve
Amsterdam Reconstruction, dir. Jérome Schlomoff
Nook & Cranny, dir. Francien van Everdingen
Oct. 11
7:00 p.m.: "Dry Ocean" (Short films from Nova Scotia)
Bohemia Town, dir. Helen Hill
Assembled, dir. Becka Barker
Nova Scotia Tourist Industries, dir. James MacSwain
Pustulations, dir. Lisa Morse
The Devil Lives in Hollywood, dir. Amy Lockhart
Yggdrasll: The World Tree, dir. Christopher Spencer-Lowe
Fallen Flags, dir. Amanda Dawn Christie
Iets op Filmen (Something on Film), dir. Siloen Daley
8 Frames per Second, dir. Chuck Clark
9:00 p.m.: "XXXperimental: Sex and Agony" (Cinema Abattoir shorts)
Snare, dir. Diana Thorneycroft
Poupon Rose, dir. Serge de Cotret
Monday with the Martins, dir. Jeffrey Erbach
KI, dir. Karl Lemieux
Rapture, dir. Gord Wilding
Washing Machine, dir. Ca Ca Ca
Pleasure Zone, dir. Dayna McLeod
Extase de Chair Brisee, dir. Pierre-Luc Vaillancourt and Frederick Maheux (Read the underground movie review)
Goopy Spasms, dir. Rick Trembles
Yellow Fever, dir. Frederick Maheux
Oct. 12
7:00 p.m.: "DARE-ing: Jean Oser in Saskatchewan"
Expo
Second Voyage
Ghosts Before Breakfast (dir. Hans Richter)
Wings to Austria
9:00 p.m.: "One Take Super 8 Event"
Films TBA
For more info, please visit WNDX's official site.