2008 Spooky Movie Film Festival: Preview Night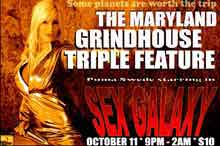 The Spooky Movie Film Festival won't officially start until next week on Oct. 16, but to get a head start — or is that a beheaded start? — on the festivities, they're holding a Preview Night triple feature this Saturday Oct. 11 at 9 p.m. at the Montgomery Cinema and Draft House in Wheaton, Maryland.
Actually on this night, Spooky Movie will be screening three features, plus a couple of short films thrown in for good measure. Two of the features I just happened to review this week on the Underground Film Journal: Evilution and Sex Galaxy. Ok, it didn't just "happen." Festival director Curtis Prather very nicely sent me them to check out. I thoroughly enjoyed both movies, so I highly recommend attending this event if you live in the Maryland area. Don't believe me? Check out the reviews yourself by clicking the titles. Evilution is a fun, gory zombie romp and while Sex Galaxy may not be "spooky," it's downright hilarious.
Here's the full lineup:
Front Page (short film)
High Times at the Frizzle Chizzle, dir. Jeremy Scroggie (short film)
Evilution, dir. Chris Conlee. A scientist tries to tame a microscopic alien being that has the ability to possess humans, but instead unleashes the creature on the unsuspecting residents of his apartment building who are transformed into flesh-eating zombies. (Read the review)
Coons! Night of the Bandits of the Night!, dir. Travis Irvine. The kids and counselors staying at a summer camp are terrorized by killer raccoons.
Dead Bones, dir. Olivier Beguin (short film)
Sex Galaxy, dir. Mike Davis. Using just public domain and stock footage, this lusty sci-fi adventure flings a crew of lonely astronauts towards a planet of insatiable women. (Read the review)
For more info, please visit the Spooky Movie Film Festival official site.