2008 Spooky Movie Film Festival: Official Lineup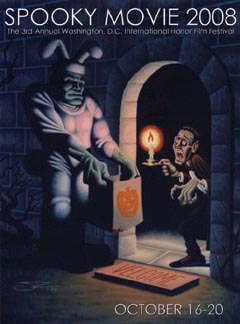 The third annual Spooky Movie Film Festival is finally upon us, or more appropriately, upon the good people of the Washington, D.C. area. Think the presidential election is scary? Then just get a load of these films! The fest already had a preview night, but the main event will run Oct. 16-20.
Curtis Prather, the demented genius behind the festival, was kind enough to send the Underground Film Journal a massive stack of screener DVDs of most of the feature films and a few of the short films that are playing. I've been reviewing them on the site over the course of the past month, so I'm going to give my premiere picks of the fest before the full lineup.
But before I do even that, I'm going to give an extra-special, screechy shout-out to Brian Lonano, whose Attackazoids! will be playing at Spooky Movie on its unstoppable world tour, which is quite appropriate given the subject of his amazing short film. Check it out on the 19th.
As for the other movies I've seen, two of them are absolutely "can't miss." Seriously, if you miss these two films, you deserve to be eaten by real zombies in front of your loved ones. They are Rona Mark's seriously demented and original Strange Girls and Kevin S. Tenney's over-the-top outrageous Brain Dead. These two flicks couldn't be more different, but when it comes to hitting their respective marks, they hit the big fat bloody bulls-eye. These are two of the best films I've seen this year, period.
Two other movies that don't disappoint are Sam Barrett's grisly Australian thriller No Through Road, which opens the fest, and Paul von Stoetzel's sickening-but-in-a-good-way documentary Snuff: A Documentary About Killing on Camera, which may be too tough for many audiences to bear, but worth it if you can. Lastly, the closing night film, James Eaves' Bane is an original and intriguing sci-fi horror blend.
I'm a horror movie nut in general, so I'm thrilled to listing Spooky Movie on the Underground Film Journal. But, after watching the films I have, I think this is a very original horror movie festival that has a tinge of the underground flavor in its bloodstream. In fact, several of these films have played at many underground festivals that I've been covering for years. It's an extremely diverse selection of films that should satisfy the horror movie fan who's looking for good, challenging movies that aren't the same old boring junk. It did for me.
Here's the lineup:
Oct. 16
7:00 p.m.:
Back to Life
FOET, dir. Ian Fischer
The Sleuth Incident, dir. Jason Kupfer (Watch online)
Snip, dir. Julien Zenier (Watch online)
No Through Road, dir. Sam Barrett. A mild-mannered photographer has his peaceful life interrupted when a terrified woman breaks into his house. Why's she so terrified? The three thugs outside who will go to any brutal lengths to get their meaty paws on her. (Read the review)
Oct. 17
9:45 p.m.:
Night of the Hell Hamsters, dir. Paul Campion (Watch online)
Excision, dir. Richard Bates Jr. (Watch online)
Crushed, dir. Patrick Johnson. A pretty, but unhinged, gal seduces the nice guy next door and engages him in a very sick and twisted "relationship."
A Break in the Monotony, dir. Damien Slevin
Prombies, dir. Frederick Snyder
Brain Dead, dir. Kevin S. Tenney. A group of social outcasts holed up in a remote cabin must defend themselves from an onslaught of local yokels who have been transformed into zombies by an alien parasite. (Read the review) (Watch online)
Oct. 18
9:30 p.m.:
Harvest Moon, dir. Micah Ranum
The Blue Rhino vs. the Diabolic Brain
Cheerbleeders, dir. Peter Podgursky
Fun on Earth, dir. Jesse Gordon
The Procedure, dir. Sergio Pinheiro
The Room, dirs. Andres Meza-Valdes, Diego Meza-Valdes
Vlog, dir. Joshua Butler. A sexy female video blogger watches in horror as her friends are viciously murdered on webcam.
12:45 a.m.:
Snuff: A Documentary About Killing on Camera, dir. Paul von Stoetzel. This documentary explores the mythology of the "snuff film," movies featuring real killings on camera that may or may not actually exist. (Read the review)
Oct. 19
12:30 p.m.:
Tofu the Vegan Zombie, dir. Lee Stringer
Dead Boyfriends
Zombie Night Theatre, dir. E.G. Nolan
Casting Call of Cthulhu, dir. Joseph Nanni
The Shadow Within, dir. Silvana Zancolo. During WWII, a young boy communicates with his dead twin who wants their parents to join him on the "other side."
3:00 p.m.:
Lawn of the Dead
Crystal
A Beautiful Day, dir. Adam Hampton
Peekers, dir. Mark Steensland
The Vampire Diaries Part 1: Thicker Than Water, dir. Phil Messerer. A dead vegetarian cheerleader comes back to life as a vampire after her sister kills her during a voodoo ritual.
5:30 p.m.:
Attackazoids!, dir. Brian Lonano (Watch online)
Reflections
Transerexia
Cam2Cam, dir. Davy Sihali
Strange Girls, dir. Rona Mark. Twin sisters who refuse to speak to strangers are released from a mental asylum and try to adjust to life in a lower class Pittsburgh neighborhood. They also try — and fail — to not kill their neighbors. (Read the review) (Watch online)
8:30 p.m.:
Vanished Acres, dir. Adam Bolt
Kirksdale, dir. Ryan R. Spindell
Shut-Eye Hotel, dir. Bill Plympton (Read the review)
Spine Tingler! The William Castle Story, dir. Jeffrey Schwarz. This documentary finally gives cinema pioneer William Castle his due. He's the guy who "invented" innovative movie gimmicks putting electric shocks in seats, selling life insurance policies before horror movie screenings, passing an inflatable skeleton over moviegoers' heads, seeing "ghosts" in a film via special cellophane viewers and installing a "Coward's Corner" in theaters. Great stuff. The documentary features interviews with Castle fans such as John Waters, Joe Dante, John Landis, Leonard Maltin and Roger Corman. (Watch online)
Oct. 20
9:00 p.m.:
Mr. Video, dir. Alex Masterton
Little Snaps of Horror, dir. Graham Rathlin
Walker Stalker, dir. Keith Claxton
Bane, dir. James Eaves. Four women suffer mental abuse while being held prisoner in a scientific lab, and they must fend off a murderer who breaks into their cell every night. (Read the review) (Watch online)
For more info, please visit the official Spooky Movie website.