2008 PDX Film Festival: Official Lineup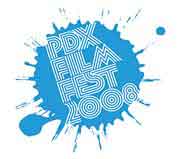 This year's PDX Film Festival in Portland, OR, running April 30-May 4, is another jam-packed year of great experimental films and videos with lots of visiting filmmakers, workshops and other special events, including the annual "Peripheral Produce Invitational" and the debut of the "Experimental Filmmaker Karaoke Throwdown". As much as I can't stand karaoke, this sounds like a lot of fun and I think I'd even attend.
The two main featured guests are Travis Wilkerson and Shana Moulton, who will present several of their works. Plus, two Underground Film Journal-centric notes: PDX will be screening a new documentary, Immokalee, USA, by Georg Koszulinski. I haven't seen Georg's latest film, but I'm a big fan of two of his previous ones: Cracker Crazy: Invisible Histories of the Sunshine State and Silent Voyeur. Finally, Craig Baldwin, the guru of Other Cinema that we like to list on the Underground Film Journal, will be at PDX to give a workshop on May 5, one day after the fest, and he also has the closing night feature, Mock Up on Mu, his latest nutty collage film.
It all sounds like a real blast. Check it out:
April 30
7:30 p.m.: Wild Combination: A Portrait of Arthur Russell, dir. Matt Wolf. Arthur Russell was one of the leading avant-garde musicians of the 20th century. However, his legacy was pushed into obscurity after he died from AIDS in 1992. This documentary uses rare archival footage, interviews with friends and family and a special visual style to bring his music to life.
May 1
4:30 p.m.: "Shorts Program #1 (short documentaries)"
People in Order, dirs. Lenka Clayton & James Price
Glass, Concrete and Stone, dir. Doug Nicholas
The Livelong Day, dir. David Fenster (Watch online)
Hay Daze, dir. Cindy Stillwell
When the Light's Red, dir. Keith Wilson
Laxmi at the Gate, dir. Anal Shah
6:30 p.m.: Great Speeches from a Dying World, dir. Linas Phillips. A profile of ten different homeless people the director befriended on the streets of Seattle, including one man who was sent to prison as a teenager where he contracted AIDS.
9:00 p.m.: Proving Ground, dir. Travis Wilkerson. This is more of a live performance piece than just a film. Theater, history lecture, punk rock, political rally and experimental cinema are combined to present a history of U.S. aerial bombing. Live music by Los Duggans.
May 2
4:00 p.m.: Immokalee, USA, dir. Georg Koszulinski. Florida filmmaker Koszulinski chronicles the lives of six migrant farm workers in Immokalee, FL. (Read the review)
Preceded by Conversation, dirs. Lenka Clayton & James Price.
6:00 p.m.: Injury to One, dir. Travis Wilkerson. A history of Butte, Montana, especially in its early days of becoming a major copper mining town. Labor and history, of course butt heads in Butte.
Preceded by Superior Elegy, dir. Travis Wilkerson. A portrait of a 25-hour long concert in Duluth, Minnesota that honored a murdered man.
8:00 p.m.: "An evening with Shana Moulton"
Electric Blanket Temple Altar
Whispering Pines 8
Whispering Pines #4
Cynthia's Moment
Feeling Free With 3D Magic Eye Remix
10:00 p.m.: "Experimental Filmmaker Karaoke Throwdown"
Sign up to sing songs accompanied by videos by Roger Beebe, Bryan Boyce, Bill Brown & Sabine Gruffat, Grace Carter & Holly Andres, Carl Diehl, Dr. Murry & William Skullmaster, Jesse England, Sarah Halpern, Hooliganship, Karl Lind, Mack McFarland, Zak Margolis, Anne McGuire, Mike Olenick, Michael Robinson, Stephen Slappe, Melissa Tvetan, Cat Tyc and more.
May 3
1:00 p.m.: "Shorts Program #2 (local shorts)"
Cardboard, dir. Kenny Higdon
The More Things Stay the Same, dir. Marc Moscato
Wild Mountain Nation, dir. Orie Weeks III
Trail Memories, dir. Terry Chatkupt
To Remember That Our Skies Are the Same Skies, dir. Chris Lael Larson
Small Movements, dir. Nickey Robare
The Pull, dir. Andy Blubaugh
Bunnyheads, dir. Jim Blashfield
Blobsquatch: In the Expanded Field, dir. Carl Diehl
Super Nonpareils, dir. Jeremy Bird
There Is More Light If I Close My Eyes, dir. Liz Haley
The Problem With Machines That Communicate, dir. Matt McCormick
3:15 p.m.: The Wet Season, dirs. Ben Russell and Brigid McCaffrey. An experimental ethnography of the village of Bendekondre, Suriname, featuring community performances, re-enactments and recordings.
Followed by The Universal Language, dir. Sam Green & Carrie Lozano. A live multi-media presentation using PowerPoint on the death of the concept of utopia, featuring a history of Esperanto and the world's largest shopping mall in China. Live soundtrack by Dave Cerf.
5:30 p.m.: "Films of Stephanie Barber"
flower, the boy, the librarian
catalog
total power, dead dead dead
dwarfs the sea
a tiger and an island
dogs
they invented machines
letters, notes
shipfilm
a little present (for my friend columbus the explorer)
metronome
9:00 p.m.: "The Peripheral Produce Invitational" pits invited filmmakers in a head-to-head battle of cinematic proportions. Participating directors this year are: Roger Beebe, Bryan Boyce, Marianna Ellenberg, Jalal Jemison, Zak Margolis, Anne McGuire, Shana Moulton, Orland Nutt, Michael Robinson, Jeremy Rossen and Ben Russell.
May 4
1:00 p.m.: "Cartune Xprez: Senseless"
Downward Dog, dir. Josh Mannis
Gylden Load, dir. Hooliganship
Law of Averages, dir. James Duesing
At the Heart of a Sparrow, dir. Barry Doupe
Escape Spirit Videoslime, dir. Takeshi Murata
Prometheus' Garden, dir. Bruce Bickford
3:15 p.m.: "Shorts Program #3 (16mm films)"
The Expeditionists: La Ciudad Dorada, dir. Sabine Gruffat
Degradation #1: X-Ray, Parts 1 + 2, dir. James June Schneider
Bumblebee, dir. Eric Ostrowski
Observando El Cielo, dir. Jeanne Liotta
Lampang Bouquet, dir. Tony Balko
Footnotes to a House of Love, dir. Laida Lertxundi
Ah, Liberty!, dir. Ben Rivers
5:30 p.m.: "Shorts Program #4 (Experimental/Underground)"
Lake Affect, dir. Jason Livingston
Action Film, dir. Jennifer Hardacker
The Drift, dir. Kelly Sears
Wax and Wane, dir. Cassandra C. Jones
Phantom, dir. Luke Sieczek
One Thing After Another, dir. Kara Hearn
Case Histories in Psychotherapy – Richard: Pt. 2, dir. Tony Gault. (Read the review)
Call and Response, dir. Aaron Valdez
Snake Trap, dir. Thad Kellstadt
Playing Alive, dir. Mike Olenick
8:00 p.m.: Mock Up on Mu, dir. Craig Baldwin. The legendary collage filmmaker is back with his latest feature, a surrealistic blend of spy, sci-fi, Western and horror genres. Fiction and non-fiction archival material blend together to tell the rich history of the militarization of space from the viewpoint of three diverse individuals: Jet Propulsion Laboratory founder Jack Parsons, artist Marjorie Cameron and author L. Ron Hubbard. (Read the review)
For more info, please visit the PDX official site.