2008 PDX Film Festival: Final Deadline: Jan 18th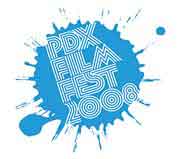 The Portland Documentary and eXperimental Film Festival (yup, that's what PDX stands for) is heading into its seventh year and will be held April 30 to May 4, 2008. So, they've been looking for entries and are putting out the word that their absolute final deadline is fast approaching this month. That's right, you read it in the post heading:
Final Deadline:
Jan. 18
Fee: $25

PDX is one of several great avant garde fests held in Portland, OR every year and it's hosted by the Peripheral Produce DVD distributor. You can head on over to the Peripheral Produce website for more info and download entry forms and whatnot. And of course, you can check out last year's lineup right here on the Underground Film Journal to see what they're looking for. Further, here's their mission statement:
PDX Fest is dedicated to showcasing new and innovative work in film and video from around the world. Focusing on non-narrative work that goes against the grain of mainstream entertainment, the PDX Fest is looking for artistic, underground, quirky and challenging work that reflects contemporary culture, documents historic oddities, and is otherwise unclassifiable.
A couple special mentions this year: 1) This is the first year you can pay by credit card via PayPal on the Produce site. 2) PDX is looking for submissions for their popular video installations that will run all throughout the festival. 3) In the name of environmentalism, PDX is asking filmmakers to just send in films and a one page synopsis/bio page. Please do NOT send in full press kits, posters and other promotional errata.
Again, visit the Peripheral Produce website for more info.