2008 New York Underground Film Festival: The Videos
Hymn of Reckoning, dir. Kent Lambert:
The above embedded video, Hymn of Reckoning, is by musician/filmmaker Kent Lambert. It's my favorite video out of all the ones that played at the last ever New York Underground Film Festival back in March that I could find YouTube. When I went searching for some NYUFF shorts online, I didn't find many, which doesn't surprise me because when your film is making the festival rounds, there's not much incentive to concurrently post it up on a video sharing site of dubious quality.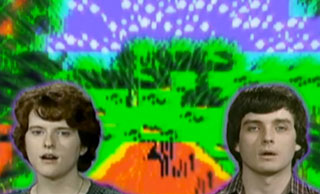 Kent's video is very simple. It's a video mash-up of early '90s video game graphics with TV show excerpts and I think this really appeals to me because I used to play Contra on my Nintendo for hours on end in the '90s and 24 is one of my favorite shows on TV. And I consider myself a pacifist pretty much so that dichotomy of my soul, which I feel this video speaks to, is interesting to me. This is also only the second film I've seen by Kent. The other was an ode to Philip Michael Thomas called Whack back in 2001 that I enjoyed, so the mash-up/remix genre is something Kent likes to work in. You can also find out a lot more about him at his lo-fi website.
There's more videos below and one thing I want to throw in here is that I don't like to post up videos unless they're from the filmmaker him/herself. That wasn't always my policy, but it is now. However, Kent didn't post up Hymn of Reckoning, but at the end if you watch it he says the video is in the public domain. So, that's why I embedded it. And here's the rest of the videos:
I-Be Area (excerpt), dir. Ryan Trecartin:
Ryan Trecartin has put his entire feature film I-Be Area up on YouTube, which you can watch in brief, little chunks. This chunk I've pulled — and the only one I've watched as of this writing — is called "Double Jamie, Ramada Omar, and Sally Man Pause" and those are all names of characters in the excerpt. This little snippit, too, is almost enough to try your patience, but engaging and fascinating enough to inspire me to eventually check out all the clips.
All the actors sound like they're on helium and look like they're trapped in a paint factory that barfed; plus, the editing is linear in some parts and seemingly random in others. I like videos like this that zip by in nanosecond blipverts that demand you sit and pay attention in order to piece out the plot. Ok, I don't think I did piece it out exactly, but it starts to make sense in a weird kind of way once you get the characters all sorted out.
China Tracy: i.Mirror (Part 1), dir. China Tracy:
This is also an excerpt from a longer film by Chinese video artist Cao Fei, who also goes by the name China Tracy. After the hyper-kinetic I-Be Area, you may appreciate this very slow moving Second Life "documentary." (I actually watched them in reverse order.) The video explores the decrepit side of the Second Life video-game-ized urban wasteland and features a beautiful score by Prague. There are subtitles for the music lyrics, but I would advise not paying attention to them the first time around so you don't miss the lovely visuals. You can catch the other parts on China Tracy's YouTube channel.
I Am the Fred Astaire of Karate, dir. Tommy Button:
"I am the Fred Astaire of Karate" is an actual quote by '90s mega-superstar Jean Claude Van Damme at the height of his awesomeness. Button's video is a compilation of the action movie hero's brightest moments. Best part: When JCVD does a split and punches a guy right in the nuts in Bloodsport. Ouch!
So those are the shorts I found. I also found some movie trailers, which you can view on my playlist page. They're for The Golden Age of Fish by Kevin Jerome Everson; 1, 2, 3 Whiteout by James June Schneider; and The People's Advocate by Hrag Yedalian and Michael Blieden — all of which make me even sadder I didn't get to go to the fest.