Movie Review: 2008 Movie of the Year: Altamont Now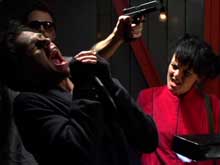 As I predicted last year, 2008 was packed to the gills with great underground films that, in any other year, would have launched themselves into the Underground Film Journal's top spot.
While there was a clear "Movie of the Year" once again, three other films leap immediately to a collective second-place position. First, technically I think Carlos Atanes' Proxima was completed in 2007, but 2008 was its real coming out party. Proxima is a mind-bendingly twisty sci-fi puzzle from a director who is my biggest and most exciting new filmmaking find this year.
Next up, Florida filmmaker Georg Koszulinski directed one of the most devastatingly beautiful documentaries I have ever seen, Immokalee, USA, an intimate, and at times heartbreaking, portrait of an immigrant farming community in Koszulinski's home state.
Thirdly, there's Rona Mark's wonderfully understated horror flick Strange Girls. In an era in which horror seems to be all about "Can you top this?" gore and grotesqueries — which isn't necessarily a bad thing, of course — Mark goes for a quiet character study with a subtle dark humor.
In addition to those three films, there's another trio of honorable mentions: Craig Baldwin's dizzyingly dense Mock Up on Mu,  Steve Metze's personal Iraq war story Year at Danger (with help from Don Swaynos); and Brian Lonano's carnage-filled Attackazoids!.
However, nothing compares to the sheer anarchic joy of Altamont Now. In his bold and ambitious debut fictional feature, director Joshua Brown combines all the elements of classic underground films in an effort that transcends them at the same time.
Based on a stage play by David Bucci, the bulk of the film's action is confined to a single location — a real, abandoned nuclear missile silo — yet every scene bursts and pops with a manic punk rock energy that blasts out of the screen like a multi-megaton ICBM. Most of that energy is carried through Daniel Louis Rivas in an absolutely electrifying starring performance as a singer with a bad Messiah complex. He's a creation born and bred of the MTV generation who has developed his delusions of grandeur after swallowing his own bullshit. Thinking he can save the world because teenage girls have the hots for him, Rivas' Richard Havoc is a clown and a buffoon, but a dangerous one with his finger on a nuclear device.
Rivas is backed up by a stellar supporting cast including Matthew Humphreys as a jealous thug hoping to unseat Rivas from his throne; Teddy Eck as a one-armed, sensitive conspirator with his own rambling, incoherent public access show; and Raphael Nash Thompson as the older voice of reason who tries to prevent Rivas' youthquake from coming to fruition. But who else really shines is Frankie Shaw in the film's most complex and only major female character. Her Karen Kennedy has had her soul completely shattered after rocketing to superstardom as a child actress on a mindless '80s sitcom called Why's Daddy Acting Funny?. She's a tragic figure, desperate to be recognized as an independent woman while never escaping the insipid TV catchphrase that made her so adorable to millions. Every guy in the film wants to possess not her as she is now, but as the little girl they had the crush on when they were the same age watching her on the boob tube.
The film rockets from beginning to end with jealous intrafighting among these pseudo-hipsters attempting to be serious revolutionaries. While these kids are just punk rock poseurs, the soundtrack is a pummeling of real smash-the-system punk by bands such as the Ex-Models, the Crack Pipes, Awesome Color, Finally Punk, X27, Big Bear and more. Plus, there's an ear-splitting original score by feedback artiste M.G. Espar as well as several songs by Enduro produced especially for the film that are performed by Rivas.
Altamont Now is a major blast in every sense of the adjective. It's a totally fun, hilarious ride as well as a massive over-the-top assault. It's a film that punches you in the face and drags you deep into the center of the mosh pit where it keeps you until the final encore. It's all that and a new modern-day underground film classic.
Watch the Altamont Now movie trailer: