2008 Minneapolis Underground Film Festival: Official Lineup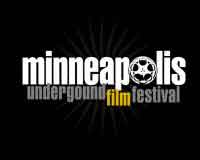 This might be the first year for the Minneapolis Underground Film Festival, but they appear to have exquisite taste since they are screening several films that have been reviewed right here on the Underground Film Journal. The festival runs Aug. 29-31 at the Minneapolis College of Art and Design, although I'm not sure where the theater is on campus, but it'll be worth it to go hunt it down.
It looks like a nice overall lineup, but here are our special Underground Film Journal shout-outs: First, one of our very favorite films this year that's tearing up the underground film circuit is Joshua Von Brown's outrageous Altamont Now. (Streaming online) I actually just watched this a second time recently and still loved it just as much. This would make for a killer screening with an audience, so I'm jealous of those of you who can go.
Also, the more I live in L.A., the more I find I can relate to Charles Doran's hilarious Westsider (Streaming online), but I think non-Los Angeleans will still enjoy the joke since you can find neighborhood snobs anywhere you live. Finally, the short films programs includes Brian Lonano's great sci-fi/horror flick Attackazoids!, which is a ton of fun for its brief runtime.
The full lineup runs below:
Aug. 29
7:30 p.m.: Salia, dir. Julia Ostertag. An abandoned high-rise in East Berlin is transformed into its own little alternate universe where the world outside is quickly collapsing into anarchy and the inside ain't much better. (Read the underground movie review)
9:30 p.m.: Unspeakable, dir. Marc Rokoff. A portrait of Steven Johnson Leyba, who is a performance artist and painter who likes to paint with his own feces and blood.
Aug. 30
10:00 a.m.: Bonjour Je M'appelle Maxime Renard, dir. Unknown. Synopsis not available.
10:00 a.m.: Downtime, dir. Rob Tiffin. Life sucks for a group of people who have lost track of their life's goals.
11:30 a.m.: Westsider, dir. Charles Doran. A self-absorbed architect wants to transform Los Angeles' west side into paradise on Earth, but ends up being sent to Hell: The Valley! (Read the underground movie review) (Watch this underground movie streaming online)
12:00 p.m.: Altamont Now, dir. Joshua von Brown. Mark Clark is an investigative journalist who penetrates the underground world of rock revolutionaries who literally live under the ground of the California desert and the site of the notorious '60s Rolling Stones concert. This is what happens when the youth really stage a revolution. (Read the underground movie review) (Watch Altamont Now streaming online)
1:30 p.m.: Love: A Documentary, dir. Ethan Burroughs. John Stevens is a financial analyst who believes God has tapped him to bring peace, love and understanding to everyone on Earth.
3:00 p.m.: Box Elder, dir. Todd Sklar. A group of twentysomethings are about to graduate college and enter the real world. But, can they give up their childish ways and become mature, responsible adults? Um, probably not.
5:00 p.m.: Longgone, dirs. David Eberhardt & Jack Cahill. A documentary made by Eberhardt and Cahill while they criss-crossed the country for seven years on the rails. Featuring an original score by Tom Waits!
7:30 p.m.: Snuff: A Documentary About Killing on Camera, dir. Paul von Stoetzel. This documentary explores the mythology of the "snuff film," movies featuring real killings on camera that may or may not actually exist. Screening with Creep, dir. Paul von Stoetzel. (Read the underground movie review)
9:30 p.m.: Marta's Sex Tape, dir. Anthony Rivero Stabley. A female artist doesn't feel like she's getting the recognition she deserves, so she attempts to produce her own "scandalous" sex video to grab some attention for herself. (Read the underground movie review)
11:00 p.m.: Hook-nose, dir. Steven Strauss. A teenage girl contemplates becoming an adult film star, just like her older sister.
Aug. 31
10:00 a.m.: Rosebery 7470, dir. Stefan Popescu. In an Australian mining town, a young girl fantasizes about a world overrun with zombies because that would actually be a much better world than the one she's living in now.
10:00 a.m.: Trickery Mimicry, dir. Garrett D. Tiedemann. Two travelers who experience car trouble stop at a farmhouse to use the phone and although they don't meet a hot farmer's daughter, they end up having their lives completely changed.
12:00 p.m.: On the Road With Judas, dir. J.J. Lask. Based on Lask's original novel, an uptight businessman has a night job as a computer thief. Starring indie film stalwarts Kevin Corrigan, Eddie Kaye Thomas, Leo Fitzpatrick and Aaron Ruell.
12:00 p.m.: Automatic, dir. Sharon A. Mooney. A lonely guy releases his inner desires in a series of letters written to an anonymous woman who starts freaking out when she accidentally starts receiving them.
1:00 p.m.: "Short Film Program"
Snare
Midnight Motel
Disconnect
Tenia
Gas Guzzler Blues
Rebel
Attackazoids!, dir. Brian Lonano (Watch this underground movie streaming online)
Confetti Kite
Drain
Fingernails
The 5 Steps to Your Personal Golden Gate
Our Joey
4:00 p.m.: Seeking Wellness: Suffering Through Four Movements, dir. Daniel Schneidkraut. Four interconnected vignettes tell the stories of burn survivors, a divorced father, a patient's search for the woman who broke his heart and the inner workings of a classroom. Score produced by The Replacements' Chris Mars.
6:00 p.m.: Trailer Trash: A Film Journal, dir. Don Diego Ramirez. A documentary on the filmmaker's own family during the period when his grandmother was diagnosed with terminal cancer and when he expects the birth of his first child.
7:00 p.m.: Je ne sais quoi, dir. John Koch. A lonely dude attempts to make a connection with the woman who lives across the hall.
9:00 p.m.: Group Home, dir. Ted Dewberry. Two prisoners on a work release program become the only two voices of reason at a twisted home for the developmentally disabled.
11:00 p.m.: Urban Explorers: Into the Darkness, dir. Melody Gilbert. A documentary about people who explore uncharted urban territory, including underground tunnels and an abandoned mental hospital.the industrial phantasms of human geography.